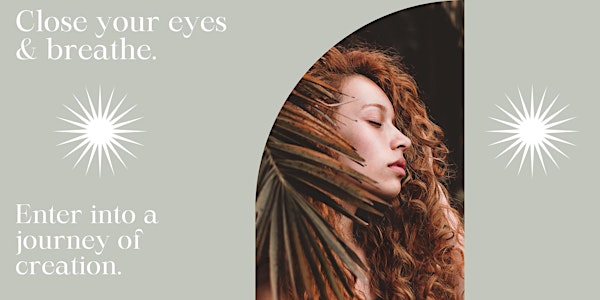 Awakening & Activating Abundance Through Breath Work & Meditation
Dynamic breathwork and meditation journey to aid manifestation, cultivate peace and boost feelings of wellbeing and balance.
About this event
I invite you to join me in this 6-week course centred around awakening to our true purpose and potential, abundance & joy. We will use various breathwork modalities to help soothe and supercharge our bodies. This course is suitable to be joined at any time, however, partaking in the whole course will attain consistent results.
The breathwork is a gateway into the meditation and manifestation practice, enabling our minds to be calm and the body to be still. This deep space of inner wisdom is where the magic happens. Become the very own alchemist of your life as you journey with me into the footprint of your soul's purpose.
We will
* Set a primary intention for the year... so you approach life with renewed passion, zest, and excitement!
* Eliminate blockages, restrictions, and distortions ... so nothing holds you back from experiencing the abundant love, joy, and prosperity you deserve.
* Align your mind body and soul... with your goals.
* Lay a foundation for effortless manifestation ... so you're on the right track to experiencing the exciting new beginning you desire.
Anything is possible when you have the tools and the knowledge.
Physiological benefits of this practice:
✨Stimulate the release of DMT (the bliss chemical)
✨Detox emotional & physical toxins
✨Calm the mind
✨Fuel the body
✨Strengthen the immune system
✨Reduce inflammation
✨Regulate your autonomic nervous system
About Cat.
Cat is a Rapid Transformation Clinical Hypnotherapist, Wim Hof Method LV2 Instructor, mindfulness teacher and festival singer.
What you will need.
👉Ideally Earphones or a good quality external speaker
👉Small cushion for your head
👉Something comfy to lie on/sit on
👉A warm and soft blanket
🌟 PLEASE DO NOT EAT 2 HRS BEFORE THE SESSION.