Description
We are back!
And, it is celebration time. It is our 4th anniversary of the AWE Summit Zurich's edition (wow, time flies).
Join us and BE THE CHANGE
The AWE Summit is more than an "inspirational" event. It is a full day packed with different stories and experiences which will move you from where you are right now to a new world of possibilities.
We will have AWEsome speakers, interviews, discussion panel, and two dynamic workshops, which help you to take action and start "being the change" you want to become.
So wait no longer and book your seats now!
MEET OUR AWE SPEAKERS
Aurelie Litynski - Chief Happiness Officer
Her speech: Turning Challenges at Work into Happiness at Work
Aurelie will share with us how she turned frustration into a structured process to bring happiness back into the work environment and increase performance.
Catherine Schopfer - Cancer Coach
Her speech: Passion is the Path to Wealth
Catherine will share with us how, through your passion, you can bring abundance to your life.
Winnie Ojanga - Fashion Designer

Her speech: Find Your Voice and You Will Be Unstoppable
Winnie will share with us how her memories of her childhood helped her to shape her destiny
Asa Rydhard - Founder of Rock Your Stories
Her speech: From a Fired Pastor to a Social Impact Rockstar
How do you turn your story and passion into a business? Asa will tell you how she did it and how a great story will help you achieve your ambitions
Ana Kolb - Founder of CEW Marketing
Her speech: Glocals as Cultural Change Catalysts
Through her experience as an international marketer for over 15 years, Ana will share with us how international professionals can help different cultures to develop ethical behaviours, values and practices.
Philippa Dengler - Change Management
Her speech: Are you Ready to Retire Retirement?
Philippa will challenge the current status quo by telling us why it makes little sense to discriminate against a group that we aspire to join. To her, dismantling ageism benefits us all.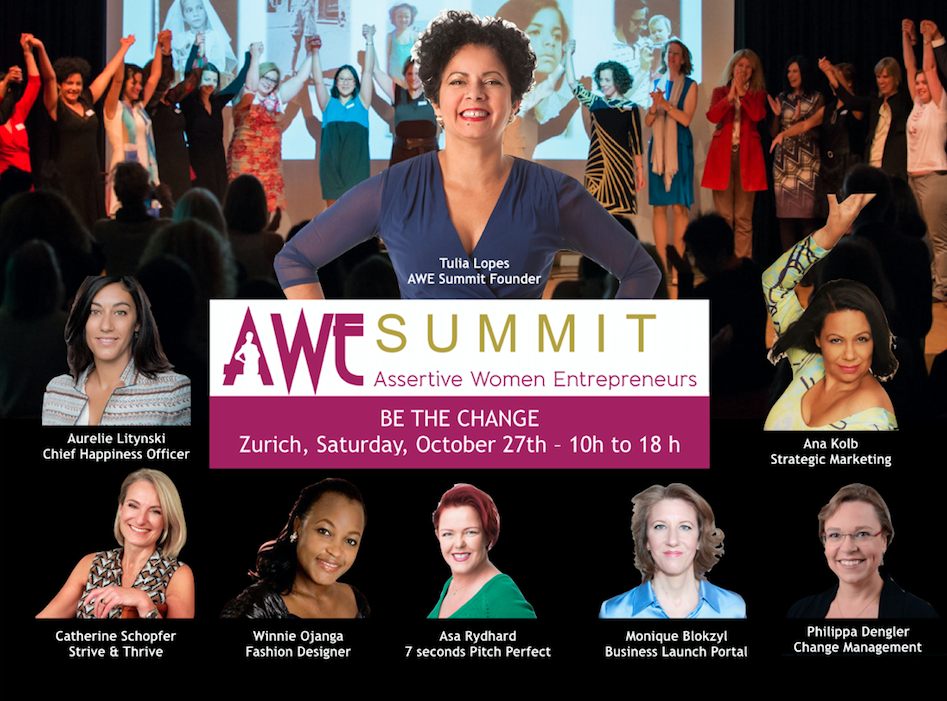 MEET OUR WORKSHOP LEADERS
Monique Blokzyl - Founder of Business Launch Portal
Her topic: How to establish and move your business to the next level
After leaving a successful career in the corporate world Monique realized that her mission and passion was to help other people to create a more fulfilling lifestyle by doing what they loved. Through her Business Launch program, she has helped hundreds of people to create, establish and move their business (and careers) to the next level.
In this interactive workshop, she will give you some savvy tips and tools so you also can start designing a sustainable business, or career, that will be aligned with your own values and dreaming lifestyle.
Tulia Lopes - Founder of AWE Summit and Speak Up & Lead Academy
Her topic: Everyone Talks, Some Communicate, VERY Few Connect!

In 2014 when Tulia founded the AWE Summit, she had the desire to bring women from the background to the foreground to share their stories, in a friendly and supportive environment. Four years have passed, the AWE Summit has been in several different countries, and those experiences confirmed over and over again the need of supporting people, especially women, to develop a confident and authentic voice. A voice which can resonate to their values and principles, and can create the impact they want to create in their communities and environments.
In this interactive workshop, she will bring you to the awareness of where you stand right now as a "communicator", how you are perceived, how strong is your voice and what you can do to improve it.
MEET OUR PANELISTS
"Can women and men really understand each other?"
With this simple, however challenging question, we will invite our panelists to discuss "intergender communication". How we, women and men, can become active and empathic listeners so we can develop a more effective and inclusive communication style where there will be no room for assumptions and unmatched expectations.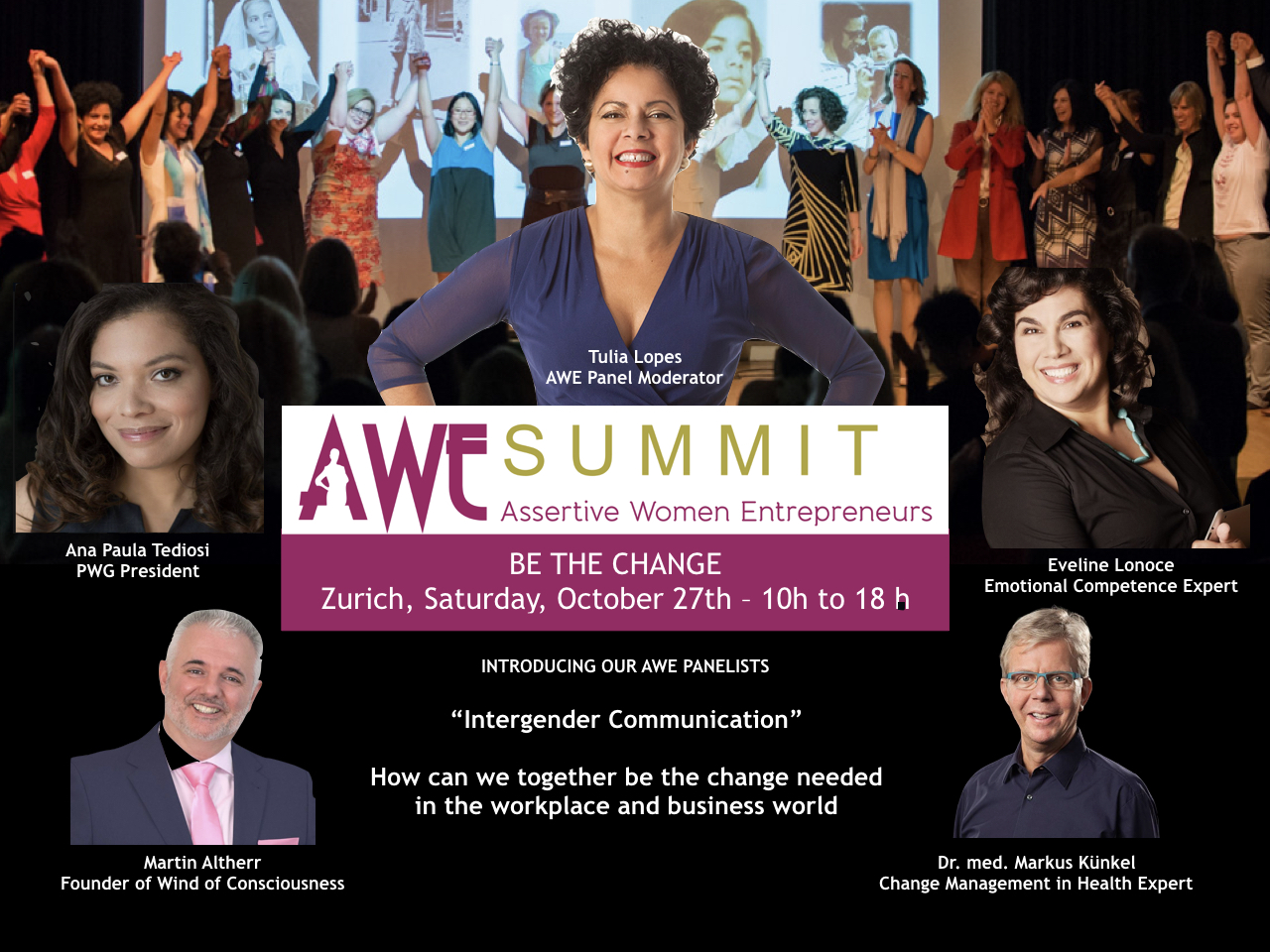 Ana Paula Tediosi - President of Professional Women's Group Zurich
Ana is a highly qualified woman building a career in the pharmaceutical corporate world. She is also a mother of two. Balancing motherhood with a prosperous career is a challenge, we all know. However, Ana biggest challenge may have been to deal and cope with the expectations of family and friends towards the role of a mother versus the role of an ambitious career woman.
Ana has been challenging the status quo and setting her own rules. She is already paving the path to be the change she wants to see in her professional, and personal, environments.
Martin Altherr - Founder of Wind of Consciousness
After experiencing a threatening "life-death" situation, followed by moments of pain and despair, Martin realised that whether "consciously or unconsciously" he was the creator of his own reality. Therefore, if he wanted to make a change in his life, he was the one to take action and do it.
Embracing life and death equality released a cascade of new possibilities and a new path in his life. He is the creator of the Self-Transformation Code which helps people to find their own imprints and work on self-sabotage patterns that are not helping them to build a fulfilling life.
Eveline Lonoce - Author of Emotional Competence
Emotions are powerful resources that can help us through life. However, we usually deal with them whenever they pop up, either wanting them to stay when the feelings are nice or to go away when they are unpleasant.
Eveline helps individuals to build a healthy relationship with their emotions and start the adventure of letting them become their strongest and most loyal allies.
Dr. med. Markus Kuenkel - Founder of Awaken the Leader in You
With over 35 years of experience as a Urological surgeon, Markus has dealt with stressful situations where decisions had to be made fast and the communication among the whole team had to be clear and effective, otherwise, there could be life-threatening consequences.
An operation room is definitely not a place for assumptions. However, a place for high expectations.
Tulia Lopes - The Panel Moderator
Tulia is Europe's Leading Communication, Public Speaking & Leadership Expert! She believes communication is the key to develop and excel in any field in life.
In this panel, she will bring to the conversation the topic of "Intergender Communication". She will be challenging the panelists to bring to the table ways of how we, women and men, can develop communication skills that allow us to send our message across with clarity and efficiency; while connecting and building trust with our audience.
AN OUTLINE OF OUR AGENDA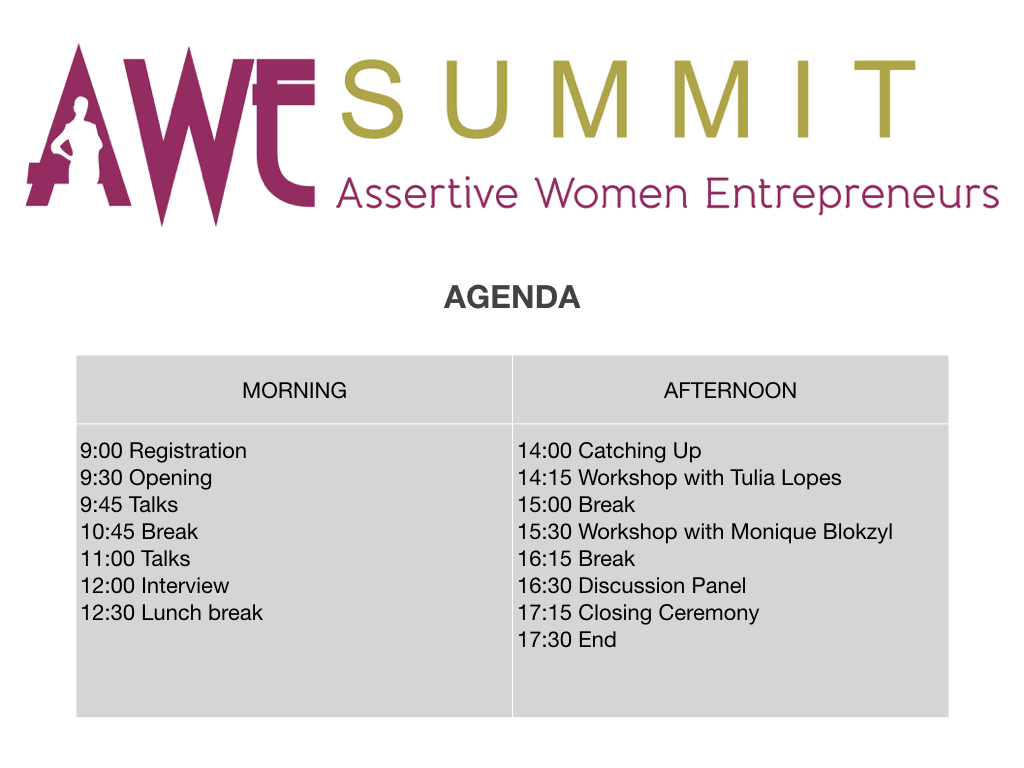 A BIT OF BACKGROUND HISTORY ABOUT THIS AWESOME EVENT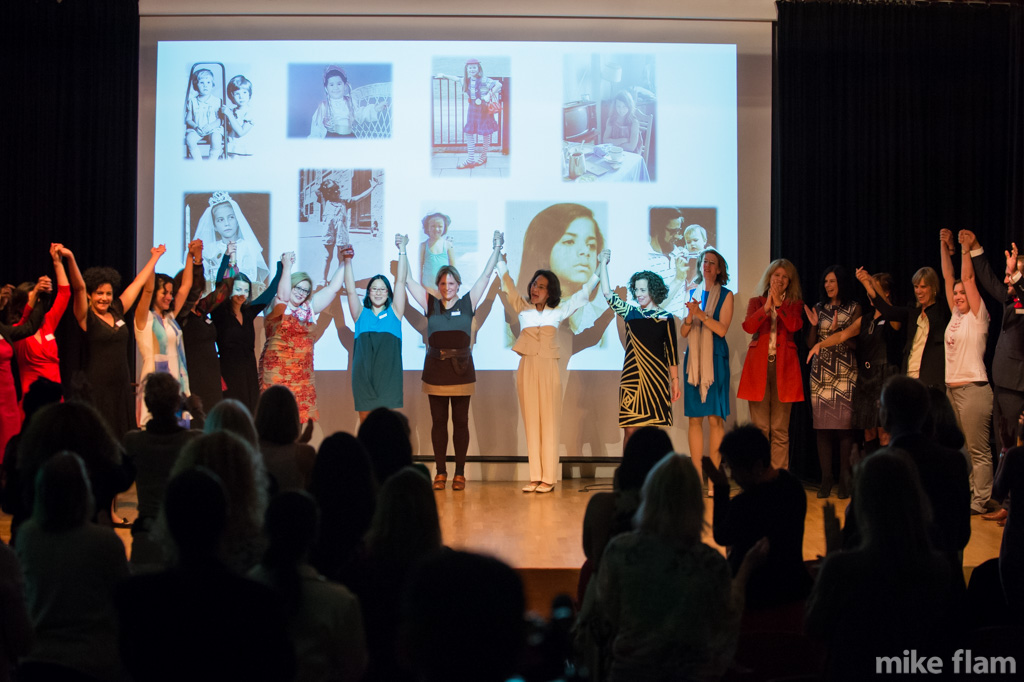 What the AWE Summit is about?
The mission of the AWE Summit is to Give Voice to Women. In our events women from different backgrounds come on stage to share their stories and inspire the audience - YOU - to take action.

Our speakers come to our event open to share their knowledge and experiences. Some of them come from abroad, some of them follow me in the other AWE Summit events and partner events in Europe. Together we are building bridges of collaboration locally and globally.
You too can become part of our community, not only by attending our event and expanding your network, and contacts but also by becoming one of our speakers in the future. We are always looking for new voices.
What to expect on the day?
You just need to show up and bring your best energy. We will make sure you have the best experience ever!
In the morning, we will indulge you with the stories from our very selective group of speakers. What they will share with you are their own personal journies, choices, decisions and ups & downs they had to face in order to become who they are, which is truly and fully aligned with their purpose on this planet.
In the afternoon we have organised interactive sessions for you to learn new concepts and get in touch directly with many awesome ladies. AND you will bring home new resources, such as tips on how to manage stage fright and own it, to be added to your toolbox of success, and much more.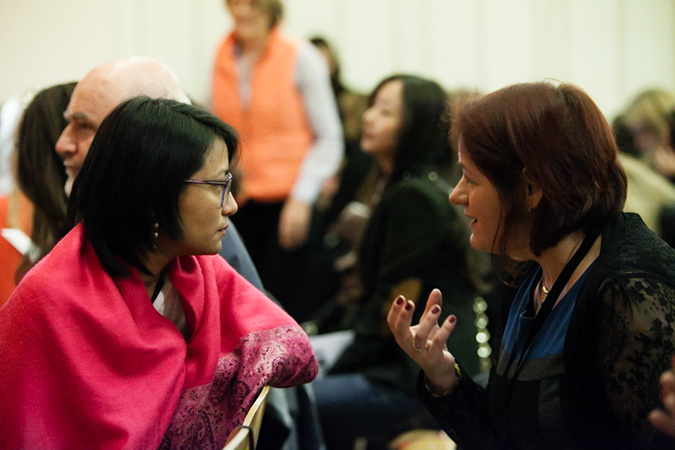 What you will take home with you
real life insights and hands-on guidelines which will help to bring you clarity on what you want to do next in your life
new contacts and experiences from an awesome "bunch" of top professional women
you will feel recharged
MEET OUR MOST TRUSTING PARTNER

MEET THE PROJECT WE ARE SUPPORTING
And, education is always our priority. In every AWE Summit event, we support a different foundation/initiative.
This time we are supporting ShenAnnz Foundation, where 10% of the proceedings from the event will go to their project of building schools for children in Pakistan.
You can learn more about it here > ShenAnnz Foundation
And above all, the AWE Summit is a platform to support you. We are here to "Give Voice to Women". In other words, to give you the space to find, own and unleash your voice.

This is why we are committed to bringing further opportunities to you, to learn and to develop good contacts during the event which can lead to future successful collaborations. So, come prepared and reach out!
Before the event, we'll send you some AWEsome guidelines to help you make the most of the time you will spend with us.
For now, wait no longer. Book your ticket asap to reserve your spot at the early bird rate! Ticket prices will increase gradually over the next couple of months.
On behalf of the AWE Team, we can't wait to experience another AWEsome event with you.
See you in October (which is just around the corner...)!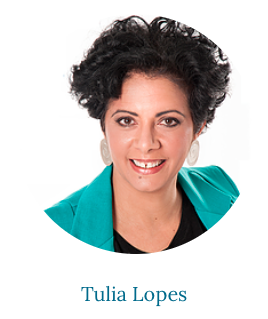 FAQs
Are there ID or minimum age requirements to enter the event?
Not really. However, we believe people from 25+ will benefit the most.
Children up to 12 years old are not recommended to attend. However, if by any reason you "need" to bring yours, please get in touch with us, so we are prepared for any eventuality.
What is the schedule of the event?
The event will take place on Saturday, October 27th, 2018 and will begin at 10:00 AM sharp until 06:00 PM. Registration will begin at 9:00 AM sharp.
Where exactly it takes place?
The conference takes place at the
What is included in the price of the ticket?
A full day of inspirational talks and hands-on interactive experience with Tulia Lopes and her team.
Creating the roadmap to get clarity and ability to upgrade several aspects of your life.
What language will the event be held in?
English
What can I bring to the event?
We suggest you bring an extra shawl or cardigan sweater. In case we have to cool down the room temperature due to the number of people.
Dress code is "Comfortable Business"
How can I contact the organiser with any questions?
Please send an email to awesummit@gmail.com
What's the refund policy?
There are NO REFUNDS for tickets purchased! We count on your understanding.
If for any reason you can't attend the event in the end, we suggest you try to transfer (sell) your ticket to a friend or colleague. Once you do that, please inform us because we will need to replace your name with your friend's for the registration.
Organiser of AWE Summit Zurich 2018 - Giving Voice to Women Globally
"I am a creator! If I don't find a door I build one."
My training as an architect gave me the skills to understand people's emotions and aspirations help them to transform them into reality. 
Being able to express our thoughts, ideas, desires assertively is the key to every successful career, business, and healthy life.
My mission is to help people, especially women, to become effective communicators and assertive leaders. 
Our current world urge for the rise of better communicators and leaders - assertive, empathetic, tolerant and above all, good listeners.
And Lee Iacocca said it best,
"You can have brilliant ideas, but if you can't get them across, your ideas won't get you anywhere."
I'm here to help you to achieve that.
Our event AWE Summit has been Giving Voice to Women in Zurich, Porto and Barcelona since 2014. Next stop, Munich. So, stay tuned!
The Speak Up & Lead Academy has the mission to foster women's skills in communication, public speaking, and leadership.
Your voice is needed out there. We will help you to stand above the crowd and create the impact you want, and should.
Also, watch out for our regular evening Speak Up & Lead Talks, where we gather in a relaxing and comfortable atmosphere to discuss topics that matter to us, and help us to move forward.
Looking forward to meeting you in person soon.
Welcome to a rewarding and transformational journey!
Tulia Lopes