Second Mind Body Spirit Wellbeing Show in Aylesbury. Deer Spirit Events
About this event
* Over thirty fantastic exhibitors : holistic therapies, one-to-one readings, movement and dance, meditation and mindfullness, retailers selling crystals, arts/crafts, jewellery, spiritual and holistic gifts
* Drumming workshop with former Searchers drummer, Scott Ottaway.
* Demonstration of mediumship
* Full programme of talks and workshops
* Buses from town centre and train station
* Trains from London, Amersham, Banbury, Birmingham, High Wycombe and Chesham
* Refreshments onsite
We have great lineup of talks and workshops for this event (timings TBC)
* Drumming for Wellbeing - Scott Ottaway, ex-Searchers
* Energy works for Wellness - Elena Barbiero
* Power Animals - John Odinsson Dyke
* Fear and the immune system - Rosita Cataldo
* Introduction to gong activation and its benefits - Nadia Anne Ricketts
* Helping people move forward - Fiona Radman
* How changing posture changes energy and changing energy changes your life - Mark Harris
* Gong bath - Marta Przybyl
* Realities of the spirit world - Chris Frith
* Overcoming limitations and self-sabotage - Teresa Brown
* Psychic Protection - Julie Fenn
* Numerology - Katie Youers
* Sound healing and sound bath - Rob and June Dickerson
* Crystals and healing - Sue Cloke
* The benefits of magnets fr your health - Jo Cowan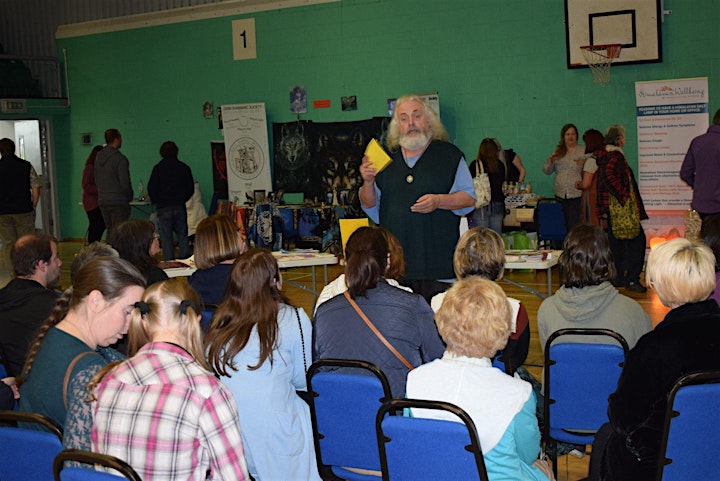 Organiser of Aylesbury Mind Body Spirit Show
Mind Body Spirit Shows, Psychic & Wellbeing Fairs : Bucks, Oxfordshire, Gloucestershire, Herts and Bedfordshire
Julie is a Reiki Master/Teacher, with 20 years spiritual experience.  She has been running psychic fayres and mind body spirit shows since 2017.  
 https://www.facebook.com/pg/deerspiritevents/events