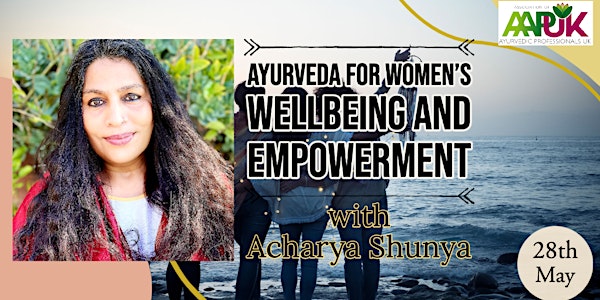 Ayurveda for Women's Wellbeing and Empowerment - Acharya Shunya
Refund policy
Contact the organiser to request a refund.
Eventbrite's fee is nonrefundable.
The AAPUK invites you to take part in our 'Ayurveda for all' discussion Acharya Shunya on Ayurveda for Women's Wellbeing and Empowerment.
About this event
28th of May 2022 @ 5.00-6.30 pm
Talk and discussion with Acharya Shunya
Ayurveda for Women's Wellbeing and Empowerment
About Acharya Shunya
The first female lineage-holder of her distinguished Vedic tradition, Acharya Shunya is an internationally renowned scholar, teacher, author, speaker and scholar of nondual wisdom (Advaita) from India, and a classically-trained master of Yoga and Ayurveda. She is the Founder of The Awakened Self Foundation and the nonprofit Vedika Global, Inc., platforms headquartered in Northern California, that empower, educate, and inspire a global community of students through online courses, workshops, and retreats. These conversations are furthered by Shunya's top-rated podcast, "Shadow To Self." An award-winning author of international repute, Shunya's most recent book, Roar Like a Goddess: Every Woman's Guide to Becoming Unapologetically Powerful, Prosperous, and Peaceful will be published by Sounds True in July, 2022.
Learn more at AcharyaShunya.com, AwakenedSelf.com and RoarLikeAGoddess.com.
This is an online event
Free (AAPUK member & AIUK students)
£10.00 for the public
Recordings accessed at the same cost.