Are Ayurvedic Treatments improving outcomes alongside conventional medical care on India's COVID-19 wards?
About this event
loveayurveda.tv
the science of life, for joyful living
Love Ayurveda welcomes you to the first of its new online special events showcasing the contribution of the Vedic sciences to our health and wellbeing.
The first in this series of weekly meetings will focus on how Ayurveda is being used to improve outcomes for patients suffering from COVID-19.
We kick off our special series on COVID-19, by inviting you to join Dr Trupti Patil Bhole.
Dr Trupti Patil Bhole BAMS MD PhD, is an expert in Rasashastra (Herbo-Mineral Preparations) and Bhaishajya Kalpana (Ayurvedic Pharmacology). She is an Assistant Professor at Bharati Vidyapeeth University, Pune. The university's hospital has been dedicated a COVID-19 treatment centre by the Indian Government's Ministry of Health.
Dr Bhole has worked on the front-line to care for COVID patients using both conventional allopathic medicines and ayurvedic treatments.
She will share her experience along with patient outcomes, as well as answering your questions.
It is a FREE online ZOOM event. Participants are invited to pre-register to join. You may get access to a recording provided you have registered in advance.
Guidelines for participants:
Delighted you are interested! We'd love to hear your questions. Due to the demand, it is best to send any questions in advance to info@loveayurveda.tv
Kindly register with your full name (no nicknames please if you want to take part)
As this will be an interactive talk, we'd like to see your face and engage with you. Kindly join in with your video on or at least display a recent portrait of your nice face (no avatars please).
This is a live event and we ask you to respectfully keep your microphone muted at all times, unless you are selected to ask a question.
Looking forward to see you on the day. This is a very exciting development in the role of Ayurveda and its implementation along side conventional medicine for COVID-19 patients.
SIGN UP NOW! IT'S FREE.
look, listen, share, and learn together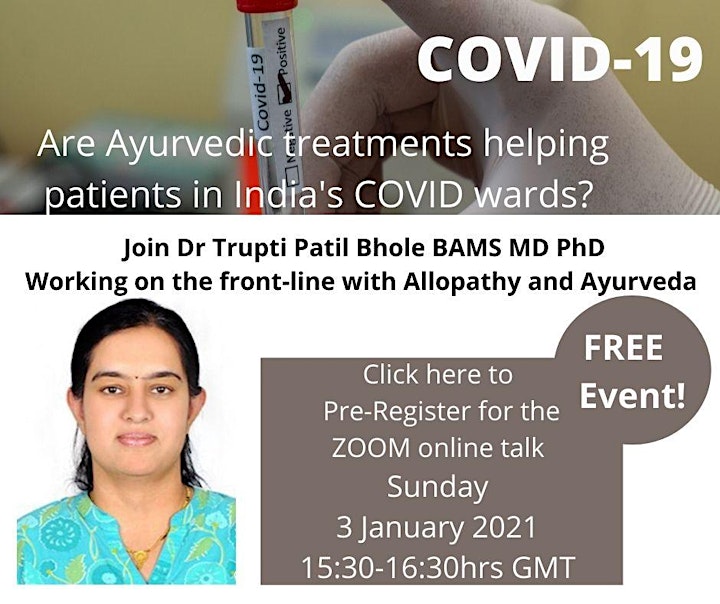 Organiser of Ayurveda - is it helping patients in India's COVID-19 wards?
Every Sunday @ 3:30pm (GMT, London), starting on the 3 January 2021, we showcase an expert at the top of their field. Our mission is to dispel the pandemic of misinformation and fear. We want to bring hope as we expand our understanding.
At love ayurveda tv live talks and events, we go slow because soundbites can often lead to things being taken out of context. We take time to listen to the top doctors, scientists, academics, researchers, psychologists, spirutal leaders and more. At love ayurveda's live talks, YOU get to ask them questions on the topical health issues that concern you.
Find out the speaker of the week on our website.
https://loveayurveda.tv
You might also catch our host, Neena Nerkar on Twitter, LinkedIn and occasionally on Instagram and FaceBook.
love ayurveda tv live talks, sowing the seeds of hope.
Join the discussion. Book your place NOW!