Build Back Better World (B3W) and the Belt and Road Initiative (BRI): Prospects and Limitations
About this event
Launched during the G7 Summit this year, the Build Back Better World (B3W) initiative developed by G7 leaders, claims to provide an equitable and greener alternative to China's Belt and Road Initiative (BRI) for infrastructure development in developing and underdeveloped countries.
The B3W sends a message that the U.S. under President Biden is planning to revitalize its role as a key driver of multilateral cooperation on supporting sustainable economic development. As part of this, the B3W initiative aims to contribute to the $40 trillion worth of infrastructure needed in lower income countries by 2035.
While the B3W remains scant on detail, many commentators are likening it to China's BRI strategy which was launched in 2013 as a means of generating trade, investment and development across maritime and land based routes covering more than 70 countries.
With the Chinese government's recent issuance of 'Green Development Guidelines', Beijing is encouraging Chinese businesses to incorporate green development into foreign investments. The guidelines particularly emphasise strengthening engagement with host country environmental protection agencies and promoting investment in clean energy sectors and non-fossil energy technologies.
The U.S. and China have made progress in cooperating on international climate change agreements, however, green international development will still sit at the heart of their strategic power competition. Questions still remain on what exactly the B3W could offer that the BRI could not, and vice versa. What are the primary pitfalls that the B3W could avoid? What are each initiatives' strengths and weaknesses? What will be their impact on the global fossil fuel and coal industry? Will B3W be a comparable repetition of the Obama Era's 'Pivot to Asia' strategy aimed at counterbalancing China's power? What problems can we expect to arise from both initiatives in the short to medium term?
To answer these questions, we invite you to join us for a panel discussion on Wednesday the 27th of October as part of the Lau China Institute's inaugural China Week Forum (25th to 29th October 2021), ahead of the United Nations Climate Change Conference of the Parties (COP26) in Glasgow this year.
We are pleased to welcome an exceptional line-up of experts for this panel, including:
Erik Solheim, Senior Advisor at the World Resources Institute; former Director of the United Nations Environment Programme & Norwegian Minister of Environment and International Development
Erik is a senior advisor at the World Resources Institute (WRI) and President of the Belt and Road Green Development Institute in Beijing, China. He is a Chief Mentor of Global Alliance for Sustainable Planet, Chairman of the Board of Afroz Shah Foundation (Mumbai, India) and Co-Chair of Treelion, a green blockchain company in Hong Kong, SAR. Previously, Erik served as the Norwegian Minister of Environment and International Development from 2005 to 2012. During that period, he initiated the global programme for conservation of rainforests and brought through several national legislations, which included the Biodiversity Act and Legislation. He has also been the Chair of the OECD's Development Assistance Committee as well as an Under-Secretary General of the United Nations, during which he was the Director of the UN Environment Programme (UNEP). He is also an experienced peace negotiator having been involved in peace efforts across Sri Lanka, Nepal, Myanmar and Sudan.
Prof. Meg Rithmire, Associate Professor, Harvard Business School
Meg is an F. Warren MacFarlan associate professor in the Business, Government, and International Economy Unit. Professor Rithmire holds a PhD in Government from Harvard University, and her primary expertise is in the comparative political economy of development with a focus on China and Asia. She has conducted fieldwork in many parts of mainland China as well as in Hong Kong, Singapore, Malaysia, and Indonesia.
Dr Guanie Lim, Assistant Professor, National Graduate Institute for Policy Studies Japan
Guanie is Assistant Professor at the National Graduate Institute for Policy Studies (GRIPS), Japan. His main research interests are comparative political economy, value chain analysis, and the Belt and Road Initiative in Southeast Asia. Guanie is also interested in broader development issues within Asia, especially those of China, Vietnam, and Malaysia. His latest monograph — The Political Economy of Growth in Vietnam: Between States and Markets (published by Routledge) — details the catching-up experience of Vietnam since its 1986 doi moi (renovation) reforms. Guanie has most recently consulted for the ASEAN+3 Macroeconomic Research Office (AMRO), covering financial cooperation dynamics within East Asia.
Dr. Zeno Leoni, Defence Studies Teaching Fellow & Lau China Institute Affiliate, King's College London
Zeno is a Teaching Fellow in 'Challenges to the International Order' at the Defence Studies Department of King's College London, based within the Joint Services and Staff College (JSCSC) of the Defence Academy of the United Kingdom. He is also an Affiliate to the Lau China Institute, where he is the co-convenor of the Lau's Policy Brief Series named 'China in the World'. In 2021 he published a monograph titled American Grand Strategy from Obama to Trump: Imperialism After Bush and China's Hegemonic Challenge (Cham: Palgrave Macmillan), and a chapter on US-China Competition in the Middle East and North Africa (MENA) region as part of the Routledge Handbook on China in the MENA. In 2020 he worked within the Italian Joint Chiefs of Defence Staff to write Italy's first civil-military-produced Future Trends Concept 2040+ document, analysing geopolitical, technological, environmental, and economic trends. Dr Leoni also works to engage policy-makers in Italy and the UK.
Chair: Anna Tan, Doctoral Student, King's College London
Anna is a Doctoral Student and Project Coordinator at the Lau China Institute at King's College London. Her research is focused on the impact of U.S.-China relations on the dichotomy of peacebuilding and democratisation in South Asia, during Xi Jinping Era. She graduated from King's for her MSc in Global Affairs (Overall Distinction) where she specialised in China, South Asia and Middle Eastern studies. Anna has formerly worked for the American Red Cross and the United Nations Development Programme (UNDP), on multi-donor humanitarian aid projects and on matters surrounding youth policy, human rights and peacebuilding from 2016 to 2018. She was particularly involved with the American Red Cross' aid strategy preparation for the Rohingya Crisis across Myanmar and Bangladesh. She was also a former Programme Coordinator for the Conflict, Security and Development Conference in 2020, and was a former mentee of Visiting Prof. the Hon. Mike Rann, the former Australian High Commissioner to the UK, during her time at The Policy Institute. Her research has enabled her to engage with senior policymakers and stakeholders from across international organisations, think-tanks and governments, including the UK Foreign, Commonwealth and Development Office (FCDO) on issues regarding foreign policy and development aid. Her peer-reviewed publications have been featured across the Journal of the Royal Society for Asian Affairs, Department of War Studies and the School of Security Studies. Anna is originally a biological scientist, having started her career in 2012 as a Bronze Medalist and youth scholar at the International Sustainable World Energy, Environmental and Engineering Conference (I-SWEEEP) in Houston, Texas.
Primary Event Partner: Harvard Business School
This online webinar will be held on Zoom. Registered attendees will be sent an access link to the webinar via email a week before the event. Tickets are free for all to attend.
To tweet about the event, use the tags @lauchinainst and @HarvardHBS on Twitter, and hashtags #ChinaWeek2021 #COP26 #lauchinainstitute #B3WandBRI #kingscollegelondon
For event and media inquiries, please contact lauchina@kcl.ac.uk.
This year's China Week forum at the Lau China Institute of King's College London is held in partnership with:
Chatham House (Asia-Pacific Programme)
Australian National University (ANU)
The China-Britain Business Council (CBBC)
The Great Britain China Centre
Society for Anglo-Chinese Understanding
Italian Institute for International Political Studies (ISPI)
China Biodiversity Conservation and Green Development Foundation (CBCGDF)
Oxford University Silk Road Society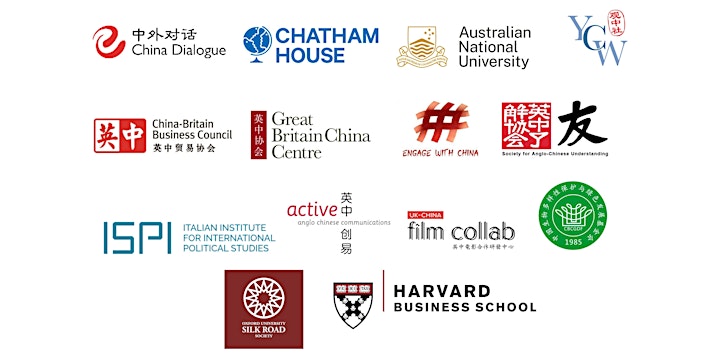 Organiser of B3W and the BRI: Prospects and Limitations
The Lau China Institute is a global centre for the research, study and understanding of contemporary China. We aim to study both China and work with Chinese scholars and others. As such, we seek research collaborations and deeper mutual understanding with the People's Republic of China, ensuring we sit at the heart of King's strategic approach.
Established in 2011, we now have a community of core academics and postgraduate students, including roughly 30 PhD students. We are based within the School of Global Affairs, yet work across all nine faculties and beyond, to engage in multi-disciplinary and innovative research.
The Lau China Institute is based in Bush House, North East Wing, 40 Aldwych, London, WC2B 4BG, part of King's Strand Campus.