Learn more about studying on our contemporary Fine Art courses in London.
About this Event
Online open days for our BA (Hons) Fine Art take place from autumn to spring. They are a great opportunity to find out more about the course content, meet our teaching team, learn about our specialist facilities and get a feel for what it's like to study here. You will also have the opportunity to ask any questions you may have.
We run our online open days in small groups so you'll have the opportunity to find out everything you want to know, and you can expect it to take approximately 45 to 60 minutes.
You are also invited to take part in one of our weekly Student Virtual Chats where you can talk to current Art School students and ask about their experiences of studying with us. Register here.
If you have any queries, please contact us at office@cityandguildsartschool.ac.uk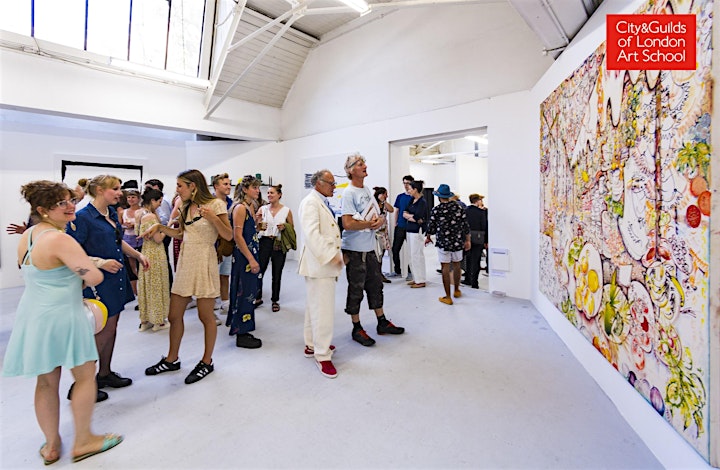 About Fine Art at City & Guilds of London Art School
On our BA (Hons) Fine Art, you will have the opportunity to develop your work in the wider context of fine art through the specialist areas of painting, sculpture, printmaking and drawing. The emphasis is on supporting and challenging you to develop an approach to art practice based on your own creative interests and ideas, alongside an exploration of questions about what painting, sculpture, printmaking and drawing might be now, given their historical roots, materials, processes and current discourses.
At the Art School, we don't believe in a 'house style'; instead, we will support you to fully explore ways of making and thinking, and develop your own artistic 'voice'. All our Fine Art Tutors are practising artists and because we have a generous tutor to student ratio, there'll always be a tutor on hand to challenge and encourage you.
We are committed to the idea of 'thinking through making' with an emphasis on material understanding. In order to interrogate the integrity of materials further, we have developed a discussion series called Material Matters which sets out to explore a specific material through a range of approaches. We are also one of the few places in the UK where you can opt to learn about traditional hand skills – such as historic painting techniques, carving and bronze casting – alongside contemporary ideas, materials and processes.
On both the undergraduate and postgraduate fine art courses, you'll have access to our range of specialist workshops and facilities, including our historic print room, wood workshop, glass workshop and foundry. All facilities are managed by expert technicians who will encourage and support you to develop the skills and confidence to explore processes creatively and independently.
BA (Hons) Fine Art culminates in a final show, which provides an important platform for your work. The Shows are very well received, often leading to commissions and future exhibitions, residencies and projects.
Due to the coronavirus pandemic, it was not possible to host a physical Show in 2020. However, the impressive work of our 2020 BA Fine Art graduates features in our Online Graduate Showcase - enter here to view their work!
Find out more about BA (Hons) Fine Art