| | |
| --- | --- |
| BABAJI'S KRIYA YOGA INITIATION PROGRAM - 2 to 4 October 2015, London | |
Event Details

BABAJI'S KRIYA YOGA
LEVEL I INITIATION PROGRAM - 
Training in the ancient art of Conscious Creation
 About Babaji's Kriya Yoga
Yoga enables us all to experience who I AM, and let go of all that I am not! 
If you are interested in a purposeful, powerful or peaceful life with experience of well-being and are willing to look past the fluctuations in and around you, so that you can experience your true nature more consistently and constantly, Kriya Yoga is for you. 
KRIYA YOGA and Mahavtar Kriya Babaji are fondly referred to as "India's gift to the world" ("Autobiography of a Yogi").
Whatever your reason or need, the regular practice of Yoga creates the experience of:
increased health, wellbeing fitness

reduced stress

greater love, happiness, peace of mind, fulfilment

enhanced spiritual awareness and connection

increased personal freedom from habits

more balance, equilibrium and stability.
Benefits of Kriya Yoga
Babaji's Kriya Yoga trains us in the ancient "art of living" through Conscious Creation. It develops and improves our Self-Awareness, Self Realization and Self Mastery. We can experience being the constant creator of our experience of health, happiness and wellbeing. It awakens, energises and increases our powers, using the ancient "Kriyas," techniques into a flexible personal practice that integrates into our daily lives and routines, so we are able tap into our full human potential. The potential personal pwoer is refer to is both internal/insivisible and external/visible.
With regular practise of these "Kriyas" we become mindful in how we think, feel and speak, in our attitude and behaviour, in thoughts, words and actions, using our powers of intuition, intention and the Mind-Body-Soul. Eventually, our environment responds, and our experience resonates according to our the quality of our energy. If challenges occur, with our heightened awareness and being-ness, we have greater freedom of choice to react or create. That is what enables us to experience ourselves as the source, cause and creator of our experience and our lives.
Eventually, we may go beyond the fluctuations of our mind, emotions and environment, to experience our true nature,  so "Now nothing can disturb me any more" (Ramana Maharishi).
To access this power within us requires initiation and training into the techniques, and regular personal practice. This is what gives the experience and insights that you have just read above, which words cannot adequately describe.
Initiation in Babaji's Kriya Yoga
Training in Babaji's Kriya Yoga is training in the "art of living" through Conscious Creation, through Self-Awareness, Self Realization and Self-Mastery, by tapping into our full potential human power. It includes and goes beyond mindfulness. The complete system of the practical 144 Kriyas techniques, involving postures, breathing, meditation, mantras and devotional techniques, which taught over a series of 3 Initiations, which build on each other.
The Kriyas were developed to "nurture personal mastery of human nature" at all 5 levels of our being (physical, mental, intellectual, vital, emotional, spiritual). During the series of 3 Initiation programs, you are progressively trained in the flexible system of 144 techniques, using your physical, vital, mental, intellectual and spiritual faculties, with guidance of how to integrate this into your personal lives. . Regular practice with sincerity and surrender makes complete transformation into undreamt of possibilities, starting with health.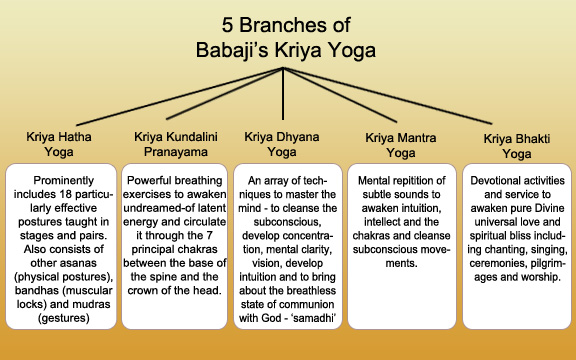 Initiation into Babaji's Kriya Yoga includes:
Awakening Consciousness

Kriyas for Personal Transformation

Unfolding Awareness

Kundalini Energy

Mystic Samadhi Experience

the Creative Force of Manifestation

Realization of Self and Absolute Reality

Health in Body, Mind and Soul

"Kriya-Kundalini-Pranayama"- Breathing techniques

Meditation techniques

Hatha Kriya

Shakti Mantras

Sacred Fire Ceremonies

The Art of Self Awareness, Self Realization and Self Mastery

 
Kriya Yoga does not conflict with your other practises or belief - it may help you to deepen your existing practice. It is not a religion – it is a pathway towards your own truth using your own personal experience. 
Level I Initiation
Initiations into the Babaji's Kriya Yoga Level I program are available to all - at any level of physical fitness. Although many yoga teachers find training in Kriya Yoga improves their teaching, no prior experience of yoga is necessary. In the Level I weekend workshop, the first of three progressive Initiations, you learn essential Kriya techniques to awaken and circulate subtle energies, to increase your life force, to purify, heal and strengthen the five Mayakoshas (levels of our being) - physical, mental, intellectual, vital, emotional, spiritual). This will expand your consciousness and awareness, and unfold your complete human potential power, using:
KRIYA KUNDALINI PRANAYAMA – powerful, transforming and magnetizing breathing techniques

ASANA - Hatha Yoga for greater health, relaxation and energy

MEDITATION  -  Dhyana techniques to master the mind, find inner peace and realize Self & Absolute Reality

MANTRA - to contact Kriya Babaji and your GURU within you

INITIATION PUJA  - Sacred ceremony of devotion through Bhakti Yoga

How to lead a healthy yogic life style with today's demands in everyday life.
We intend in to give you the tools to life a life that you love. The program is intimate, so the number of places are limited.
(Once you have completed Level I, you will be eligible to join the Level II Initiation in 2016. Level II completes the training given in Level I, to deepen the experience of Yourself through the integrated Mind-Body-Spirit. Level II brings the profound awareness shift of Level I and our subsequent self practise together into an integrated whole; and teaches us how to integrate this into our everyday lives."  You are trained in techniques to * introduce personal practises into any of our daily activities,  * detach from poor or distracting habits and obstacles,  * expand awareness of life and our true Self, with power to manifest our human potential.) "
All you need to know about the Level I Initiation Program on 2 - 4 October 2015 in London
Timing – Friday 6.30pm to 8.30pm | Saturday – 8am to 6.30pm | Sunday – 8am to 5.30pm
Contribution - £270 for new students  
Venue - Jamyang Buddhist Centre, Old Courtyard, 43 Renfrew Road, London, SE11 4NA
Registration - in advance by 14th September through Eventrbrite
About the teacher - Yogacharya Siddhananda
Yogacharya Siddhananda (Sita) was born in Brazil in a family of spiritual seekers. She grew up in the spirit of Yoga, mystical Christianity and the teachings of Tibet. Through her explorations of the world and human nature, as well as study of sacred literature through long sea voyages, pilgrimages and retreats, she learned to recognise the universal presence of an essence which animates and unites all of us. Sita has been a teacher, a translator and a builder and organiser of several different enterprises. She has 5 children.
For further information:
Contact Marina by email at babaji.ky.london@gmail.com or by phone on +44 (0)7990 975292 www.babajiskriyayoga.net 
---
Useful Weblinks
About Kriya Yoga - http://www.babajiskriyayoga.net/english/about-kriya-yoga.htm
Program details - http://babajiskriyayoga.net/english/pdfs/events/BKY-Sita-London-2015-flyer.pdf
FAQs
1. Where can I contact the organiser with any questions?
Contact Marina by email at babaji.ky.london@gmail.com or by phone on 07990 975292 by 31st August 2015.
2. What is the level of experience in yoga and meditation needed to participate in this program?
The program is open to all people with all levels of fitness and with none to extensive yoga experience. Mats, cushions and chairs are provided for additional comfort for anyone who is not used to sitting on the floor.
3.  How do I know if this is for me?
If something about Kriya Yoga interests you, then it is for you. It is probably your Soul signalling you. Kriya Yoga is for people of all ages (13 to 75), backgrounds, cultures, professions (from yoga teachers to CEO of international companies). The common factor betwene them is their interest in self development.
Here are some student comments:
Thank you....it was wonderful....elevating, enlightening, comforting, inspiring and immediately actionable ....all rolled into one ....not many things like that on this planet. 
I want to thank you for the Initiation. The experience was very inspirational and has helped me a great deal. It's just what I needed to realign myself.
Thank you. With all the chatter around concepts like 'resilience', 'mindfulness' and 'mental toughness', this two and a half day 'initiation' cut through the noise and I arrived at a whole heap of stuff that I could take back and use immediately. I now find I have more space. I feel calm, despite what is going on around me. 
For further testimonials, feedback and insights, go to http://www.babajiskriyayoga.net/english/testimonials.htm 
4. What are the transport options getting to the event?
The venue is only a 5-minute walk from Kennington Station, a 15-25 minutes from Oval, Vauxhall, and a reasonable distance Victoria and Waterloo Stations, which are served well by London Underground, bus and British Rail.
5. Is this a residential retreat?
No. If you wish to stay near the venue, there are Travelodge, Eurotraveller and other hotels nearby. To ensure you get the best room rates, we recommend you book your accomodation early, as soon as your place on the program is booked.
Where

Jamyang Buddhist Centre
The Old Courtyard
43 Renfrew Road
SE11 4NA London
United Kingdom


BABAJI'S KRIYA YOGA INITIATION PROGRAM - 2 to 4 October 2015, London