Rest, reflect, learn and share in an online space made for you!
About this event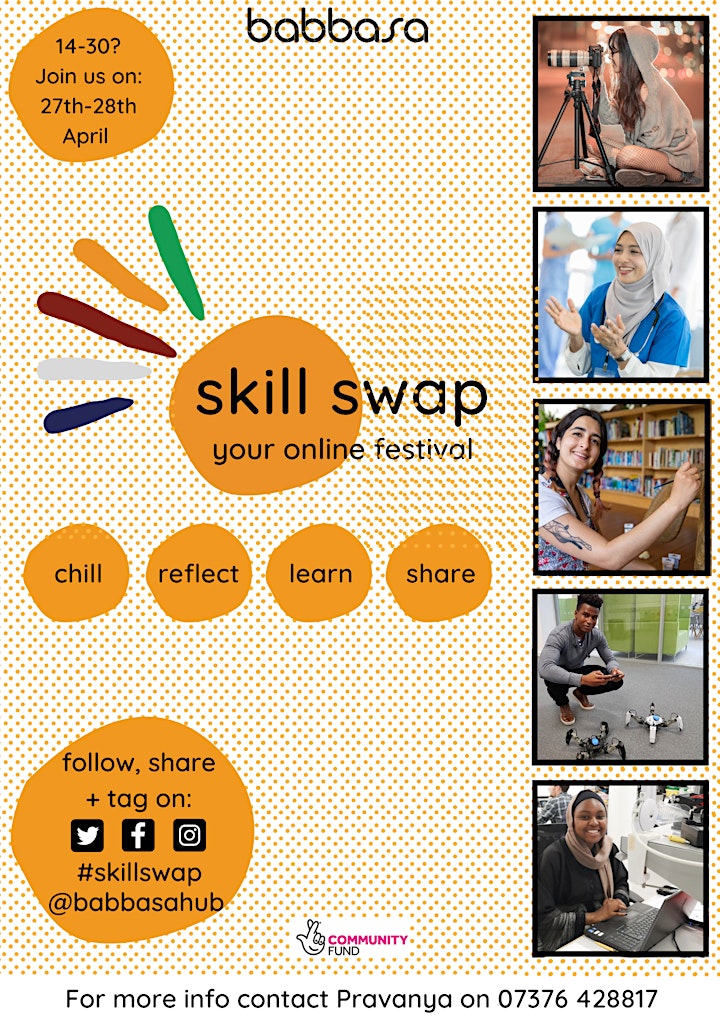 Unsure of how to make the most out of isolation? 
There are so many celebrities and social media influencers showing their new skills, creative projects, and fitness journeys that it's hard to know what to do or where to even begin.
So if you want to try out a bunch of new things, interact with young people online, and see what works for you, Babbasa's Skill Swap Festival is perfect for you!
When: Monday, April 27 and Tuesday, April 28 
Where: @babbasahub - Instagram, Facebook, Twitter
The whole event is being organised by Babbasa's amazing Youth Ambassadors who will be creating a virtual space made especially for you.
What Events are Going On?
Throughout the day, you'll hear from professionals, Babbasa staff and Youth Ambassadors on how they're resting, reflecting, sharing and learning during the lockdown. You'll also get some great workshops on How to Draw and How to Make Music.
In the evening you'll get to attend amazing live events on How to Become an Influencer from former Try Guy, BuzzFeed writer, and Creative Diversity Executive, Izzy Francke and How to Code (TBC)!
You can check out our full event calendar, below!
Sign up here, and follow us @babbasahub on Instagram, Facebook, and Twitter to make sure you don't miss anything.
We can't wait to see you there!
Organiser of Babbasa's Skill Swap - The Online Festival For You!