Description
This must-attend event is delivered by NatWest and is being hosted by Moneypenny
Open to customers & non customers
Join us on the 11th November to discuss the findings on how North Wales can encourage and develop female entrepreneurship and to formally launch Back Her Business, the first female-only crowdfunding programme that supports would-be entrepreneurs across the UK.
Although most of the funding will come from "the crowd" – the bank will provide top-up funding of £1 million per year across the UK. We will offer eligible projects up to 50% of an entrepreneur's fundraising target, capped at £5,000 and our Board can also award some projects with further top-up funding.
The programme is open to all women, including those who identify as female.
On International Women's Day, the UK Government published the Rose Review, a report on the barriers to women starting and growing their business.
Key themes include:
Women make up 33% of entrepreneurs in the UK

Achieving parity in start up rates could generate an additional £250bn to the UK economy

Currently 1p in every £1 of VC funding goes to female led businesses

Networks cannot be under estimated

Look forward to seeing you there.
AGENDA to be confirmed:
10.00 Registration and Networking
10.30 Open NatWest
10:35 Overview of Back her Business
11:00 *Minutes silence for remembrance day*
11:10 speech from a female entrepreneur who has been successful with crowdfunding
11:25 opportunity to talk about We Mind the Gap. To be confirmed
11.40am Close and Networking with optional tours
——————————————————————————————————————————————————
Mae NatWest yn cyflwyno'r digwyddiad hwn sy'n rhaid ei fynychu ac mae'n cael ei gynnal gan Moneypenny
Yn agored i bawb.
Ymunwch â ni ar 11eg Tachwedd i drafod y canfyddiadau ac archwilio sut y gall Gogledd Cymru annog a datblygu entrepreneuriaeth fenywaidd ac i lansio Back Her Business yn ffurfiol, y rhaglen cyllido torfol gyntaf i ferched yn unig sy'n cefnogi darpar entrepreneuriaid ar draws y DU.
Er y bydd y rhan fwyaf o'r cyllid yn dod o "y dorf" - bydd y banc yn darparu cyllid atodol o £ 1 miliwn y flwyddyn ledled y DU. Byddwn yn cynnig hyd at 50% o darged codi arian entrepreneur, gyda chap o £ 5,000, a gall ein Bwrdd hefyd ddyfarnu cyllid atodol pellach i rai prosiectau.
Mae'r rhaglen yn agored i bob merch, gan gynnwys y rhai sy'n uniaethu fel menywod.
Ar Ddiwrnod Rhyngwladol y Menywod, cyhoeddodd Llywodraeth y DU Adolygiad Rose, adroddiad ar y rhwystrau i fenywod ddechrau a thyfu eu busnes.
Ymhlith y themâu allweddol mae:
Mae menywod yn 33% o entrepreneuriaid yn y DU
Gallai sicrhau cydraddoldeb mewn cyfraddau cychwyn gynhyrchu £ 250bn ychwanegol i economi'r DU
Ar hyn o bryd mae 1c ym mhob £ 1 o gyllid VC yn mynd i fusnesau dan arweiniad menywod
Ni ellir tanamcangyfrif rhwydweithiau

Edrychaf ymlaen at eich gweld chi yno.
AGENDA i'w gadarnhau:
10.00 Cofrestru a rhwydweithio
10.30 NatWest yn Agor
10:35 Trosolwg o Back her Business
11:00 * Munudau distawrwydd ar gyfer diwrnod coffa *
11.00 Araith gan entrepreneur benywaidd sydd wedi bod yn llwyddiannus gyda chyllido torfol
11:25 cyfle i glywed am We Mind the Gap. I'w gadarnhau.
11.40am Cau a Rhwydweithio gyda theithiau dewisol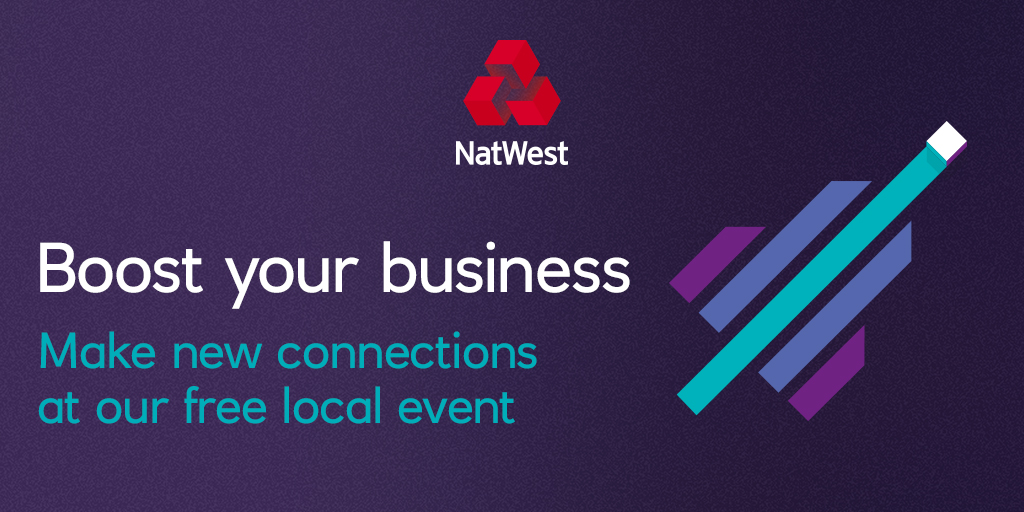 All information used in this presentation you are registering for is produced for information purposes only and is for the sole use of the attendees at the presentation.
Whilst we feel this topic is beneficial to business owners, the views expressed are not intended to be and should not be viewed as individual advice or as a recommendation by RBS, NatWest or any third party. You should seek independent advice in respect of issues that are of concern to you.
To the maximum extent permitted by law we expressly disclaim all representations, warranties, or assurance of any kind, expressed or implied, that are made to the accuracy or completeness of the information contained in this presentation and do not accept any obligation to update or correct any information contained herein.
During the event photographs may be taken on behalf of the host with a view to posting on social media to promote services offered to customers. If you do not wish to be included in the photographs please notify us.
For the avoidance of doubt RBS/NatWest does not produce the materials for all presentations. This disclaimer applies equally to any materials or presentations produced by a third party.
By registering for this event you agree that you have read and expressly agree to the use of your personal data submitted as part of your event registration by Eventbrite in accordance with their: