Event Information
Location
Cattows Farm
Normanton Lane
Heather
LE67 2TD
United Kingdom
Description
BACK TO THE 80s & 90s FESTIVAL 2017
Friday 11th, Saturday 12th and Sunday 13th August 2017
Cattows Farm, Heather, Leicestershire, LE67 2TD
FULL LINEUP
▀▀▀▀▀▀▀▀▀▀▀▀▀▀▀▀▀▀▀▀▀▀▀▀▀▀▀ ▀ ▀ ▀ ▀ ▀ ▀ ▀
Friday

★ T'Pau
★ Phats & Small
★ Alison Limerick
★ Cappella
★ That 80's Rock Show - The Hair Rock Experience
★ Video Geeks

▀▀▀▀▀▀▀▀▀▀▀▀▀▀▀▀▀▀▀▀▀▀▀▀▀▀▀ ▀ ▀ ▀ ▀ ▀ ▀ ▀
Saturday

★ Heaven 17
★ 5IVE
★ Doctor & The Medics
★ Chesney Hawkes
★ S Club Party
★ Livin Joy
★ Hosted By Pat Sharp
★ Dario G
★ Berri
★ Angie Brown
★ Piano Man
★ Video Geeks

▀▀▀▀▀▀▀▀▀▀▀▀▀▀▀▀▀▀▀▀▀▀▀▀▀▀▀ ▀ ▀ ▀ ▀ ▀ ▀ ▀
Sunday

★ B*Witched
★ A1
★ 911
★ Anthony Costa (Blue pa)
★ Sweet Female Attitude
★ The Cheeky Girls
★ Coco
★ Navi (The worlds Greatest Michael Jackson Tribute)
★ Video Geeks

▀▀▀▀▀▀▀▀▀▀▀▀▀▀▀▀▀▀▀▀▀▀▀▀▀▀▀ ▀ ▀ ▀ ▀ ▀ ▀ ▀
DJ's Playing 90's & 00'S Dance Classics
▀▀▀▀▀▀▀▀▀▀▀▀▀▀▀▀▀▀▀▀▀▀▀▀▀▀
▀ ▀ ▀ ▀ ▀ ▀ ▀ ▀
PLEASE NOTE THERE IS A £10 PARKING CHARGE, PAYABLE ON ARRIVAL
OPENING TIMES

FRIDAY 11TH AUGUST
2pm - Car park opens
2pm - Campsite opens
6pm - Event arena opens
11pm - Event arena closes
SATURDAY 12TH AUGUST
8am - Car park opens
8am - Campsite opens
12pm - Event arena opens
12am - Event arena closes
SUNDAY 13TH AUGUST
11am - Car park opens
12pm - Event arena opens
9pm - Event arena closes
MONDAY 14TH AUGUST
11am - Campsite closes (all campers must vacate site)
TICKETS
SPECIAL OFFER 10% OFF - Adult Weekend Camping and Entry Ticket £89.99 +booking fee (Limited Availability)
Adult Weekend Camping and Entry Ticket £99.99 +booking fee
Adult Weekend Non-Camping Entry Ticket £59.99 +booking fee
Adult Day Ticket (Saturday) £44.99 +booking fee
Adult Day Ticket (Sunday) £44.99 +booking fee
Child Weekend Camping and Entry Ticket £39.99 + booking fee
Child Weekend Non-Camping Entry Ticket £29.99 +booking fee
Child Day Ticket (Saturday) £19.99 + booking fee
Child Day Ticket (Sunday) £19.99 +booking fee
Campervan/Caravan Ticket £49.99 +booking fee (includes caravans, campervans, trailer tents up to 7 meters, weekend camping and entry tickets must be bought in addition)
VIP Weekend Ticket £150 +booking fee (includes weekend festival entry, regular camping, lanyard and access to VIP area which includes, toilets, bar and seating)
GLAMPING
Tinkers Bells SOLD OUT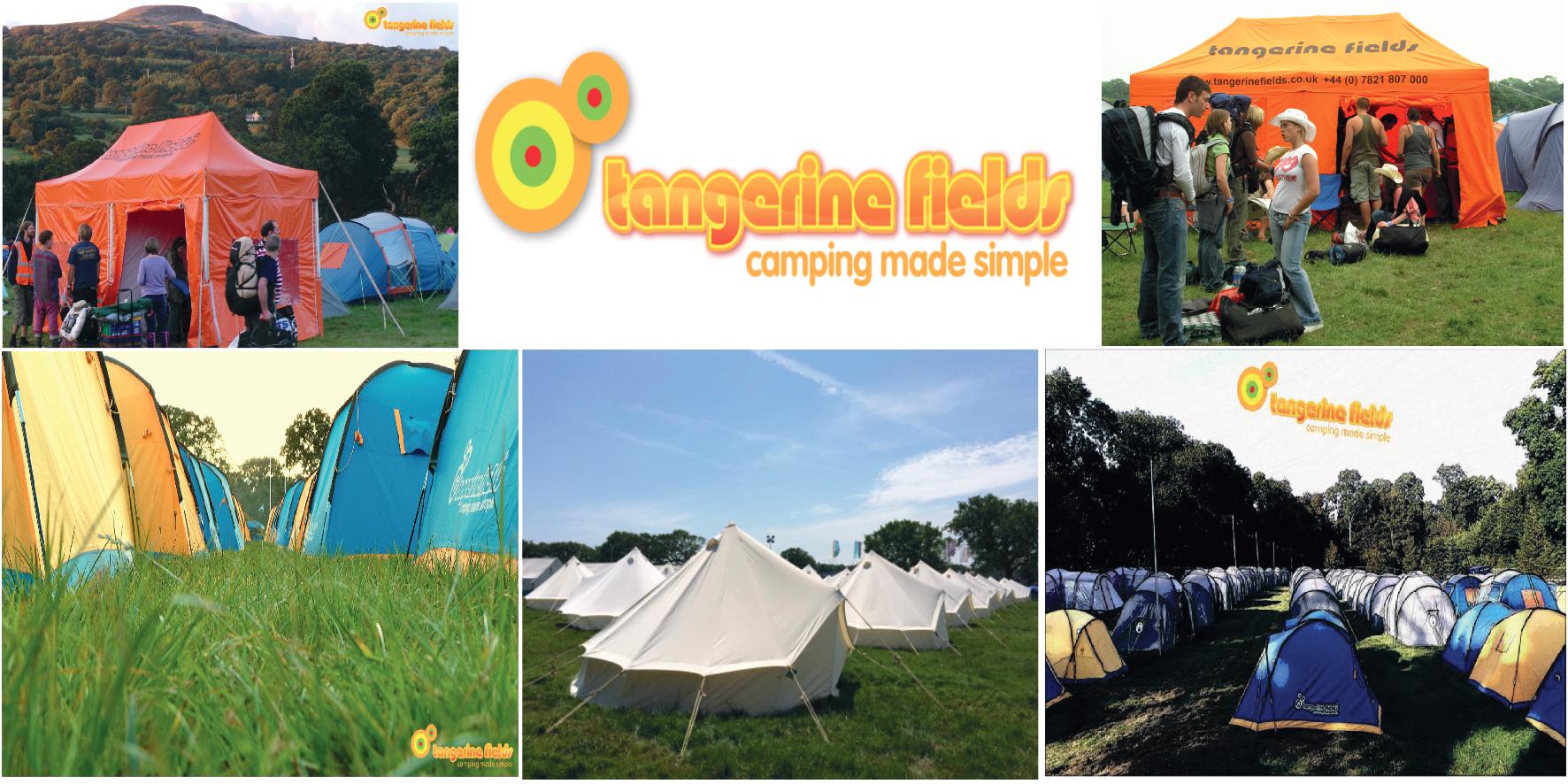 Tangerine Fields is every festival campers dream.
Come rain or shine, there's no need to faff about with pegs and poles. Our range of fully equipped, spacious tents and unique boutique selection will leave you spoilt for choice when looking for the ultimate glamping experience
Tangerine Tents and Boutique Accommodation
Choose from the sumptuous luxury of the Arabian Bedouin Tent or the classic comfort of the vintage Bell Tent, while our Chill Out Tents provide a great space to relax in, with their Brazilian soft weaved hammocks
Bright, airy and affordable, our range of tents house families of up to 8 people with plenty of room spare to store all your weekend essentials. And for those that like to travel light, we can fill the tent for you with all the kit you need to camp, from airbeds to head torches. There's even one with new BlackOut bedroom technology for those that like to sleep in the morning!
Better still, we'll ensure you're pitched with your friends no matter how big your group or how late they arrive to the festival. We'll even leave room for your gazebo!
With prices starting from £30 per person for the whole event, a booking with Tangerine Fields means all you have to do is turn up, move in and enjoy the festival.
Click here to book you tent: https://www.tangerinefields.co.uk/events/back-to-the-80s-90s-festival.html
FAQ's
Q. Can I bring a picnic into the event arena?
No, unfortunately NO FOOD OR DRINK CAN BE TAKEN INTO THE EVENT ARENA. With the exception of sealed bottles of WATER and baby food.
Q. Are there ID requirements or an age limit to enter the event?
There is no age limit to the festival, however you will require a form of ID to purchase alcohol if you look under 25.
Q. Is there a limit to the amount of alcohol I can take to the event? (CAMPSITE ONLY)
You may bring up to:
12 x 440ml cans of lager/cider/beer OR
12 x 250ml cans of premix spirit drinks OR
3-litre box of wine OR
5 litres of cider/lager/beer in plastic bottles or cans
Plastic or glass bottles spirits are not allowed.
Alcohol can only be taken into the campsite, no alcohol can be taken into the main arena. The limit is per adult.
All alcohol must be brought with you on arrival to the festival only. There is NO RE-ENTRY with alcohol. For safety reasons no glass can be brought on site. No opened bottles can be brought on to site – you can bring sealed plastic bottles of water or soft drinks. Any opened bottles will be confiscated on entry to the festival. Alcohol is for personal consumtion only. 18+ only, ID checks may take place upon entry, those found to be under 18 will have alcohol confiscated.
Q. Is there a charge for the car park?
Yes, there is a £10 charge for the car park for the weekend and £5 charge for the day, this is payable on arrival. (Cash only)
Q. I haven't received my booking confirmation and/or E-ticket, what do I do?
If you haven't received your booking confirmation, the most common reason is that you have typed in your email address incorrectly on your order. All booking confirmations are sent to the Ticket Buyer's email address.
If you are able to log in to your Eventbrite account please log in and follow the steps in the section "How to update your ticket/registration information".
If you are unable to log in to your Eventbrite account, please contact info@jamesdeanevents.com
Q. Can I update my registration information?
Yes, you can update the information on your order (like name, email address, or answers to the organiser's questions) by clicking your order on the Tickets page.
Q. Do I have to bring my printed ticket to the event?
No, tickets can be downloaded onto any smartphone using the Eventbrite App, however tickets can be printed out if you do not have a smartphone.
Q. What is the refund policy?
Refunds will only given if the event is cancelled due to fault of our own and the event cannot be rescheduled.
Q. The name on the registration/ticket doesn't match the attendee. Is that okay?
Yes, the information does not need to match the attendee.
Q. What age is a child ticket?
A child's ticket is age 6 - 16, any child under the age of 6 is free and does not require a ticket.
Q. Can I bring my dog?
We're afraid no dogs are allowed on site, with the exception of guide dogs.
Q. How do I enquire about having a trading pitch?

Please email info@jamesdeanevents.com for any information.
Q. I'm arriving at a different time to my friends, can I save them a camping pitch?
We cannot gaurantee pitches can be saved, if you wish to camp next to each other we advise arriving together.
Q. Can I park my car next to my tent?
No, all cars must stay in the car park for safety reasons. A small fee is payable for the car park upon arrival.
Q. How far is the car park from the campsite?
It's only a few minute walk. If you have a lot of items to carry we recommend bringing a wheelbarrow/trolly to help.
Q. Can I bring a bbq?
Coal bbq's and disposable bbq's are permitted as long as they are raised off the ground when in use and fully extinguished after use. No gas fueled bbq's or gas camping stoves are permitted.
Q. Can I bring my caravan or campervan along to the event?
Yes, to bring a caravan or campervan along you will need to purchase a weekend camping and entry ticket per person staying in the van, then on top you will need to purchase caravan/cameprvan ticket per van. All cars once they have dropped the caravan off will need to be parked in the car park (car parking pass will be provided). You are welcome to bring and awning for your van but NO separate tents, tents and caravans/campervans must be kept separate. Gas bottles are permitted if fully fitted within the caravan/campervan. No portable gas bottles, canisters or similar are permitted. This also applies to motorhomes and trailertents.
Q. If my friends are stopping in a caravan can I go and see them with my camping wristband?
No, Unfortunately due to our security policy only customers with a caravan wristband can enter the caravan site. If you hold a regular camping wristband (camping in a tent) then you cannot enter the caravan site. We apologise for any inconvenience this may cause.
Q. Are there any electric hook ups available?
No, there are no electric hook ups available on site.
Q. What facilites are in the campsite?

We have toilets, showers and phone charginf points free to use in the campsite. (Please bring your own cable and plug for the phone charrging).
Q. What can't I bring to the event?
No gas bottles, canisters or similar
No animals
No goods for unauthorised trading
No items which may reasonably be considered for use as a weapon
No chinese/sky lanterns
No drones
No genterators
No glass
No illegal substances, legal highs or herbal highs
No portable laser equipment and pens
Q. Where can I contact the organiser with any questions?
Please email info@jamesdeanevents.com for any enquires.
Q. What disabled facilities do you have?
We have disabled parking, a disabled area in the campsite and we have disabled toilets in all parts of the site. However we do not have veiwing platforms as the stage can be seen from all parts of the site. Please be aware the event is in a field so can be uneven in places. Cars cannot be taken onto the campsite, however we have people to help carry your belongings should you need them. For more information please info@jamesdeanevents.com.
Date and time
Location
Cattows Farm
Normanton Lane
Heather
LE67 2TD
United Kingdom