HYPER JAPAN presents an exclusive Backstage Night with Katsura Sunshine to 30 guests on 8th Dec 2021.
About this event
The king of Kimono comedy, Katsura Sunshine is bringing traditional Japanese Rakugo storytelling back to London West End at the famous Leicester Square Theatre starting on 12th Dec 2021 – at the same time as his ongoing run on Broadway! To celebrate his comeback, HYPER JAPAN is proud to present "Backstage Night with Katsura Sunshine" on 8th Dec Wednesday at So Japanese Restaurant in London.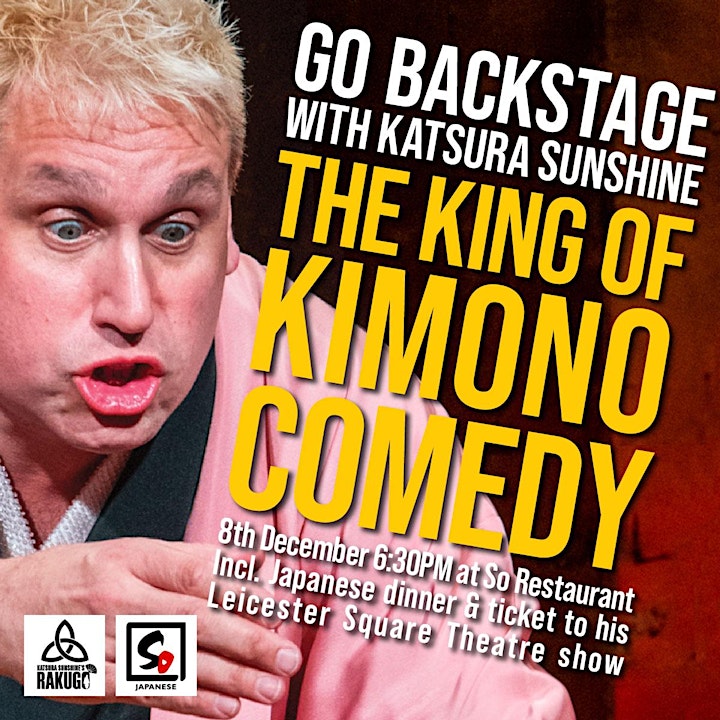 This event, exclusive to 30 guests, will (re)introduce you the world of Rakugo in the Sunshine style! He will tell you inside stories from the world of Rakugo, West End and Broadway that you will never hear anywhere else. Guests will also have a chance to ask questions and take photographs with him. The ticket includes a Japanese Shokado Bento Box – traditional Kaiseki style meal, a drink, one complimentary ticket to Katsura Sunshine's show at Leicester Square Theatre ( Dec or Jan show to choose from) and a special Omiyage souvenir from Katsura Sunshine.
Be a part of this incredible celebration of Japanese culture returning to London and make the end of 2021 as Sunshine as it can be!
**********************************
Date: 8th December 2021, Wednesday
Time: 6:30-8:30pm GMT (Door opens at 6pm)
Performer: Katsura Sunshine 桂三輝 ( click name for his own website)
Venue: So Japanese Restaurant (Exclusive use for the event @ 5 Middlesex St, London E1 7AA)
https://sorestaurant.com/pages/dining-in-takeaway
Price: £100 per person (exc. VAT)
Max Number: Limited to 30 guests
Book your place before 5pm on 3rd December 2021, Friday
Note: This event as well as all of his shows are spoken in English, NOT in Japanese.
**********************************
What's included in your ticket;
1) 1 x Shokado Bento ( 2 choices: regular – includes fish and meat- or vegetarian) and your first drink, to choose from beer, shochu, house red or white wine, soft drinks.
2) A complimentary ticket to Katsura Sunshine's show at Leicester Square Theatre (choose from 12 Dec 21 Sunday or 23 Jan 22 Sunday shows)
3) Omiyage – special souvenir from Katsura Sunshine
4) Laughter!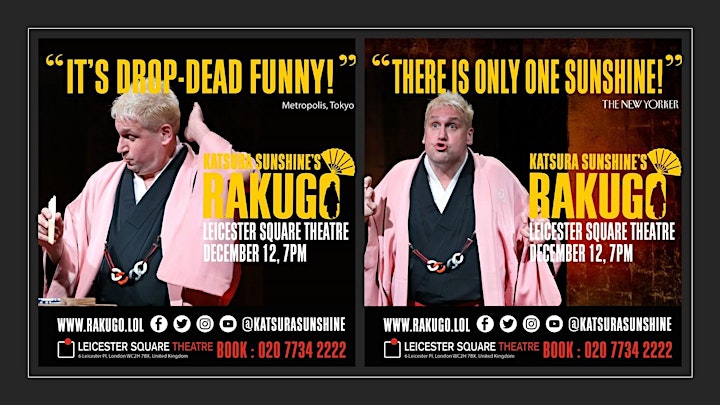 **********************************
About Rakugo and Katsura Sunshine:
Rakugo is a 400-year-old tradition of comical storytelling in Japan. The stories have been passed down from master to apprentice orally through the centuries.
Katsura Sunshine 桂三輝 began in the entertainment industry as a playwright, composer and producer of musical theatre, and his musical "Clouds" ran 15 months in Toronto's "Poor Alex Theatre" and toured Canada.
In 2008, Canadian native Katsura Sunshine 桂三輝 became the 15th apprentice to the great Rakugo Master Katsura Bunshi VI, from whom he received the name Katsura Sunshine. Sunshine was the first ever Western Rakugo-ka in the Kamigata tradition (Osaka area) and only the second in Japanese history, after his predecessor Kairakutei Brakku a hundred years before.
Sunshine has toured over 5 continents performing in 3 different languages (Japanese, English & French). He made his London West End debut and New York Off-Broadway debut in 2017 for 3 weeks run in both cities.
Katsura Sunshine has appeared HYPER JAPAN FESTIVAL many times in the past and performed at at HYPER JAPAN ONLINE 2021 as a part of his Rakugo Digital World Tour.