Description
You're invited on a journey into the darker side of motherly love . . .
Motherhood in fiction is often portrayed as tender, blissful perfection but, as every mother knows, there are darker sides too - loss, despair, fear, exhaustion, confusion. Join leading suspense authors Sarah Vaughan and Lucy Atkins at Heffers as they discuss why they are drawn to the complicated reality of motherhood, and why this intensity and dysfunction is rich material for any writer.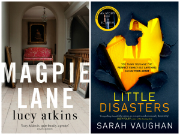 Sarah Vaughan is a former Guardian journalist and the author of four novels, including the Sunday Times bestseller Anatomy of a Scandal. Her latest is Little Disasters. Lucy Atkins is a Sunday Times books critic, a Costa Book Awards judge, and the award winning author of four suspense novels and several non-fiction books. Her most recent novel is Magpie Lane.
Tickets for the event are priced at £6 in advance or £7 on the door, and can be purchased through this page, by calling 01223 463200 or in person at Heffers bookshop. Please note that tickets are transferable but non-refundable.
Like this? See a full list of our forthcoming events by clicking here.