Description
Snowflake, elite, expert . . . What are today's 'bad words' and what do they say about us, both as individuals and as a society? Join historical linguist Philip Gooden at Heffers as he explores the origins of these words, how they have changed over time - and the media furore that can whip up around them.
Once upon a time, the worst words you could utter were short, simple and tended to be four letters in length. Now things are more complicated. To be insulted as a 'snowflake' or an 'expert' is arguably worse than being called a **** or a **** or even a ****. So what are today's 'bad words' and how are they different from yesterday's taboo expressions? This entertaining guide to the shifting sands of bad language is indispensable in an increasingly divided world in which abuse becomes ever more widespread and vituperative.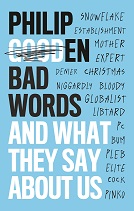 Philip Gooden's other books on language include The Story of English, the award-winning Faux Pas and May We Borrow Your Language? He is the author of several historical mysteries and was chairman of the UK Crime Writers' Association in 2007-8.
Tickets for the talk are priced at £4 in advance or £5 on the door, and can be purchased through this page, by calling 01223 463200 or in person at Heffers bookshop. Please note that tickets are transferable but non-refundable.
Like this? See a full list of our forthcoming events by clicking here.