Badfaithed Conference 2018 #Hometruths
Description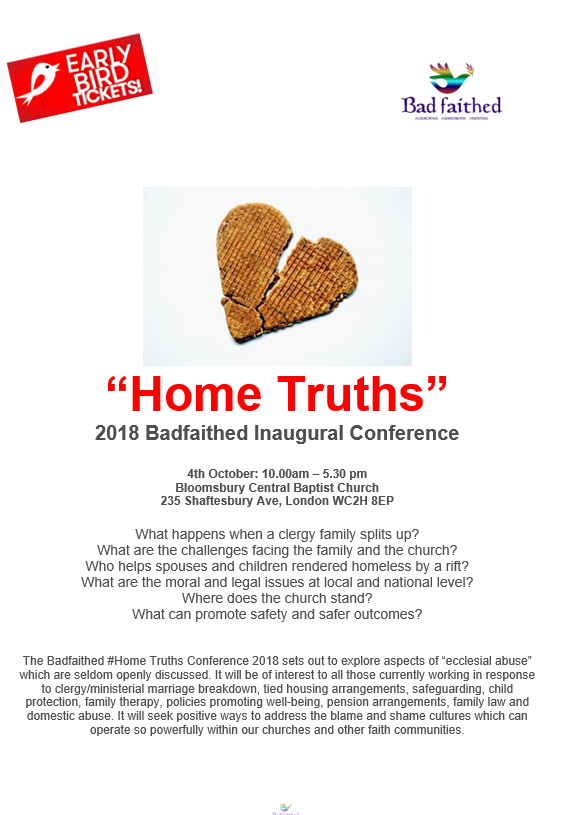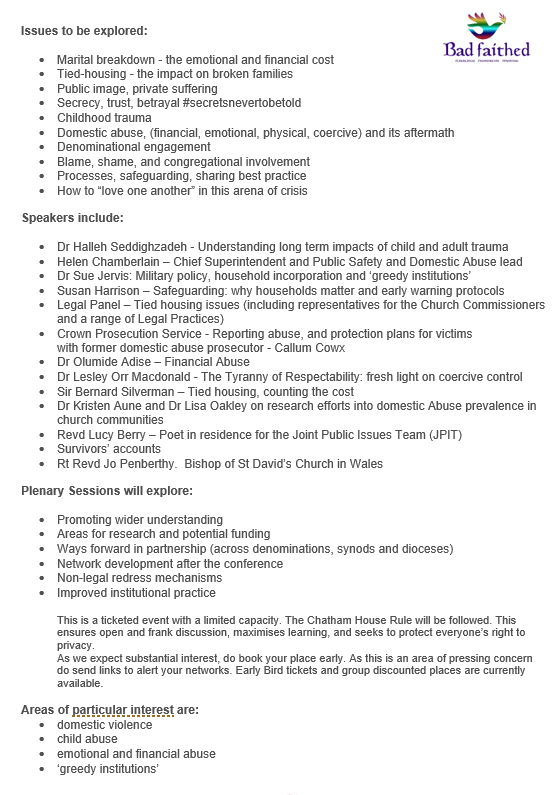 tied housing

ostracism and social control
Sponsored stalls and Information points:
If your organization would appreciate a space at this inaugural conference – please be in touch with hometruths@badfaithed.org we are delighted to be presently hosting information points from
the Sons and Friends of the Clergy

Restored

Broken Rites




The new publication Set Adrift: survivor tales of former clergy wives by Vivienne Neville will be launched after the conference at 6.00pm – 7.15 pm – please sign up on the Eventbrite pages if you also plan to attend the launch. For further information on the day please contact Hometruths@badfaithed.org www.badfaithed.org/events #Hometruths

Who should attend -
Anyone who wants to see things change or who wants to help things change in the arena of Households of Faith exposed to the challenge of Domestic Abuse, and the impact of Tied Housing in the reporting and the the recovery from Domestic Abuse, Household collapse and traumas consequent to all forms of abuse - (financial, psychological, social, spiritual).
Survivors, Academics, Church Policy makers, Well Being specialists, Trauma therapists, Bishops' Visitors, Safeguarding officers, Family support practitioners, Social Services, Legal practitioners (family law, property law, Human Rights law) Military family charities, counsellors, social psychologists, publishers, Faith sector, Gender specialists, Church well being support charities
Ticketting has been organised to support the cost of running this conference. Early Bird deals are now currently available with special four for the price of three tickets available to encourage clusters of response in specific denominations and dioceses (safeguarding, parsonages, financial, pastoral oversight, spiritual directors, ministerial education, general synod reps). However Ordinands, survivors, the unwaged, and the retired are able to be in contact to access supportive bursaries, for tickets and in some instances for travel. Please be directly in touch with Hometruths@badfaithed.org if you are in this category and need support to be able to attend what promises to be a seminal conference in this area. We look forward to having you with us at this positive event to support better practice and good faith.


All rooms are wheelchair accessible including toilet facilities
Do please socialise this event across your networks. There will be those who are grateful for this opportunity to look with clarity, consideration, and reduced pressure at the challenging areas with which it deals, in order to improve their organisational performance and response.
Organiser of Badfaithed Conference 2018 #Hometruths
BadFaithed was birthed at a symposium convened at Westminster College, part of the Federation of Theological Colleges at the University of Cambridge. The organising committee is drawn from a number of different denominations across the UK and Northern Ireland Churches for this inaugural Conference. We look forward to seeing you there. For more information please visit www.badfaithed.org  or send an email to Hometruths@badfaithed.org