Description

To celebrate Scottish Badger Week, the Where's Wildlife in Ayrshire? Project is excited to be working in partnership with Scottish Badgers - Ayrshire Branch to run this lunchtime event.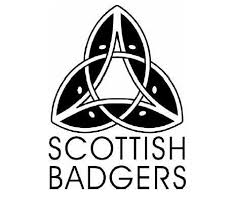 Badgers are part of the mustelid family and are unmistakable, stalky build with a grey back, short fluffy tail and the familiar black and white striped face. Unfortunatley these shy creatures are most likely to be seen dead by the roadside by the general public.
Our talk will provide a whistle stop tour of key badger ecology, field signs and the importance of recording sightings (of both animals and field signs). This will provide a starting point for anyone interested in starting to record Badgers and to start to develop their survey skills.
Notes:
Please Note: This event is suitable for people aged 12 years and over. There may some references to badger crime during the talk.
This event is being run in partnership between the Where's Wildlife in Ayrshire? project and Scottish Badgers. This is one of 4 events that we are running in the Ayrshire area during Scottish Badger Week.
The Where's Wildlife in Ayrshire? project is kindly funded by our project partners with the aim of encouraging people to get involved in learning about local wildlife, recording sightings and collecting information about where different plants and animals live. To ensure that our funding is used in the most efficient way it is important that if you book a place, you let us know if you cannot attend this event as soon as you can.
The Where's Wildlife in Ayrshire project is funded by the Scottish Government and the European Union- Ayrshire LEADER 2014-2020 programme, Heritage Lottery Fund, East Ayrshire Council, North Ayrshire Council and South Ayrshire Council.