Description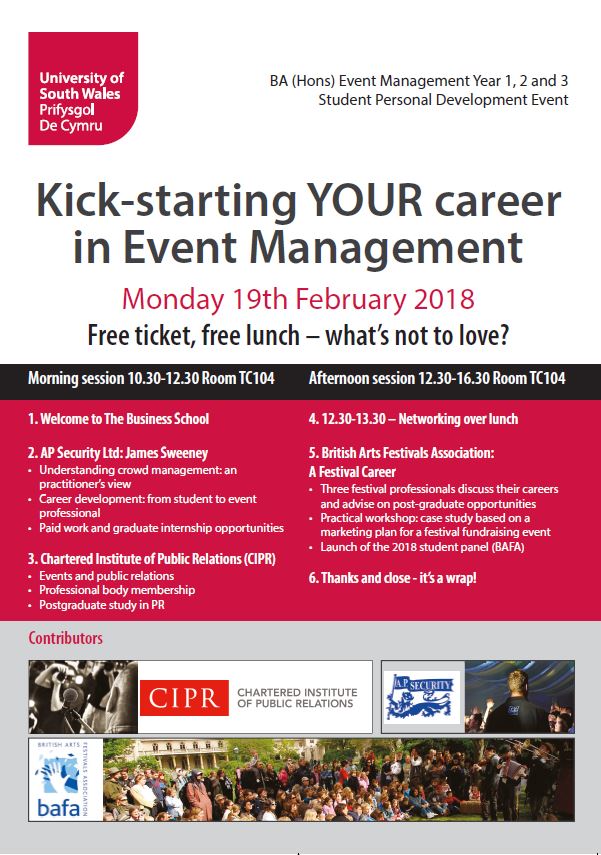 And for more details on the BAFA afternoon programme - read on:
The British Arts Festivals Association and University of South Wales are pleased to present the 2018 Student Road Show. This event is free for University of South Wales Students and explores the next steps towards a career in festivals or events. With a particular focus on marketing you will meet a range of festival professionals and have the chance to ask them lots of quesitons about how to get started in the arts festival world.
Programme
13:30 Panel discussion: A Festival Career
Three festival professionals discuss their careers and how they got to where they are today. They will talk about internships and other opportunities they provide to young professionals and give advice about next steps after university.

14:30 Round tables
Small group discussions with the speakers. Topics will include starting a career in festivals, dissertation topics and practical challenges involved when running a festival. This session is informal and you can swap tables during the session if you wish to.
15:15 15 minute break
15:30 Workshop: 20 minutes explaining and planning 25 minutes presenting and evaluating
Workshop exploring designing a marketing plan for a festival fundraising event (based on a case study from one of our speakers).
16:15 Wrap up
BAFA presentation and launch of 2018 student panel.