Description
Morin.O is not only known for her signature leather exquisitely handcrafted and more but is also a lover of aesthetics and artistry.
On Saturday the 7th of July, we are showcasing our latest bag collections and it comes with lots of fun and excitement.
For the love of arts we are Collaborating with THE KRUMP DANCE STUDIOS for the BAGGANCE SERIES 1, we are featuring our latest collection on the runway dance modelled, Choreographed by Jemima Angulu.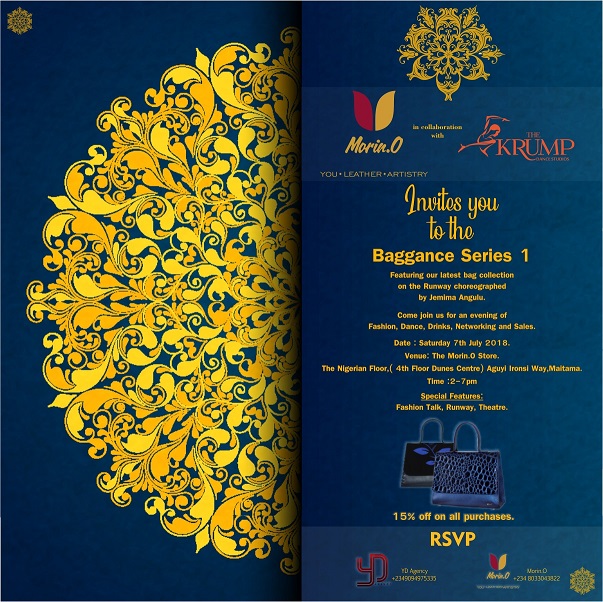 Please join us for an evening of Fashion, Dance, Drinks, Networking and Sales. Special features are a fashion talk and a 15% off all purchases.
This event starts at 2pm-7pm at the Morin.O Store on the Nigerian Floor (4th Floor) Dunes Center 44 Aguiyi Ironsi Way, Maitama,Abuja.

For more enquiries please call YD agency +2349094975335 and Morin.O +2348033043822.
Organizer of BAGGANCE SERIES 1 BY MORIN.O IN COLLABORATION WITH THE KRUMP DANCE STUDIO
Morin.O is a leather accessories design and manufacturing business, founded by savvy contemporary African art collector and veteran Morin Obaweya. Our core strength lies in our commitment and ethos of being the best in the leather goods industry through service, attention to detail and strong commitment to customer satisfaction.
Morin.O is a sustainability driven company that supports women and children and healthcare foundations and initiatives from its proceeds.
We are a contemporary leather goods line, inspired by ethnic accessories and designs for the chic, confident and innovative individual. At Morin.O we don't just make leather accessories, we create them with you in mind; hence, our tag line is …You. Leather. Artistry!
We accentuate your style, to give you a platform of personal expression, for that priceless fulfilment.
In the 'Morin O' world of Leather, we push to open your mind, so your eyes are opened to the endless possibilities that you will see. That's right. You deserve it.
Afterall, it's all created to 'accentYOUate' you.
'Morin.O' –
You. Leather. Artistry