Balance Your Hormones with Nutrition for a Healthy, Happy Menopause
Event Information
Refund Policy
Contact the organiser to request a refund.
Eventbrite's fee is nonrefundable.
About this Event
About this Event
Have you been struggling with hot flushes, anxiety, fatigue or brain fog? These are just some of the symptoms that are very typical of the hormonal imbalance triggered by the menopause and there are lots of ways that the right nutrition can help.
If you've been searching online for nutritional advice or a miracle diet to bring you through the menopause and beyond, then look no further. PositivePause has gone digital - bringing our popular women's health events into your home!
If so, put your feet up, grab a cuppa and join our vibrant, positive and friendly online event to hear Registered Nutritional Therapist, Jackie Lynch, talk about how and what you can do to take control of your hormones and take the chance to ask your own questions.
What will you learn this week?
An evidence-based approach to nutrition and the menopause
How blood sugar balance is a crucial part of the picture
How to support the natural rhythms of your body to relieve menopause symptoms
How balancing your macros keeps your hormones happy
Discover
Why magnesium is every menopausal woman's friend
How to maximise your vitamin D intake
Foods to focus on and foods to avoid
What to look for in a good nutritional supplement
Making menopause a positive experience:
This event is part of our PositivePause programme of weekly online events offering the most up-to-date information to help you to optimise your health, debunk myths and clear up the confusion surrounding menopause & midlife health.
Each week an expert health specialist speaker explores specific aspects of women's health and wellbeing. Our interactive sessions will allow all virtual attendees the opportunity to put their own questions to this weeks's speaker, Jackie Lynch.
Plus! All virtual attendees will get exclusive access to a Private Facebook Group.If you're unable to tune-in on time, you can catch up at your own convenience, re-watching as many times as you wish, for up to seven days. as well as post additional questions that can be forwarded on to Jackie.
Get your questions answered!
Just imagine, all this in the comfort and privacy of your own home.
Receive a FREE sample from our event Sponsor Sylk Natural:
Our event is generously sponsored by Sylk who are offering each attendee a free bottle of their plant-based lubricant RRP £9.99.
Who's speaking?
JACKIE LYNCH is a Registered Nutritional Therapist and founder of the WellWellWell Nutrition Clinic where she specialises in women's health and the menopause. She is the host of the popular diet and lifestyle podcast, The Happy Menopause and author of The Right Bite: Smart Food Choices for Eating on the Go (Nourish Books, 2016) and Va Va Voom: the 10-Day Energy Diet (Headline, 2017). Follow Jackie on social media at @WellWellWellUK.
Her new book, The Happy Menopause: Smart Nutrition to Help You Flourish is published by Watkins Publishing and due out in October.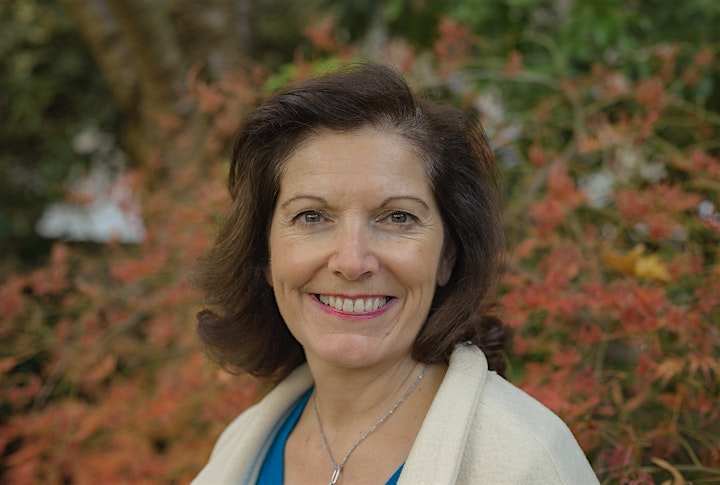 Tickets: £7. We have a number of free tickets for NHS staff, please email: events@positivepause.co.uk, for further information.
Timing: 7.00-8.00pm. Please log in at least 10 minutes before the start of the programme to ensure you have good sound and vision and to sort out any technical issues. We'll ask you to mute your video and audio to help with bandwidth - we won't be able to see you but we will be able to take your questions.
Venue: Online via Zoom. On the day of the event we'll send you an email link to Zoom and an invitation to the event's Facebook Private Group.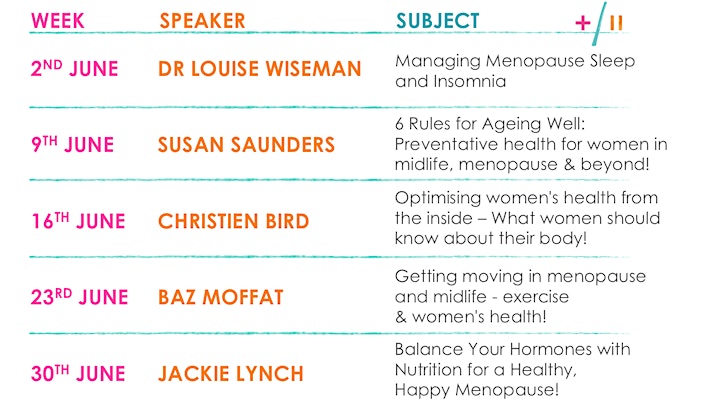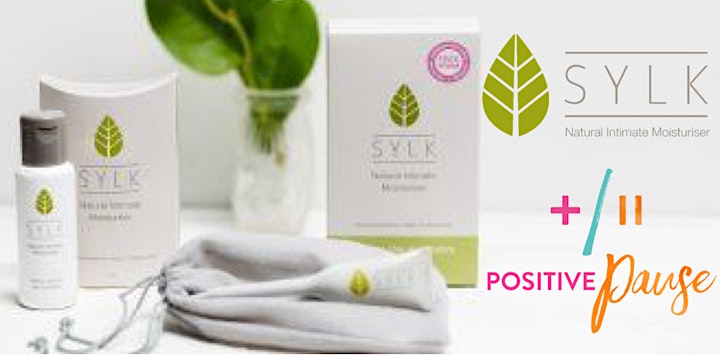 Date and Time
Location
Refund Policy
Contact the organiser to request a refund.
Eventbrite's fee is nonrefundable.