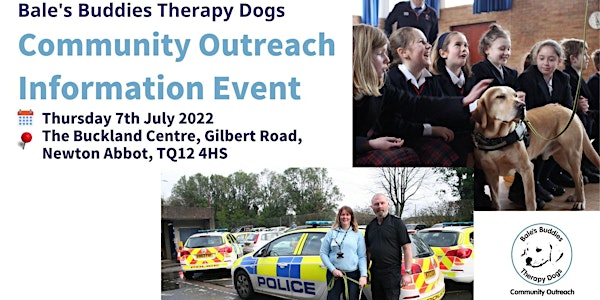 Bale's Buddies Therapy Dogs Community Outreach - FREE Information Event
Location
The Buckland Centre
Gilbert Road
Newton Abbot
TQ12 4HS
United Kingdom
Find out what we do, and how we can help you!! *PLEASE NOTE - 1 ticket admits 1 party size/group of 6*
About this event
Come to our free information event where you can find out about our new business that will be launching soon, Bales Buddies Therapy Dogs Community Outreach.
Bale's Buddies Therapy Dogs, a not-for-profit organisation, was first established in 2016 after identifying a need for animal assisted therapy to support vulnerable people across Devon. Bale's buddies currently concentrates on training 1:1 family therapy assistance dogs and school therapy assistance dogs, settings dealing with autism and additional needs, however we are now looking to broaden our services into the wider community. After seeing the positive impacts therapy dogs have including reducing anxieties, communication building, independence, reductions in self-harming, etc., we want to provide others with the same therapeutic support. As a result, we have founded a new organisation, Bale's Buddies Therapy Dogs Community Outreach.
We currently have 5 community dogs; Bale, Grace, Arthur, Mabel and Bertie who would be working on the project and going out into the community. Each dog has been trained and accredited as an assistance dog however each have their own individual roles depending on the situation. For example, Grace is our emotional support dog, who's main skill is providing deep pressure therapy, reducing anxieties, and providing relaxation. We would like to take our community dogs into various settings, including hospitals, nursing homes, libraries, schools, doctors, outdoor provisions, community centres, and many more organisations across Devon. The animal assisted therapy sessions are based around the needs of the client and can be adapted to suit many needs. We select the therapy dog most suitable for the session, whether we are looking at energetic fun and games or emotional support.
This information event is open to individuals within the community as well as local businesses, to view and talk about our services (deep pressure therapy, appointment attendance, residential home visits, etc.), sponsorship opportunities and provide the opportunity to book therapy sessions. We want to highlight the options and services available to individuals and groups whilst showcasing our wonderful community dogs and their abilities, beginning building that all important relationship. Businesses will be able to discuss sponsorship opportunities as well as the benefits scheme we have in place. Cakes and coffees will be for sale – cash only as well as a raffle and 'Win a Trip' available on the day with all proceeds going towards the community outreach project. If you are interested, please book a time slot here.
Please arrive 5-10 mins before your time slot; you will be greeted by a member of our team and some of our dogs.
*PLEASE NOTE - 1 ticket admits 1 party size/group of 6*