Description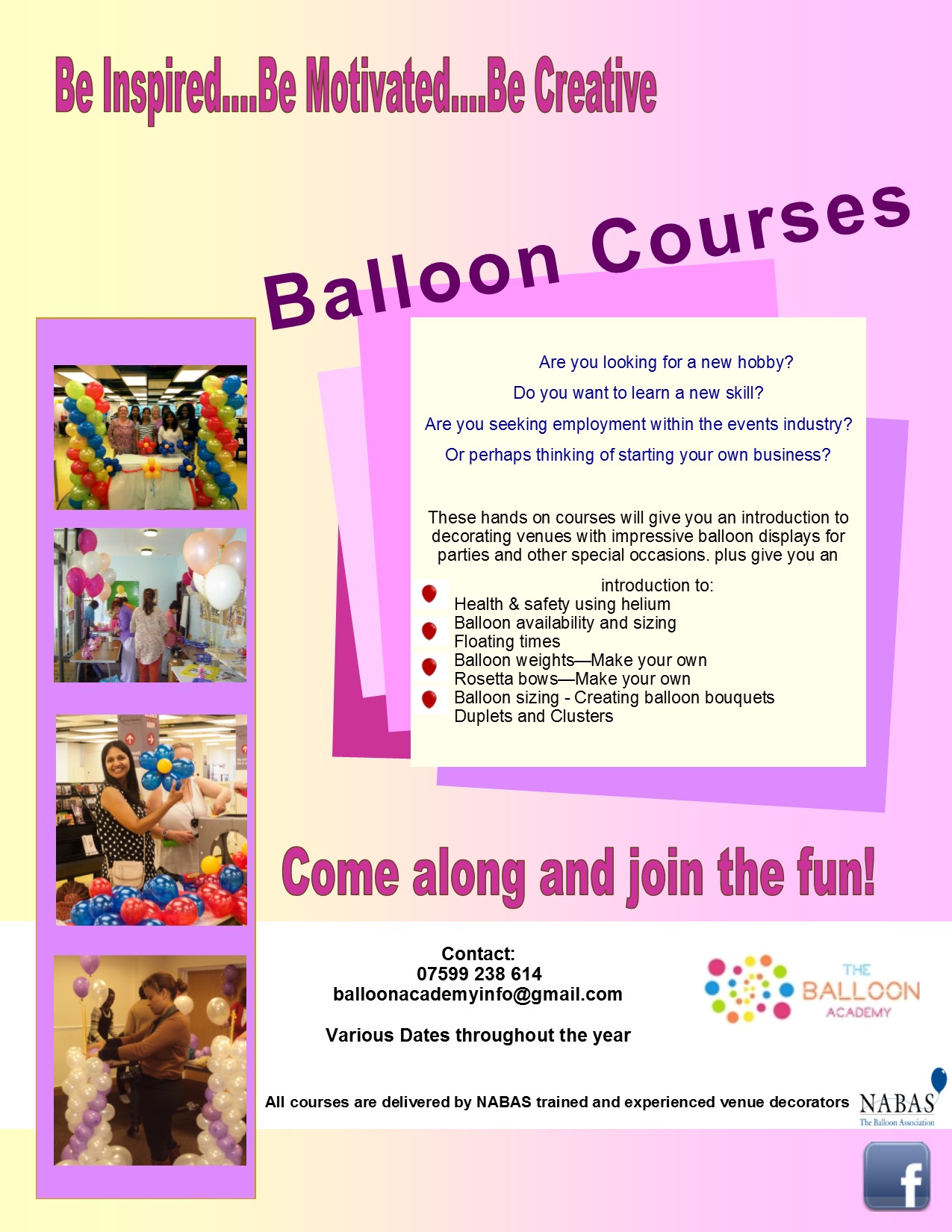 If you are interested in learning a new skill, wish to learn how to decorate venues OR are thinking about starting your own balloon decorating business then this balloon course is perfect for you.
Balloon decorations can be a cost effective and impressive method to decorate venues for weddings & anniversaries, birthday celebrations, baby showers, dinners and corporate events; in fact; for almost any occasion.
This balloon course demonstrates the fundamental skills decorators require before starting a business that includes professional balloon work.
This one-day interactive course includes health and safety requirements, balloon inflation, balloon bouquet construction, sizing, tying, floating times, balloon pearl arch, making basic sculptures, balloon columns and pricing.
There's so much to learn!
FAQs
Who can attend this course?
Anyone over the age of 18 who has an interest in learning how to create balloon displays. No previous experience necessary.
What can I bring into the event?
All materials are provided on the course so all you need to bring with you is yourself, a camera/phone to take pictures of your fabulous work and a large bag (preferably a black bin bag) to transport your displays home.
Is there somewhere to park?
Our carefully selected venues usually offer parking facilities. Please feel free to contact us in advance to confirm.
Are children allowed to attend?
Due to safety issues, children are not allowed to attend this course.
Will there be a break during the course?
There will be a 10-15 minute break during the course. Light refreshments provided.
Progression routes?
With your new skills and confidence, once you have finished the course, you could progress onto any of the following: -
Start your own business

Decorate venues for friends and family

Learn more skills - progress onto the next level
How can I contact the organiser with any questions?
If you have any questions regarding this event, you can contact the team on 07599 238 614 or send us an email: balloonacademyinfo@gmail.com