Description
BAMM Forum Weekend 2019 - 11th to 13th October


York St John University,
Lord Mayor's Walk, York YO31 7EX


Handmade in a Digital Age
Forum Weekend Programme Summary
Saturday Timetable - Registration opens at 9am - AGM from 10am to 10.45am
First speaker at 10.50am - Finish approximately 5.30pm
Ticket prices for the Forum on Saturday only, including lunch and refreshments.
Early Bird price until 30th June 2019: £48 BAMM members/£58 non-members.
1st July to 31st August: £58 BAMM members/£68 non-members.
1st September onwards: £78 BAMM members/£88 non-members
---
Friday, 11th October 2019
Private View – 6pm-9pm – of the BAMM members' exhibition at The Stained Glass Centre, St. Martin's Church, 39-49 Micklegate, York YO1 6LN
This exhibition, entitled Natural/Unnatural, is being held in conjunction with members of DOMO – Deutsche Organisation für Mosaikkunst, the German mosaic association, as part of BAMM's 20th anniversary celebrations.
Please select a free ticket from Eventbrite if you intend to come, so we have some idea of numbers attending. Numbers restricted to 60 owing to fire regulations.

To SUBMIT a mosaic to the Exhibition, click here for details. You will need to pay your submission fee through Eventbrite
---
Saturday, 12th October 2019
BAMM AGM and Forum
Temple Hall, York St John University, Lord Mayor's Walk, York YO31 7EX
9am-10am: Forum Registration, morning refreshments and the chance to visit the Mosaic Market
10am-10.45am: BAMM AGM
The Forum will directly follow the AGM. There will be an hour's break for lunch and an afternoon refreshment break, with the Forum finishing at approximately 5.30pm
Speakers: (see below for more details)
PLUS
PechaKucha presentations (20 slides x 20 seconds):
Jen Watson:

BAMM North 'Lost Words' exhibition at RHS Garden Harlow Carr




Diana Storey:

Birdsong in Winter – stories behind Diana's exhibition at Yorkshire ArtSpace


Coralie Turpin

:

'Gather' – a 13 metre2 abstract mosaic elevation about Anne Knight and the suffrage movement




Joy Sturgess

: Mosaic Communities
AND
Mosaic Market, refreshments, lunch and networking.
---
6pm Evening Social and Buffet
After the formal programme has ended, please come and continue the conversations during an informal evening of food and drinks at Osbornes@68, 68 Gillygate, York YO31 7EQ from 6pm to 9.30pm. A fantastic little café/bar 200 yards from the conference with a beautiful tiled floor and a garden terrace, BAMM will have private use of the Venue. It also displays works by local artists on its walls. Happy 20th birthday BAMM!
Tickets are £14 per person, including informal buffet food (with vegetarian options), exclusive use of the venue and a pay bar.
Please book along with your Forum tickets. Open to BAMM members and guests.
WORKSHOPS – Sunday, 13th October 2019
At Temple Hall, York St. John University or The Stained Glass Centre (to be confirmed).
10am-4pm with an hour for lunch. (Note that lunch is not provided)
Thomas Denker

–

Working together to realise a computer

-

designed mosaic

Lisa-Marie Newman – Making bespoke tesserae from clay

Matt Small – Recycled metal portraits

–

Few places left


Joy Sturgess – Mosaic using the reverse/indirect method

Coralie Turpin – Pebble mosaics

Sherri Warner Hunter – Carved concrete forms

–

Sold Out

More details below
---
Speakers and Workshop Leaders 2019
Gary Bricknell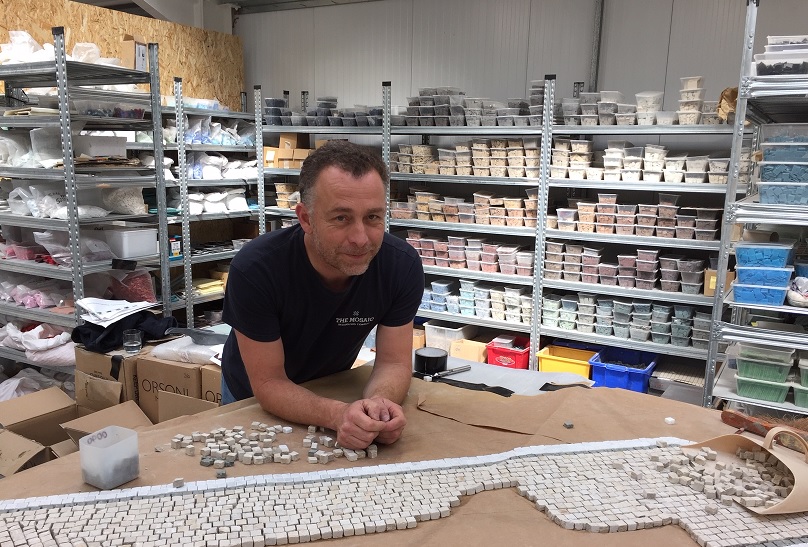 Gary Bricknell
Gary is the Managing Director of The Mosaic Restoration Company Ltd., established for over 20 years, with many noteworthy conservation, restoration and new works carried out throughout the UK. These include projects at Westminster Cathedral, St. Paul's Cathedral, the Royal Albert Hall, and the RICS and RHS Headquarters in London. Gary was also a Director of Trevor Caley Associates Ltd. for over 20 years. Trevor is Gary's uncle, and as a child, Gary was interested in visiting Trevor's mosaic studio. In the 1980s Gary started working for Trevor on three large, new mosaic projects for the London Underground. This was the start of his varied career in mosaic.
Mosaic Restoration Company's workshop is based in Northamptonshire, with a small, full-time staff of seven skilled mosaicists from various backgrounds. The company is currently working at the Royal Albert Hall, The Coliseum and The Old Admiralty Building in central London, and Liverpool University.
Last year Gary was awarded Master Craftsman from The Worshipful Company of Tylers and Bricklayers. He is also a member of BSI and The National Federation of Terrazzo Marble and Mosaic Specialists.
Gary's Talk: The Use of Modern Technology to Assist the Mosaic Practice
Although many of us are guilty of the reluctance to embrace technology, it can be invaluable and surprising, even to mosaicists. This is a brief presentation to illustrate where modern surveying techniques can ensure accuracy while saving money, and where modern photography and printing have proved very beneficial. Finally, I will show where modern 3D or virtual reality can help to present challenging projects.
Thomas Denker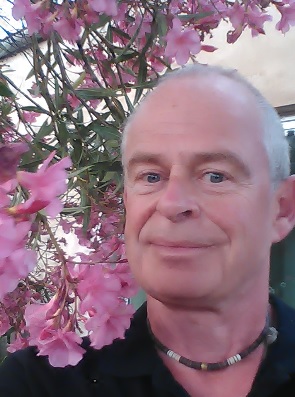 Thomas Denker
Thomas studied physics in his home town of Frankfurt, and later became an electrical engineer. He worked for a long time in electronics and software design. Due to what he modestly describes as 'the lack of real talent for artistic and manual work', he uses his technical skills to create mosaics, basing his approach to mosaics on his technical abilities.
He describes his process as follows: 'I start with an idea and look for a photo which expresses it. I may find a photo taken by some other photographer, shoot the picture myself, or compose it as a photomontage. During the process I use my database of available colours to plan out the mosaic. From that my software transforms it to a mosaic which I eventually assemble by hand from Venetian smalti. If everything goes right, the result is a piece of realistic art which may hypnotise some of its beholders.
Thomas is a past President of DOMO, Deutsche Organisation für Mosaikkunst (the German mosaic association).
Thomas's Talk: Mosaic from the Computer
Thomas will talk about his unique method of mosaic design and fabrication, explaining how he and his computer make the mosaics. He tries to avoid using too much computer mumbo jumbo.
Matt Small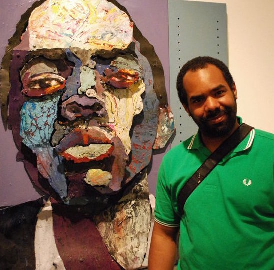 Matt Small
Matt is a London-based artist working as a painter and sculptor. The theme of his art practice revolves around the people who live in his area, Camden, mainly those that are overlooked, like the young and those that are homeless.
Matt often chooses discarded metal objects like car bonnets, oven panels and shelving or old signs instead of canvas for his work. He paints portraits of his subjects on the objects and constructs sculptural faces from the scrap materials, incorporating them into mosaic portraits, using the different patinas and colours of metal as tones of the faces.
The theme of his work is young, dispossessed people, individuals who feel undervalued, who don't have a voice, who get overlooked. The urban debris he paints on becomes symbolic of the feeling of being without value: 'I thought it'd be interesting to connect the two – that oven door, that shelving unit, that piece of trash to someone – I don't see it like that, I see that it can be something beautiful and worthwhile. That's how I see our young people too. Let's look at their potential, at the hope that's in all of them.'
Matt's Talk: Constant Elevation
Matt's talk is about pushing the boundaries of the art of mosaic, and how for him it's been important to not let any preconceived ideas he's had about the craft stop him experimenting.
Shifali Saini
Nek Chand with his Padma Shri in 1984
Shifali will be on familiar territory when talking at the Forum, as she works at York St. John University as Estate Development Manager. She will be talking to the Forum about the work of her grandfather, Nek Chand.
Nek Chand was a self-taught Indian artist (1924-2015) known for building the Rock Garden of Chandigarh, an eighteen-acre sculpture garden in the city of Chandigarh, India, visited by millions of people every year. He began work in the 1950s and continued for decades, using a wide variety of scrap materials which were recycled into a huge series of sculptures.
Nek Chand was awarded the Padma Shri by the Government of India in 1984, in recognition of his distinguished contribution to the arts in India.
Shifali's Talk: The Rock Garden of Chandigarh
Shifali will talk about the amazing work of her grandfather, Nek Chand.
Maggy Howarth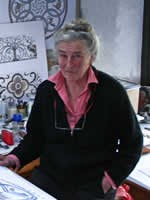 Maggy Howarth
Maggy Howarth is a leading authority on the subject of pebble mosaics. Her company, Cobblestone Designs, has been working for 25 years to develop the ancient art of handmade pebble mosaic paving, combining it with modern techniques and imaginative, contemporary design. Maggy is responsible for all of the design work within the company and is well known for her original and distinctive designs which encompass intricate geometry, abstract patterns and natural imagery, all meticulously woven into decorative floor-scapes. She has pioneered the precast method of making pebble mosaics, making it possible to use this technique at bench height and to work inside when the weather prevents direct work outdoors. Cobblestone Designs have produced hundreds of pebble mosaics in the UK, for public and private installations and can be seen in many parts of the country.
As well as her design work, Maggy has produced a number of books on pebble mosaic and tutorial DVDs which provide practical guidance on the techniques she has pioneered, notably her precast method.
Maggy's

Talk

:
This will take the form of a video interview in which Maggy talks to Jen Watson, of BAMM North, about her work, in a film made exclusively for the Forum.
Sherri Warner Hunter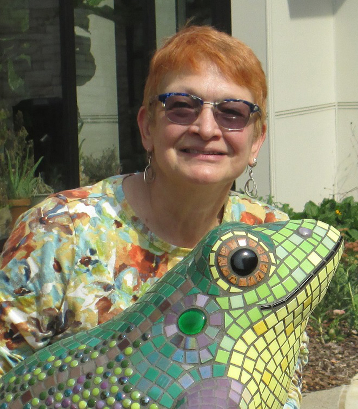 Sherri Warner Hunter
Sherri Warner Hunter is a US-based sculptor, mosaic artist, author, teacher and creative force behind SWH Art Studio Inc. The studio's production concentrates on large-scale public commissions and community-based projects and her work can be seen at the Lucile Packard Children's Hospital in California, the Executive Residence of Tennessee and as part of the First International Mosaic Intervention Project in Puente Alto, Chile.
She is a former president and board member of the Community Built Association, a national organisation of professional creatives who work with communities to design and develop volunteer-driven projects. Her participation with community-based projects in the US includes: The Gathering in Edmondson Park, Nashville; the mosaics at Turtle Grove, Albany; Andrew Brown Park East, Coppell; and numerous projects working with children in schools.

Sherri's work is also in numerous private collections. She has written two books: Creating Concrete Ornaments for the Garden and Making Concrete Garden Ornaments (published by Lark Books) based on expertise honed through decades of making and teaching.
Sherri's Talk: Unexpected Journey
'I entered art school determined to be a painter. Fortunately, plans quickly changed as other paths of self-expression were discovered. I look forward to sharing some my creative journey with you.'
---
BAMM Forum 2019 – Workshops
Sunday, 13th October 2019
–
10am to 4pm
All workshops are £95 and will be held either at York St. John University or The Stained Glass Centre. Workshop participants will be advised of the location before the Forum.
Please note – workshop participants need to bring their own lunch if attending these workshops – this is not provided.

Thomas Denker

: Working

together to realise a

computer-designed

mosaic
All participants will work together to create a computer-designed mosaic from Venetian smalti. Each participant will assemble one of nine segments of the mosaic. At the end of the day, the sections will be assembled and glued together in a wooden frame. This results in a mosaic of 94 × 63cms made from 5,400 tesserae. Through this simple example, participants will come to understand Thomas's technique and will create a presentable object.
NB. BAMM are considering where the finished mosaic will be displayed – we are hoping to find a permanent home for this.
Lisa-Marie Newman: Creating bespoke ceramic tesserae
In this workshop participants will be guided through the process of creating their own tesserae using a variety of textures and stamps, which will be provided, to impress into white and terracotta ceramic clay. The clay can be cut to produce unique shapes and sizes to create a focal piece for a particular project, or simple geometric shapes with cutters to produce decorative tesserae. You will then add glazes to create colour, gloss and other effects once fired. This practical session will enable you to complete a quantity of bespoke pieces. The tesserae will be fired after the workshop and can be posted out or collected from York.
Participants might want to bring textures from home such as old buttons, lace, etc.
Lisa-Marie Newman is a York-based mosaic artist and art teacher with over 20 years' experience. She will guide you through the process enabling you to use this practical session to complete a quantity of bespoke pieces to incorporate into mosaics at home in your own studio.
Matt Small: Recycled Metal Portraits
In this workshop participants will learn the techniques of cutting and shaping different types of recycled metal and fixing the pieces together onto a surface to create a portrait.
Joy Sturgess: Reverse Method Mosaic Making
Make a small mosaic using the reverse/indirect method, working on paper. This technique can be useful for creating robust outdoor mosaics, including installations directly onto walls and floors. This is an advanced workshop for people with mosaic experience. All materials will be provided.
Joy Sturgess is inspired by the natural world, layers of time, people and their stories. She has recently moved to Scarborough, North Yorkshire where she has established a new studio and commenced work inspired by the sea and the heritage of this wonderful town, the first seaside resort in England. Joy is an experienced mosaic artist and tutor having worked previously at the London School of Mosaic and in her own practice.
Coralie Turpin: Pebble Mosaics
'A couple of years ago I had the honour of receiving a commission from a private client to create a pebble mosaic for their entire front garden. Having admired the work of Maggy Howarth, who I call "The Queen of pebble mosaic", I contacted Maggy to ask if I could buy some of her pebbles. She agreed and I had a great time working with them.' The pebbles Maggy uses are hand-picked for their flat shape and range of colour. In this workshop, participants will have the opportunity to learn the techniques pioneered by Maggy Howarth and use her pebbles. Under Coralie's direction, you will be able to create your own pebble mosaic paving slabs using the direct and indirect methods.
If you are interested in this workshop, but don't have transport to take a heavy and semi-set piece home, it may be possible to work on a group piece. Please email post@bamm.org.uk if you would like to take part but don't have transport.
Coralie Turpin: Coralie has been established as a public artist for 26 years, working closely with architects, structural engineers, fabricators and contractors to produce significant and meaningful artworks for the public realm which exhibit a high degree of craftsmanship in their production.
Sherri Warner Hunter: Carved Concrete Forms Sold Out

Concrete can be worked in many ways, depending on its consistency and set. The set point in concrete depends upon how far the chemical reaction that takes place to making concrete hard has advanced. The consistency of the mix has to do with the desired end product. There are different 'recipes' for concrete, depending on how you want it to function.
Participants in this workshop will be a using basic mortar mix for this process and simple tools to carve, when the time is right. This is a process that Sherri has learned from Elder Jones (http://sandpudding.com/) and utilises in her own work.
There will be time in the workshop for a basic introduction to working with concrete and to view examples, as you wait for the concrete to reach the optimum consistency and set point for carving. This introductory course will provide you with the basic information and tools to continue experimenting in your own studio.