Description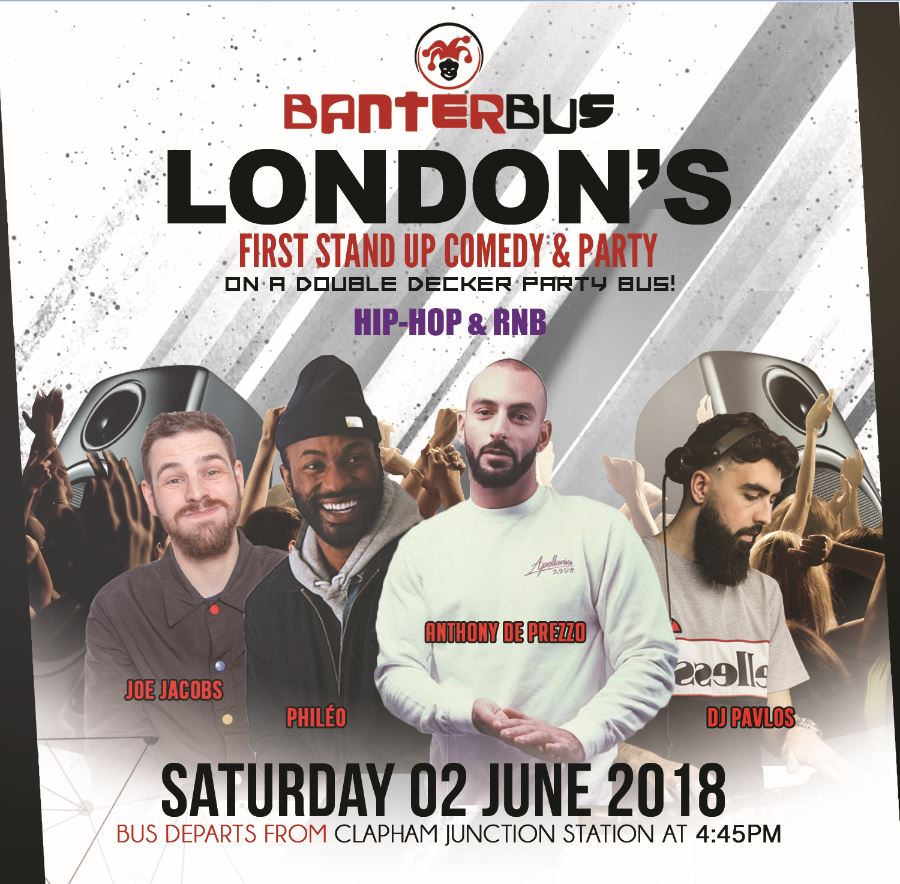 It's official
#Banterbus
will be back on 02/06/18!!! Featuring two hillarious comedians
@
phileohuff
&
@jesterjacobs
and the one and only DJ
@realdjpavlos
playing some of the very best hip hop and RNB! This will be an unforgetable day of music, drinks, good vibes and laughter.
Let's start of summer with a bang! This edition of banterbus will be extra special as we are fully Supporting Axel Blakes stand up comedy show at the 02!! Axel blake will be performing his 1 man stand up comedy show in the 02 with a after party!
The Banterbus will do it's usuall party tour through central london... It will then will stop off at 02 arena at 8pm and drop off those people that have also bought tickets to Axels show. Axel has very kindly offered discounted tickets for everyone attending banterbus which includes after party and drink tokens to his event!
For those who haven't got tickets to axels show the bus will then drive back to the start point by clapham Junction station.
We have thought outside of the box for this one & we are the first of our kind in the U.K to bring to you live stand up comedy / music on a.... LONDON DOUBLE DECKER Party BUS!
Various drinks packages available! You wont find cheaper drinks in any other club or comedy night in london and thats a FACT!
--------------------------------------------------------------------------
Comedians
DJ:
DJ Pavlos Hip Hop and RnB (pulse88 Radio DJ)
Host
--------------------------------------------------------------------------
Bus Departing from Clapham Junction at 4.45pm then party driving through central london until 8pm to drop off people at 02 arena for Axel blakes stand up comedy show.. then dropping off remaining people at clapham junction for 9pm
--------------------------------------------------------------------------
Limited early bird tickets available at just £10
If its your birthday or a friends birthday celebrate with us. Birthday offers available
--------------------------------------------------------------------------
All birthday bookings must be made by emailing Deprezzo@banterbash.com