Description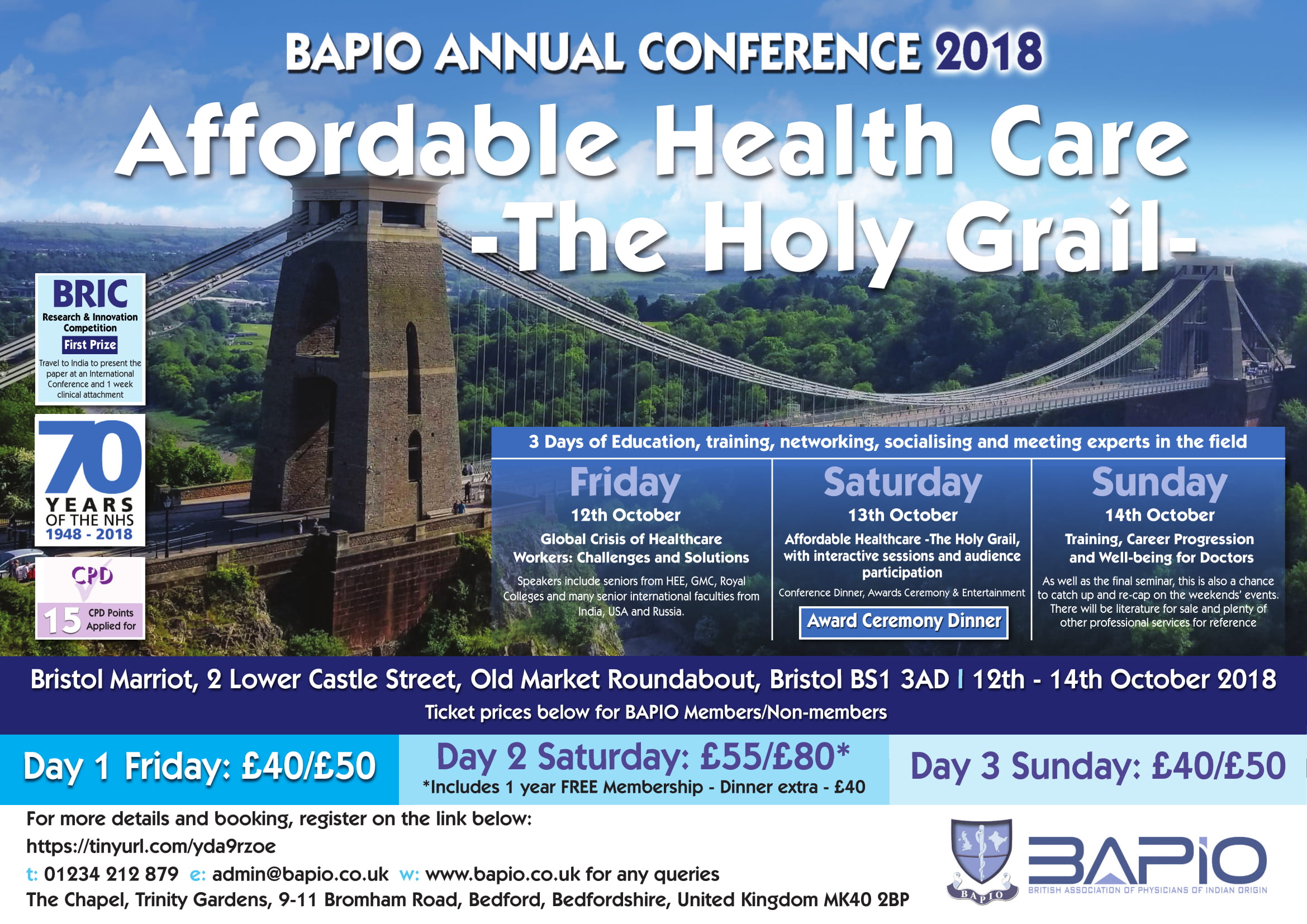 BAPIO Annual Conference 2018
"Affordable Healthcare- The Holy Grail"
Marriott Hotel 2 Lower castle street Old Market Bristol, 12-14 October 2018
BAPIO Annual Conference 2018, 12-14 October, Bristol
Day 1: International Collaborations
Global Recruitment Crisis of Healthcare Practioners: Challenges and Solutions
Friday 12th October 2018, Marriott Hotel, Bristol
PROGRAMME
09:00 Registration and refreshments
09:30 – 9:40 Welcome and opening remarks
09:45 – 11:30 Session One:Global Challenges of Medical Recruitment and Innovative Solutions:
Expert and Experienced panel will discuss the scale of challenge, current approach and possible solutions.
Chair – Dr Ramesh Mehta; Co-Chair Ambassador Dr Virander Paul, Geneva
speakers (7 minutes each) panel members 3 minutes each followed by Interactive Discussion:
Speakers: 1 Prof. Ged Byrne, Executive Director, Global Health Exchange, HEE
"Innovative developments in Global Recruitment"
2. Ms Susan Goldsmith, Chief Operating Officer GMC
"Impact of Brexit on UK recruitment"
Panel: Dr Parag Singhal, Chair, BAPIO Training Academy; Dr Naresh Parekh, President American Association of Physicians of Indian Origin; Dr Somasundaram, Clinical Oncologist, Russia (tbc); Dr Shubnum Singh, CEO Max Institute of Health Education & Research India; Mr. Jonathan Brown, Chief Operating Officer, Global Health Exchange, HEE, Prof Raj Murali, Edgehill University, Mr Keshav Singhal, Consultant Orthopaedic Surgeon
Invited Participants:
Royal Colleges, Health Care UK, The Indo UK Institute of Health (IUIH), University of Health Sciences, India, Dr Aseem Vohra, Indian High Commission, Association of Healthcare Providers in India (AHPI)
11:30 – 11:45 Coffee
11:45 – 13:00 Session Two: New Ways of Thinking
Universal Health Coverage will not be achieved without developing HealthCare professionals to do more advanced jobs and promoting team working
Chair – Mr Andrew Foster, CEO Wrightington, Wigan and Leigh NHS Foundation Trust (tbc) Co-Chair Dr JS Bamrah
Speakers:
'Delimiting the Role of Nurses': Dr Shubnum Singh, Max Health Care India

'Pharmacists can reduce the workload on doctors': Mr Mahendra Patel; Pharmacist and Deputy Regional Medical Director, NHS England North

'How Physician Assistants can improve the quality of care': Dr Parag Singhal, Consultant Endocrinologist, Hon Secretary BAPIO

'Can Staff Grade and Associate Specialists experience be better utilised?' Dr Amit Kocchar, BMA Char for SAS doctors
Panel: Mr David Keen, RN MSc International Education & Training Business Manager Health Education England. Prof Derek Bell, President RCPE, Prof. Taj Hussain, President RCEM; Dr Kailash Chand, Hon Vice President BMA, Ex chair NHS Trust; Prof O P Kalra, Vice Chancellor Pandit B D Sharma University, India
13:00 – 14:00 LUNCH
14:00 – 15:25 Session Three: Role of Private Providers in addressing the workforce shortages
Private Providers play a significant Role in not just in employing the healthcare workers but also in their education and training
Chair: Dr Ajay Rajan Gupta; Co-Chair: Mike Nithavrianakis
Speakers:
'Private Medical Schools as a source of quality medical graduates'; Mr Neal Simon, American University of Antigua (AUA)
'How the system works in USA': Dr William Pinsky President & CEO ECFMG, Philadelphia (tbc)

'Private sector addressing the work force shortages': Prof G K Mahadev, Consultant Surgeon, UK

'Can Practioners of Alternative Medicine be part of solution?' tbc
Panel: Ms Par Prem Kumar, Advisor to the President, AUA; Corporate Hospitals, Government of India/IHC, CII National Healthcare Council, AHPI. Dr Aseem Vohra, Indian High Commission, Ms Deborah Kobewka, Chair UK-India Trade
Prof Iqbal Singh, Consultant Physician
15:30-15:45 Coffee
15:45 – 17:00 Session Four: Innovations in Healthcare
The future of healthcare is shaping up in front of our eyes mainly through digital technologies, such as artificial intelligence, VR/AR, 3D-printing, robotics or nanotechnology. There are huge opportunities to develop International collaborations
Chair: tbc Co-chair: Mr Anwar Feroz
Speakers: Dr Raj Kumar, Director NHS Digital & Chair NHS CLN
"Everything digital in the NHS"
Speaker tbc
"New NHS Patient Online Application"
Mr Vipin Zamwar,

Consultant Cardio-Thoracic Surgeon,

Edinburgh

Prof Dhananjay Sharma,

Head

, Department of Surgery, NSCB Government Medical College, Jabalpur, India
'"South Asian Innovations in Surgical Practice"
Panel: Dr Ajay Rajan Gupta, Executive Director, The Indo UK Institute of Health; Mr Narendra Gogna, Medtronic UK
17.00 Review of the sessions: Prof Ged Byrne and Dr Ramesh Mehta
Scribe: Recommendations
17:25 Vote of thanks
18:30 Drinks Reception followed by Dinner Post Dinner Speaker: tbc
Day 2: Affordable Healthcare – The Holy Grail
Saturday 13th October 2018, Marriott Hotel, Bristol
PROGRAMME
09:00 Registration and refreshments
09:30 – 09:35 Welcome : Prof Parag Singhal
President Address : Dr Ramesh Mehta
09:35 – 11:00 Session One: Leadership and Accountability for Patient Safety
09:35 – 10:00: Speakers: Nigel Acheson, Regional Medical Director
• James Rimmer, Chief Executive, WHAT
• Andrea Young, CEO, NBT
10:00 – 10:20: Debate: Is the current leadership structure delivering?
10:20 – 10:30: Inauguration : Lord Lt Peaches Golding
10:30 – 11:00 :Panel discussion: Nigel Acheson, James Rimmer, Andera Young
11:00 – 11:15 Coffee
11:15 – 12:35: Session Two: Winter Crisis Management -Innovative Solutions
11:15 – 11:20: Setting the scene – Mark Cooke, Director of Commissioning NHS England
11:20 – 11:30:Primary care
11:30 – 11:40:Secondary care
11:40 – 12:15:Panel Discussion: Mark Cooke, Stephen Parsons, Prof Derek Bell.
12:15 – 12:25: Prof Derek Bell, President RCP Edinburgh
12:25 – 12:35: Prof Russel Viner, RCPCH President (TBC)
12:40 – 12:50: Guest Lecture: Andrew Goddall, Director General Health Services Wales (TBC)
12:50 – 13:00:Guest Lecture: Dr Thumbay Moideen, Founder President Thumbay Group, Dubai

13:00 – 14:00 LUNCH
14:00 – 15:45 Session Three: Achieving the Impossible – Reducing the Burden
14:00 – 14:10: Setting the scene - Parag Singhal
14:10 – 14:20 Prudent Health Care in Medicine – Parag Singhal
14:20 – 14:30 Procurement – Sanchit Mehendale
14:30 – 14:40 Prudent Healthcare in Surgery – Keshav Singhal
14:40 – 14:50 Prof Andrew Goddard, RCP President
14:50 – 15:00 Guest Lecture: Prof Dhananjay Sharma
15:00 – 15:45 Panel discussion: Prof Andrew Goddard, President, RCP London, Allison Williams, Cwm Taff Health Board, Prof Russel Viner, President, RCPCH
15:45 – 16:00 Coffee
16:00 – 17:00: Session Four: Is the NHS Fit for Purpose?
16:00 – 16:10: Prof Dame Parveen Kumar
16:10 – 16:20: Politician's Perspective – Thangam Debonnaire, MP, Bristol West
16:20 – 17:00: Panel Discussion/Interactive Session
17:00 – 17:20: Keynote address: Baroness Dido Harding, Chair, NHS Improvement
17:20 – 17:30:Review of the day and Close
Poster Presentations all day
18:30: Drinks Reception followed by Gala Dinner
Day 3: Training: Challenges and Solutions
Sunday 14th October 2018, Marriott Hotel, Bristol
PROGRAMME
09:00 Registration and refreshments
09:15 – 10:00: Wellbeing and Meditation
10:00 – 11:30: Session One: Current Training Structure
10:00 – 10:45:Trainee doctors
Panel Discussion: Prof Wendy Reid, HEE; Raghuram Ananthakrishnan, Head of medical school, Severn deanery; Purva Makani, Chief Medical Officer, Hull Royal Infirmary (TBC).
10:45 – 11:30:Non-trainee doctors
Panel Discussion
11:30 – 11:45 :Coffee
11:45 – 12:05:Generalists versus Specialists
Prof Geeta Nargund
Pawan Rajpal
12:05 – 13:25: Session Two: BRIC/Young Doctors Forum
12:05 – 12:45: BRIC Presentations
12:45 – 13:15:Young Doctors Forum. Chair: Ankur Khandelwal
13:15 – 13:25: BRIC Award Presentation
13:25 – 13:30 Vote of Thanks and Closing Remarks
13:30 – 14:30 LUNCH AND CLOSE