BAPIO Annual Conference 2019

Friday, 22 November 2019 at 09:00

-

Sunday, 24 November 2019 at 15:30 (GMT)
Event Details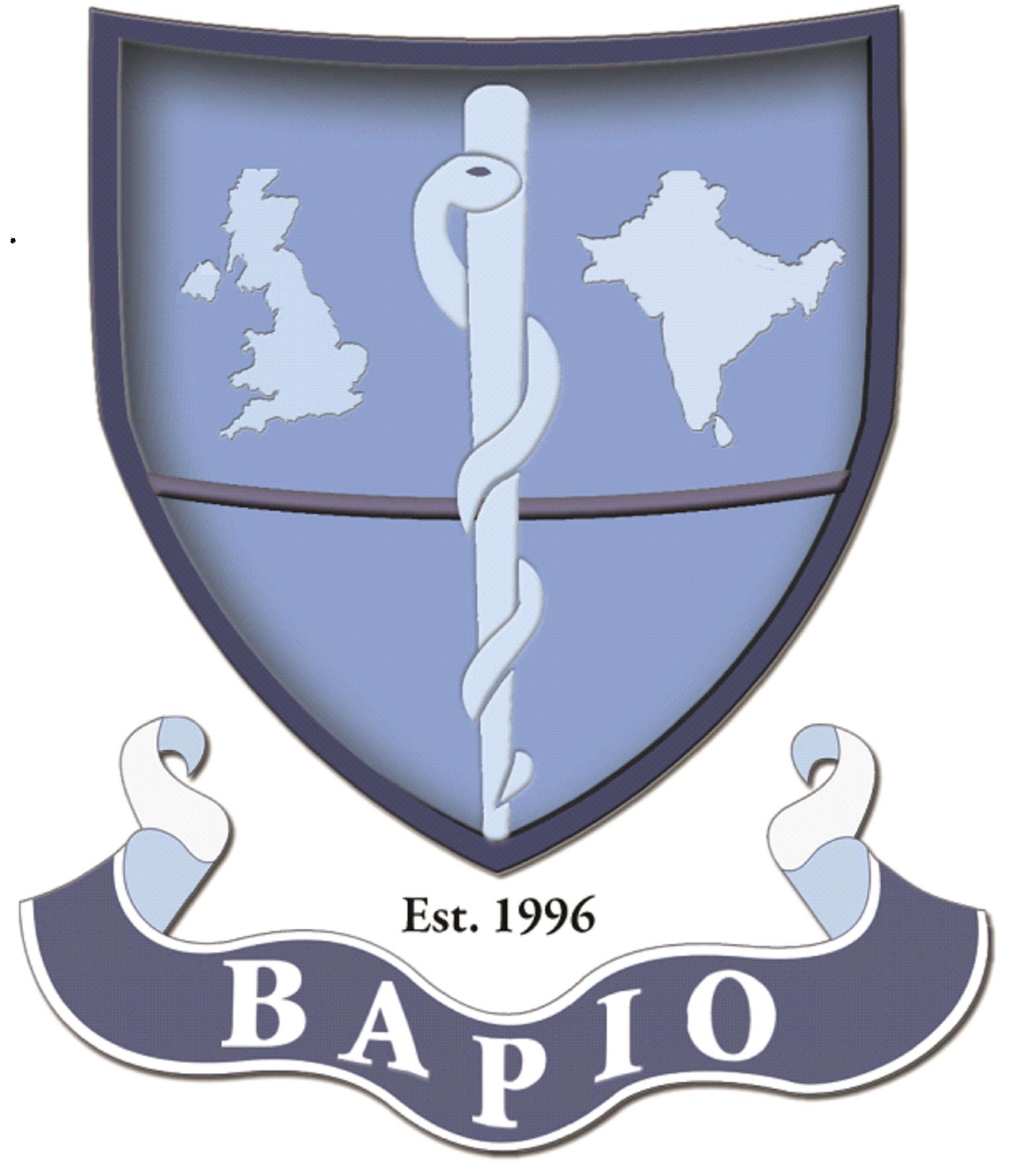 BAPIO Annual Conference 2019   
in Collaboration with
Health Education England: Global Engagement
BAPIO Annual Conference 2019 – Day 1
           Delivering Patient Centric Care in the Midst of Global Shortage of Healthcare Workers           
PROGRAMME
09:00-09:25 Registration
9:25-09.30 Inauguration and Welcome: Dr Satheesh Mathew, Chairman and Dr Indranil
Chakravorty Convener 
09.30-10:45 Session 1- Global Interdependency; situational analysis
Chairs: Dr Ramesh Mehta & Dr Subarna Chakravorty
5speakers (8 minutes each) followed by panel discussion
1.Prof Ged Byrne MBE, Executive Director, Global Engagement Health Education England
2. Prof Vinod Paul, Member NITI Ayog, India
3.Mr Duncan Rudkin, CEO General Pharmaceutical Council
4.Dr William Pinsky, Chair ECFMG USA
5.Dr Ravi Wankhedkar, Chair World Medical Association
6.Ms. Andrea Sutcliffe CBE, Chief Executive and Registrar, Nursing & Midwifery Council 
Panel:  Dr Indu Bhushan CEO 'Ayushman Bharat'; Mr Jonathan Brown, Chief Operating Officer, HEE Global Engagement, Peter Bell, American University of Antigua, Vice chair (CAAM-HP), Dr Aman Puri, Consul General, Indian High Commission, Birmingham.

10.45-11.15 Keynote Address:"Indian Approach to Healthcare Workforce challenges" 
Chairs: Dr JS Bamrah & Dr Ekta Sharma
'Dr Vinod Paul, Member National Institute for Transforming India (NITI) Ayog
11.15- 11.30 Coffee Break
11.30-12.30 Session 2: Workforce Transformation through Team Working
Chairs: Prof Geeta Menon & Dr Amit Gupta 
'Learning in teams', Nursing associates, Pharmacist in Urgent and Emergency care, Physician assistant, Ophthalmology common clinical competency framework.
Panel discussion: Ms Prerana Issar and Professor Russell Franco D'Souza, UNESCO Chair in Bioethics
12:30-13:10 Session 3: Passage from India to NHS: Challenges and Opportunities
Chair: Prof Ged Byrne & Dr Meena Virdi
a. Newly arrived Nurse
b. Newly arrived Doctor
Panel discussion: Ms Nicola Ranger, Chief Nurse, Kings College Hospital, London; Prof Raj Murali; Mr Jonathan Brown; Dr Satheesh Mathew, Vice President BAPIO; Ms Poonam Samuel, Psych Nurse, Birmingham.
13.10 -14.00 Lunch & Networking
 14:00-14:45 Session 5- 'Wellbeing - Impact on recruitment, retention & performance'
Chairs: Prof Iqbal Singh & Ms Tista Chakravarty-Gannon
• Ms Jo Revill,
• Prof Narinder Kapur
• Dr Jenny Vaughan 
14:45-15:35 Session 6- Career Opportunities to promote holistic Patient care and job satisfaction
(10 Minutes each speaker)
Chairs: Mr Shyam Kumar & Dr Shipra Singh Krishna
• Mr Marimoouttou Coumarassamy (Nurse to Manager),
• Prof Mahendra Patel (Pharmacist to Academician),
• Mr David Keen (Nurse to International education & training business manager);
• Mr Ravi Potdar, Physician Associate, Bristol
15:35 – 15:50 Coffee Break
15:50-16:20  Guest Lecture: 'Financing Universal Healthcare System'
Chairs: Dr Indranil Chakravorty & Mr Chelliah R Selvasehar
Dr Indu Bhushan, CEO Ayushman Bharat (Modi Care), National Health Authority, Government of India.
16.20-17.20 GAPIO Session: More inclusive approach: Longitudinal View from Schools to Skilled Workforce (10 Minutes each Speaker followed by Panel Discussion)
Chairs: Prof Rajan Madhok & Dr Sanku Rao
• "Preparing a work force of future, Introducing Skills training in Schools": Dr Shubnum Singh, Skills Council of India
• "Private Medical Schools as a source of quality medical graduates"; Mr Neal Simon, American University of Antigua
• "Corporate Hospital as a source of Multi-Disciplinary Training":
Dr. Pulijala.Srinivasa Rao
Chief Executive Officer, Apollo Medskills Limited.
• "Role of Practioners of Alternative Medicine": Dr Ashok Kumar, Vice President Ayurveda Practioners Association, UK
• "Creating novel routes into medicine": Professor Karol Sikora
Founding Dean, University of Buckingham Medical School
Panel Discussion with all the speakers
17.20 Vote of Thanks
18.30 Faculty Dinner 
BAPIO Annual Conference 2019 – Day 2
NHS Long term Plan: Through the Looking Glass
PROGRAMME
08:30 – 09.30 Registration and refreshments

09:30 – 09:45 Welcome: Dr Satheesh Mathew and Dr Indranil Chakravorty
Lighting the Lamp
President Address: Dr Ramesh Mehta

09:44 – 10:45 Session One: NHS Digital Revolution
Chairs: Dr Makani Purva & Dr Sethu Wariyar 
Setting the scene: Dr Harpreet Sood (5 Minutes)
The Revolution: Dr Sam Shah, Director Digital NHSX (10 Minutes)
Grassroot Speakers: Vivek Mathew, Sandeep Bansal, 5 Minutes each followed by 
Panel: Prof Bipin Batra Past CEO NBE, India; Dr Sanjiv Ahluwalia PG Dean North Central and East London; Peter Coates, Head of Ecosystem Development at NHS Digital
10:40 – 11:05 Guest Lecture: Chairs: Dr Satheesh Mathew & Dr Sajayan "Supporting Doctors Caring Patients" Mr Charlie Massey CEO, General Medical Council (confirmed)
11:05– 11:20 Coffee

11:20 – 11:45 Keynote Speech: Chairs Dr Ramesh Mehta & Dr Hemadri

'Happy Staff, Happy Patients' Ms Prerana Issar,  chief people officer, NHS
11:45 – 12:45 Session Two: NHS Long term Plan: Grass root Reflections
Chairs Dr JS Bamrah & Dr Bhupinder Sandhu
(5 Minute presentations followed by Panel discussion)
Dr Suparna Dasgupta Consultant, Shyam Gokani trainee doctor's views (5 Minutes each) followed by Panel discussion: From Dr Clare Gerada, Dr Chaand Nagpaul, Dr Andrew Goddard, Prof Neena Modi, Prof Ged Byrne
12:45-13:00 Guest Lecture: Chairs: Dr Imtiaz Shaikh & Dr Thangamma Katimada-Annaiah

"A Journey on the Creation of a successful private owned and self-financed Medical Education and Healthcare Institution in the Gulf ".Dr Thumbay Moideen, Founder President Thumbay Ltd, Dubai, UAE
13:00 – 14:00 Lunch, Poster Viewing & Exibitions
14:00-17:00 PARALLEL SESSION (3 hours)
Research & Innovation Competition
CHAIRS: Dr Subarna Chakravorty and Dr Sunil Daga
Short listed candidates will do oral presentation of their research to a panel of judges to select 4 winners who will be invited to present for final competition in plenary session on Sunday.
14:00 – 14:45 Session Three: Debate: "Private Sector is a solution to NHS Problems" 
Chairs: Dr Kailash Chand & Dr Kalidasan
2 speakers for and 2 against (7 Minutes each followed by 2 minutes for rebuttal)
For
Dr Shubnum Singh, Max Healthcare, Delhi, India
Mr Adrian Stevenson CEO One Health Care (tbc)
Against:
Ms. Tara Donnelly, interim Chief Digital Officer at NHS England (tbc)
MS. Lynn Krige, chief financial officer, Well Pharmacy (tbc)
14:45 – 15:30 Special Session: Invited Lectures: (10 Minutes each)
Chairs: Dr Arvind Shah & Dr Rehman Khan

Prof O P Kalra (India): "Is Modicare a panacea for India's Healthcare system"?
Dr Arun Bakshi: "Changing the Ethos of NHS: a solution"
Dr Joydeep Grover: "Healing the Healers"
15:30 – 15:45 Coffee
15:45 – 16:30 Session Four: '"Contribution of Overseas Doctors to the NHS"
 Chairs: Mr Keshav Singhal & Dr Dev Chauhan
Guest Lecture:"Clinical Leadership and Long-Term Plan" Prof Dame Jane Dacre, Past President RCP
Guest Lecture:"Invaluable contribution of Overseas Doctors to the NHS" Prof Derek Bell, President RCPE
16:30 – 17:00 Keynote address: Chairs: Dr Gautam Bodiwala & Dr Hasmukh Shah
"Moving Forward with Restructuring of the NHS" Baroness Dido Harding, Chair, NHS Improvement
17:00 Vote of thanks: Dr Geeta Menon
18:30 Poster Presentation all day
Drinks Reception followed by Conference & Awards Dinner
Guest of Honour: HE Mrs Ruchi Ghanshyam, High Commissioner of India
BAPIO Annual Conference 2019 – Day 3
Trainee & Non-Trainee Doctors: Trials and Tribulations
PROGRAMME
09:00- 09.45 Registration and refreshments

09.45 –11:00 Session One: Differential Attainment: What Next? Impact on Career Progression, families, and self-respect.
Chairs: Dr Uma Gordon & Mr Shyam Kumar (5 Speakers 7 Minutes each) To cover issues of Consultants, GPs, SAS and Non trainees and Trainees.
 Panel Discussion: Jaimie Kaffash (Pulse Magazine), Fiona Godlee (BMJ), Prof Mala Rao (WRES), Ms Claire Light, Head Equality & Inclusion, GMC
11.00 -11.20 Guest Lecture:"NHS Long Term Plan: Effect on Medical Training" Prof Wendy Reid, Medical Director NHS England (tbc)
11:20 – 11:35 Coffee
11:35 – 12:30 Session Two: Challenges for the Hidden workforce – Academics, SAS & Locally Employed Doctors
Chairs: Dr Jyothi Srinivas & Dr Prabhu Rajendran
4 Grassroot presentations (5 Minutes each) followed by panel discussion
Panel: Dr Geeta Menon (PG Dean, South London; Dr Sanjiv Ahluwalia, PG Dean, North London, Dr Indranil Chakraborty, Associate PG Dean; Jeeves Wijesuriya, JDC Chair BMA,
12:30 – 13:15 Session Three: BRIC (BAPIO Research and Innovation Competition)
Chairs: Dr Subarna Chakravorty & Dr Sunil Daga
Oral presentations by 4 finalists from Research and Innovations competition. The winner will be presented with the opportunity to present his/her research at a forthcoming BAPIO/GAPIO conference. 

13:15 –14:00 LUNCH


14:00- 14.45  Workshop A: Foundations of Leadership in Healthcare (Geeta Menon & Dr Nikhil Aggarwal)
Workshop B: Doctors in Difficulty (Dr Joydeep Grover & Dr Shyam Gokani)

14:45 -15:00Prize -distribution
Vote of Thanks: Dr Renu Jainer

15.00 Close of Conference-Coffee and Snacks


For 3 Day Package with Dinner rate please contact bapio office admin@bapio.co.uk , 01234 212879 
Do you have questions about BAPIO Annual Conference 2019?
Contact BAPIO
Save This Event
When & Where

Radisson Blu Edwardian, Heathrow
140 Bath Road
UB3 5AW Harlington
United Kingdom


Friday, 22 November 2019 at 09:00

-

Sunday, 24 November 2019 at 15:30 (GMT)
Add to my calendar
Organiser
British Association of Physicians of Indian Origin (BAPIO) is a national voluntary organisation with a commitment to the principle of providing high quality patient care through the National Health Service.
BAPIO actively promotes the principles of diversity and equality with the aim of "Empowering doctors and dentists of Indian heritage to be beacons of leadership and professional excellence."