Roof-raising percussion and vocal collective Baque Luar come to Brighton! With support from the Brighton Bata Group
About this event
Baque Luar is a London-based collective of vocalists and percussionists united by their love of Afro-Brazilian roots music. Drawing inspiration from the rich soundscapes and traditions of maracatu, coco, bumba meu boi, tambores de Minas, and ciranda as well as sacred rhythms of Brazilian Candomblé, Baque Luar combines original multivocal compositions and arrangements with powerful percussive grooves. Meaning 'moonlit beat', Baque Luar is also an ongoing exploration of feminine rhythmic creativity, engaging critically with gender imbalances in drumming traditions worldwide as well as the music industry at large. With a unique mixture of intricate arrangements, vocal harmonies, dance and a spectacular array of DRUMS, these women will rock you.
On Saturday 11th December, Baque Luar invites you to their first live gig in Brighton. During the night they will trial some new material in preparation to record their forthcoming album, combined with their usual repertoire of original and traditional songs and rhythms. Proceeds from the night will go towards the costs of creating this album.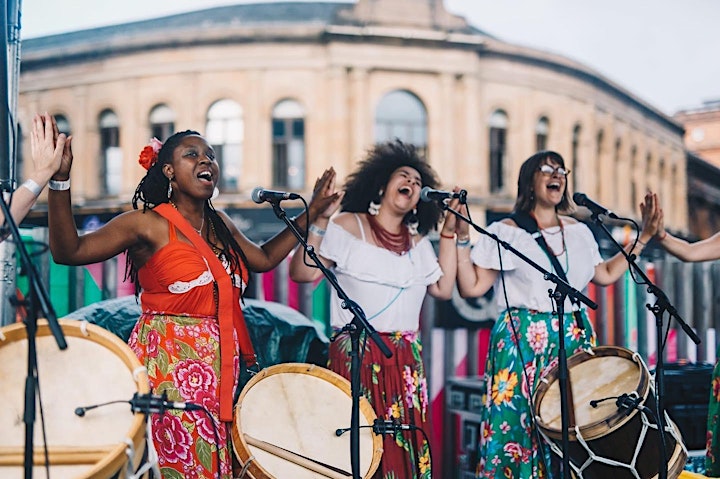 With a musical warm up from the Brighton Batá Group!
The Brighton Batá Group is a collective of percussionists and enthusiasts led by Ade Williams, drummer and Ifá practitioner with a lifetime of rhythmic knowledge and experience. They play and study Afro-Cuban and Nigerian batá rhythms and their sacred contexts, fusing elements of this musical and spiritual diaspora from West Africa to the Americas. They look forward to sharing this beautiful music with you.