Barbara Monks's Food Science Tutorials (On-Line Training)
Sales Have Ended
Registrations are closed
You can find more events on our website www.foodteacherscentre.co.uk
Sales Have Ended
Registrations are closed
You can find more events on our website www.foodteacherscentre.co.uk
Description
AT YOUR OWN PACE ON LINE TRAINING!
TUTORIAL DATES NEVER EXPIRE
What are Food Science Tutorials?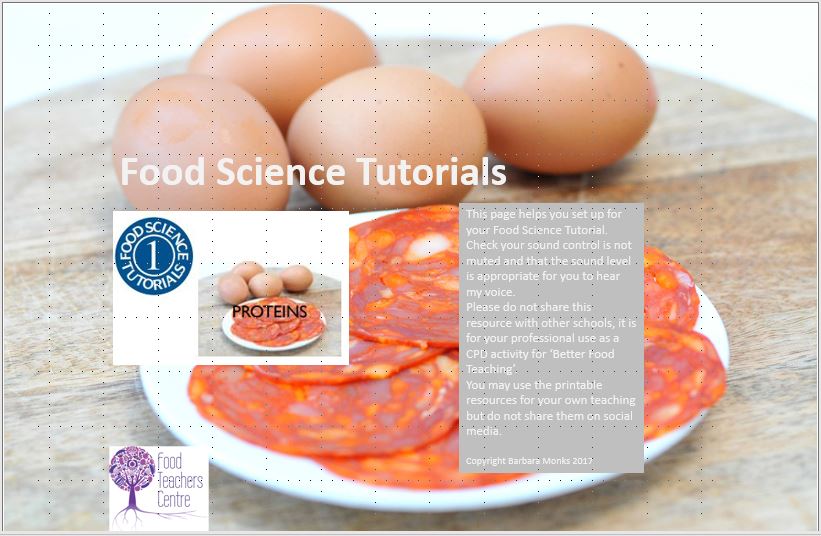 1. PROTEIN TUTORIAL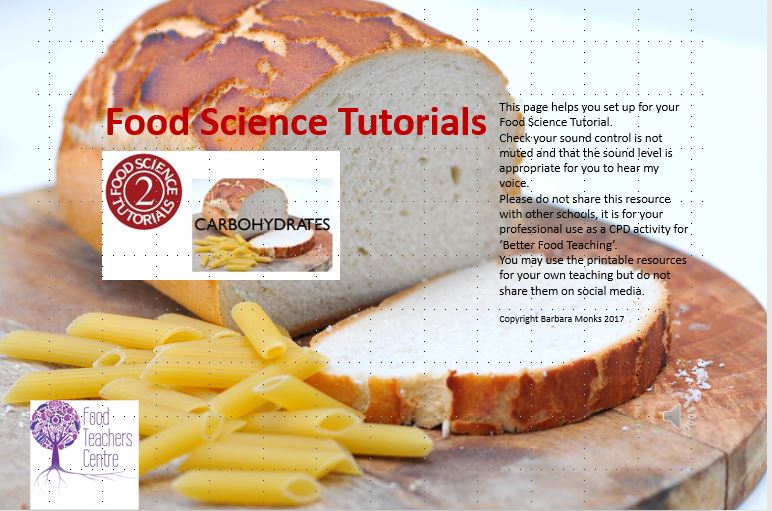 2. CARBOHYDRATES TUTORIAL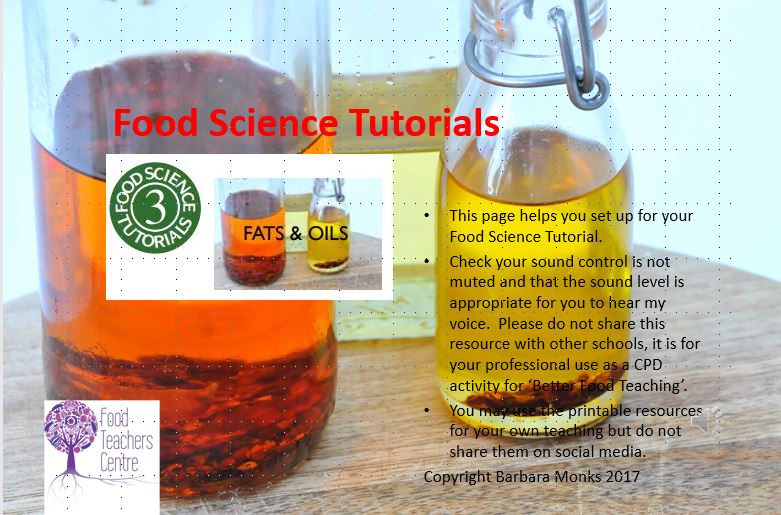 3. FATS AND OILS TUTORIAL
This is on-line training with step by step presentations, handouts that you can print and follow and a certificate of completion.
Food Science tutorials are narrated powerpoint presentations for food teacher training covering the food science of proteins, fats and carbohydrates. Three separate narrated presentations cover the chemical and physical aspects of each of the major food groups.
Topics are fully illustrated and cover all the food science requirements of the GCSE Food Preparation and Nutrition examination for all examination boards. (AQA, Eduqas and OCR)
The narrations include ideas for ways to teach food science with images and photos to support the teacher and suggestions for delivering food investigations (NEA 1) as required by all the examination boards. Coverage is designed to meet the needs of practical food work whilst also including molecular level science.
Key terms from GCSE Food preparation and nutrition specifications are explained and related to practical work.
Who is this teacher training course for?
The tutorials are designed for teachers who teach and support food activities at Key Stage 3 and 4.
It is particularly useful for those teachers preparing students for GCSE Food Preparation and Nutrition. It is appropriate for those who work alongside teachers such as technicians, science teachers and non-specialist teachers.
Aims: Food Science tutorials aim to help food teachers
Teach food science with confidence

Improve knowledge and understanding of food science

Develop better food science teaching at Key Stage 3 and 4

Raise standards by delivering better food science within practical food lessons
Objectives: to help teachers in the following ways
Develop competence in delivering food science in all Key Stages

Understand the chemical and physical make-up of proteins, fats and carbohydrates

To prepare for food investigations (NEA 1) for GCSE assessment. (15% of GCSE)

Apply food science to food preparation processes and cooking

Improve the use of technical vocabulary and scientific terms

To make links between heat transfer methods, working properties and characteristics of food ingredients.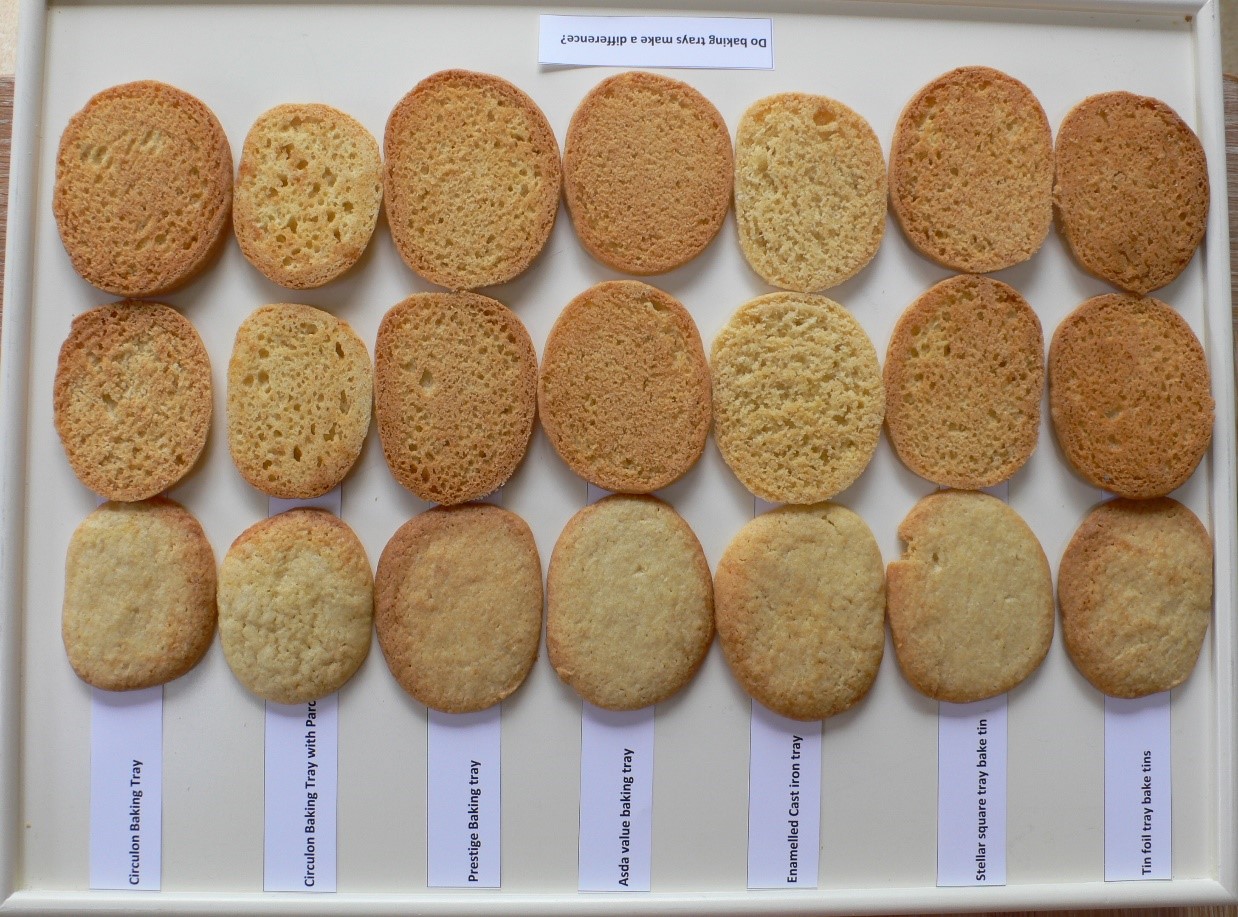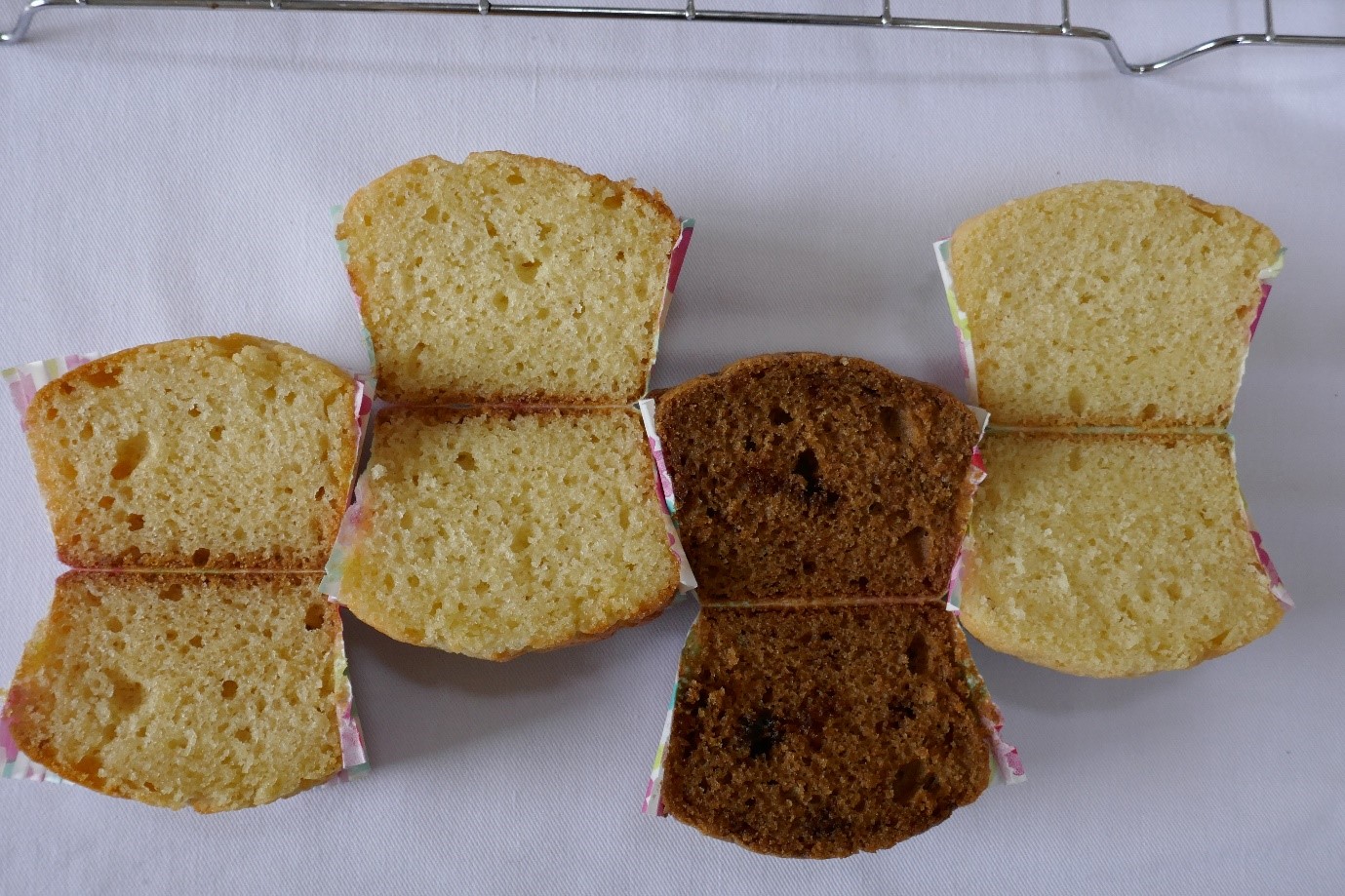 What are the tutorials about?
The three tutorials offer subject knowledge, teaching tips and ideas for food investigations. These can be used with students. They share good food science practice that teachers can introduce in their schemes of work.
The tutorials offer a unique resource to use when and where appropriate for each individual teacher to improve confidence in food science teaching.
Used consecutively the tutorials provide a full day of training (6 hours) with printable slide resources.
Other features:
Learning activity and check pages provide links to extend learning opportunities at regular intervals throughout the tutorials.
Questions are set at the end of each section to check teacher competence.
Glossary of key words and scientific terminology are provided to support better food teaching.
What is the content of the tutorials?
1. PROTEIN TUTORIAL has over 80 slides covering topics as follows:
Slides 1 - 11
About the tutorial, why food science, fascinating food science.
Specification related learning activity and check
Slides 12 - 22
Protein chemistry, protein formula, protein linkages, amino acids, how do amino acids link, 4 structures of protein molecules
Learning activity and check
Slides 23 - 40
Protein nutrition, high biological value, low biological value, complementation, protein pool.
Meat proteins, changes in meat proteins during cooking, Maillard reaction, Marinades, Fish and fish proteins, effect of heat on fish proteins
Learning activity and check
Slides 41 - 54
Soya protein.
Egg white proteins, denaturation of egg white protein; protein coagulation; protein, aeration and foam.
Learning activity and check
Slides 55 - 72
Milk proteins, food investigation,
Cheese formation, effect of acid and enzymes on milk proteins, denaturing cheese proteins
Learning activity and check
Slides 73 - 79
Wheat proteins, gluten formation, Effect of heat on gluten, effect of sugar and fat on gluten
Learning activity and check
Slides 79 - 82
Glossary, notes page and certificate
2. CARBOHYDRATES TUTORIAL has over 130 slides covering the following topics:
Slides 1 - 10
Links to Food Teachers Professional Portfolio
The reasons for food science in the curriculum
Making food science fascinating
Learning links to examination boards
Slides 11 - 29
Chemical formula; Monosaccharides Disaccharides and Polysaccharides
Dextrins and Food investigations
Learning checks and activities
Slide 30 - 73
Functional properties of carbohydrate sugars,
sweetness, caramelisation, application of heat transfer and caramelisation, caramelisation and food investigations, Maillard reaction browning,
Aeration, aeration and food investigations,
Learning checks and activities
Slides 74 - 81
Preservation and syneresis,
Sugar providing Texture,flavour and colour
Stabilising action of sugar
Learning checks and activities
Slides 82 - 97
Starches – formation and types
Gelatinisation as a scientific process; in blended sauce; in roux sauce.
Learning check and activity
Slides 98 - 112
Infused sauces, Retrogradation, Starch types and thickeners, Modified starch
Slides 113 - 117
Viscosity, using a viscosity chart
Learning activity and check
Slides 118 - 128
Rice and other pasta foods
Pasta and food investigations with pasta
129 - 132
Glossary, notes pages and certificate
3. FATS AND OILS TUTORIAL has 80 slides covering the following topics:
Slides 1 - 6
About the tutorial; why food science;
Specification learning activity and check
Slides 7 - 21
Chemistry of fats and oils, Chemical formula
Triglyceride formation
Function of Fatty acids, examples
Long chain fatty acids
Learning activity and check
Slides 22 – 29
Saturated fatty acids, Hydrogenation
Omega fats and oils,
Function of fats and oils
Plasticity of fats and oils
Learning activity and check
Slide 30 - 40
Shortening as a functional process
Investigating heat transfer
Aeration
Learning activity and check
Slides 41 - 50
Rich laminated pastries, puff pastry, Danish pastries, filo pastry
Food Investigation
Learning activity and check
Slides 51 – 68
Emulsions, emulsifying agents and how they work, Hollandaise sauce, mayonnaise processes, fats and frying, temperatures,
Learning activity and check
Slides 69 -73
Rancidity, butter formation, butter making science
Slides - end
Glossary, notes pages and certificate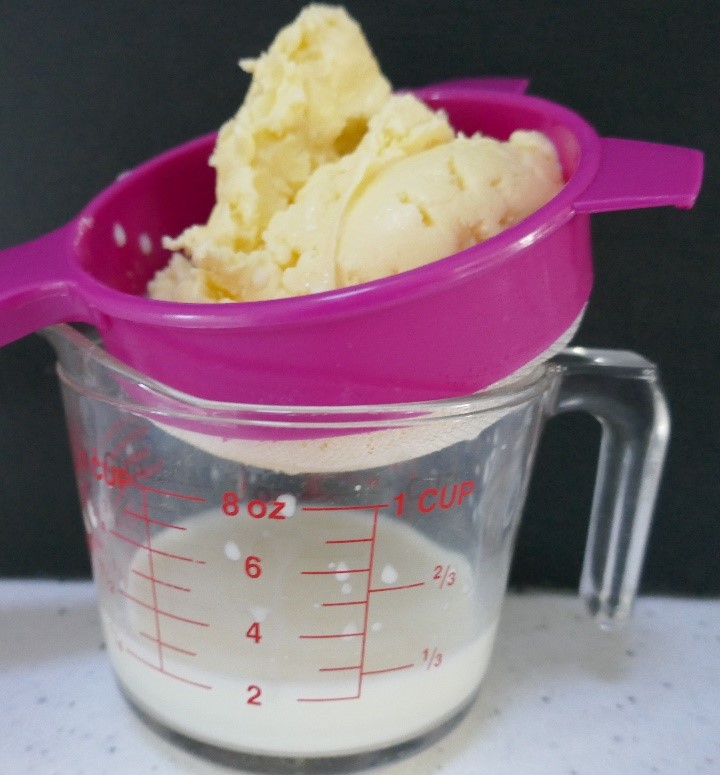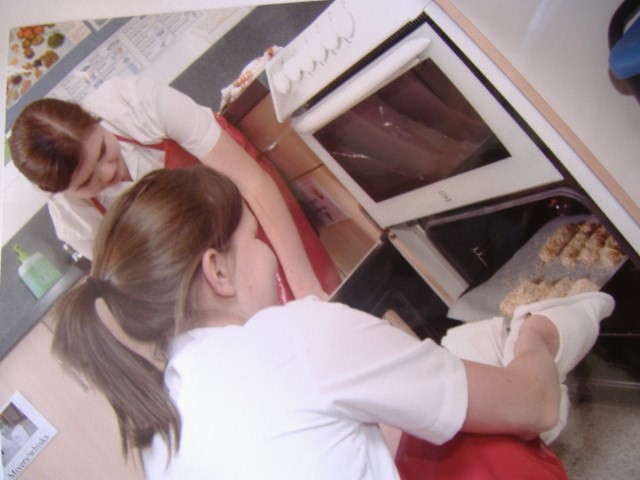 About the tutorials
The tutorial presentations meet the standards of the Food Teachers Professional Portfolio: 'Developing Professional competence' and 'Teaching food preparation and cooking.'
The content of the tutorials meets standard 5.1 and 5.2 of Public Health England: Food teaching in secondary schools: A framework of knowledge and skills. (November 2105 PHE number: 2015462)
5.1 Demonstrate a high level of competence in a wide range of food skills for effective learning.
5.2 Explain how and why food is cooked and the functional properties of ingredients, to build up scientific understanding that underpins key food preparation and cooking processes.
A certificate is printable on completion of the course.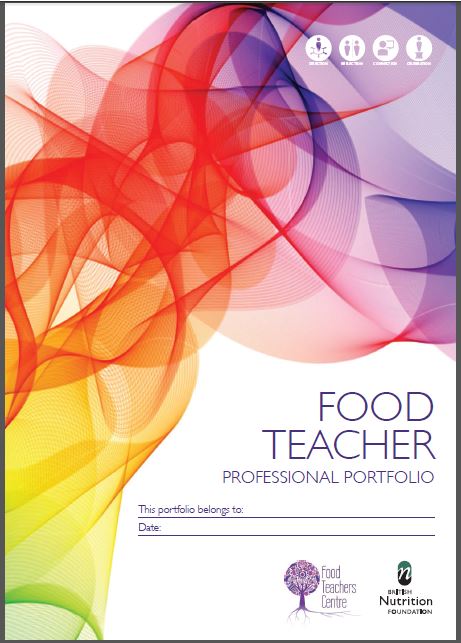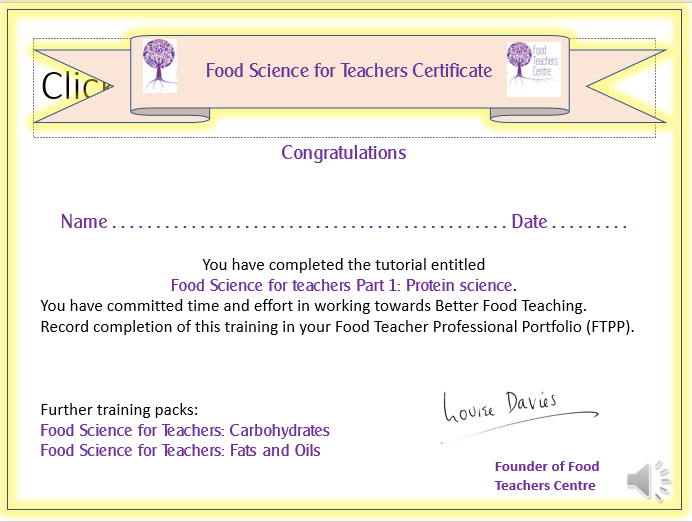 About the Tutor
Barbara Monks (B.Ed., M.Ed.) is an experienced food teacher and was Head of a successful high achieving D&T Department for many years. She currently works as Senior Associate with the Food Teachers Centre www.foodteacherscentre.co.uk delivering training days on food investigations and food science. She has co-written textbooks for GCSE Food Technology (Hodder), Maximise you Marks Food Technology (Nelson Thornes) and more recently the Collins AQA GCSE Revision Food Preparation and Nutrition. www.collins.co.uk/collinsGCSErevision.
Barbara is the author of the website 'The Cookery Teacher' www.thecookeryteacher.co.uk a comprehensive collection of food recipes with clear explanations of how each recipe functions. The site is designed for those keen to bring more knowledge to their cooking as they learn about food or for anyone teaching food or food science. She is passionate about good food teaching and food science.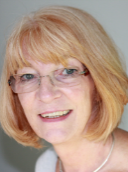 How do Food Science tutorials work?
After purchase the teacher can use the tutorials on their own computers as they wish, to improve their food science knowledge, as professional development using INSET time, or as part of school improvement plans or departmental/ faculty development days.
PLEASE NOTE THAT TUTORIAL DATES NEVER EXPIRE, no matter when you buy them or the eventbrite 'event date' published. There is no time limit placed on the study and support that you get. Start and finish to suit your own needs, at your own pace.
The three tutorials may be purchased individually or as a set of three.
Each tutorial is designed to take around 2 – 2hrs 30 minutes to complete therefore all three tutorials offer a full days training 'in situ' for teachers. No cover or travel required.
Tutorials can be used to suit individual needs. They can be revisited and replayed when necessary or as a reminder.
Support for those who purchase the tutorials:
Skype opportunities with the tutor for discussion of topics or teaching methods (Included).
Printable slides for the teacher to use when teaching (Included).
Face-to-face events through Food Teachers Centre with a focus on food science (addtional fee may occurr).
How do I buy the tutorials?
Payment by credit card only. A full VAT invoice/receipt is provided with every order by email (immediately the order is placed)
Prices are £40 each tutorial, or £100 for set of three (discounted for set), plus VAT. Full VAT receipt will be e-mailed to you with your ticket
Date and time
Location
Refund policy
Organiser of Barbara Monks's Food Science Tutorials (On-Line Training)
FOOD TEACHERS CENTRE is a uk based self-help group founded by Louise T Davies in 2013 and supported by experienced associates. It provides a platform to exchange best practice, give advice and support to less experienced teachers, answering practical concerns and keeping them abreast of the latest curriculum changes. A one-stop shop for like-minded professionals who seek help and information. It is free to take part and is facilitated through a closed on-line group, safeguarding the conversations of the teaching staff.
The idea of a 'Teacher's Centre' is a response to the lack of local and national specialist support and diminishing Continuing Professional Development with the demise of local authority advisers ASTs, lead practitioners and supporting organisations.
The Centre utilises new technologies, not requiring a physical space in new times, but providing the same high quality service that our traditional teachers centres were recognised for.
 The Food Teachers Centre is a place of
creative, innovative ideas and action
practical solutions
learning and sharing
If you would like to join the closed facebook group (you have to be a secondary food teacher and answer the THREE entry questions full))
But you can also visit our website   and public facebook page
FOOD TEACHER'S CENTRE ASSOCIATES
The centre is supported by a group of very experienced and high quality national and regional consultants/advisers, who offer training, advice and resource writing for food education in primary and secondary schools. Find out more about how Associates can help you.
Food Teacher's Centre Community is a community group set up to:
provide and promote unbiased and accurate information to support curriculum development and innovation.
support food teachers (including student teachers) to exchange best practice nationally and internationally.
support teachers and schools to develop and/or enhance a healthy living whole school community.
Food Teachers Centre Communityis a Community Association suported by donations.  Treasurer Mrs B Rathmill and Seceretary Mrs J Elms.   More information https://foodteacherscentre.co.uk/support-us/