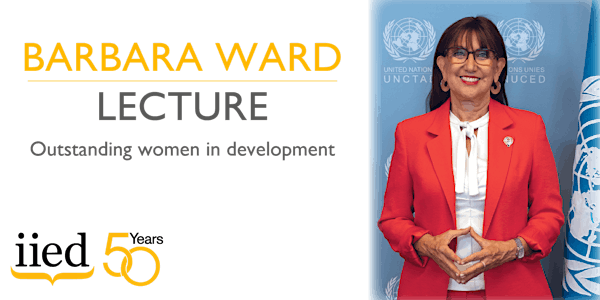 Barbara Ward Lecture 2021: Rebeca Grynspan
Sales Have Ended
Registrations are closed
Ticket booking has ended for this event. You can watch the event livestream starting at 6pm (GMT) on IIED's Facebook page at: https://www.facebook.com/theIIED.
Sales Have Ended
Registrations are closed
Ticket booking has ended for this event. You can watch the event livestream starting at 6pm (GMT) on IIED's Facebook page at: https://www.facebook.com/theIIED.
Rebeca Grynspan, secretary-general of the United Nations Conference on Trade and Development, will deliver the 2021 Barbara Ward Lecture.
About this event
En español debajo
Join us on 6 December online for a lecture by Rebeca Grynspan, the secretary-general of the United Nations Conference on Trade and Development (UNCTAD).
Our speaker will be:
Rebeca Grynspan
Rebeca Grynspan is an economist with three decades of ministerial and UN experience, who has championed finance for development and women's leadership.
At the 2021 Barbara Ward Lecture she will discuss:
Costa Rica's journey to global climate leadership – what can we learn from a good example?
As IIED's latest Outstanding Woman in Development, Ms Grynspan's lecture will reveal how her time in government in Costa Rica – working on environment and climate policies – helped lay the groundwork for Costa Rica's ambitious climate change agenda, eventually winning the small South American country many accolades, including this year's Earthshot 'Protect and Restore Nature' prize announced at COP26. Ms Grynspan will outline the major challenges in realising these important global goals and the lessons for others pursuing similar aims.
As UNCTAD's new secretary-general, Rebeca Grynspan – the first woman to take on this role – has announced that she will fight for the women that will follow in her footsteps and bring the voice of the person on the street to the global stage. She says that trade impacts our lives every day, and at UNCTAD she aims to make trade more just and fairer for all citizens of the world – to have development that is resilient, inclusive, and sustainable.
A former vice-president of Costa Rica, she is a renowned advocate of human development and has helped to focus the world's attention on issues such as the reduction of inequality and poverty, gender equality, South-South cooperation as a tool for development, and the achievement of the UN Sustainable Development Goals.
Prior to joining UNCTAD, Ms Grynspan was the secretary-general of the Ibero-American General Secretariat from 2014 to 2021 – again, the first woman to lead the organisation. She is also a former under secretary-general of the United Nations and associate administrator of the UN Development Programme (UNDP), and a former regional director for Latin America and the Caribbean for the organisation.
This event will offer Spanish interpretation.
Opening the lecture Dr David Satterthwaite, senior fellow in the Human Settlements research group at IIED, will reflect on working with Barbara Ward and 50 years of sustainable development. We're also delighted to welcome Dr Tara Shine, environmental scientist and chair of IIED's board of trustees, to lead a question-and-answer session with Ms Grynspan.
Following the online lecture we will offer the opportunity for networking and reflecting on the lecture with colleagues.
IIED's Barbara Ward Lectures celebrate outstanding women in development – please join us online! To accept this invitation, click on the green 'Register' button at the top of this page.
About attending
When
Monday, 6 December 2021, 6-8pm GMT (12-2pm CST)
This is a free online event. You will be sent a link to the Zoom event platform in advance of the lecture.
Online event participation
We are unfortunately unable to hold an in-person event at IET London: Savoy Place as originally planned, but all tickets are still valid for the digital-only event. Every registrant will receive an email with a Zoom link ahead of the lecture.
Where I can contact the organisers with questions?
If you have any questions about attending the 2021 Barbara Ward Lecture, please email us at this address: director@iied.org.
About data protection
The information you provide will be held on our database to process your booking. We do not share data with any third parties. Please let us know if you do not want to receive any further information from us.
Photography and videotaping
This event will be photographed, and/or videotaped on behalf of the organiser(s) for display, distribution, and broadcast, including on television and the world wide web. By attending or participating in this event, you are giving your consent to be photographed and/or videotaped and waive any claims regarding the use of your image or contribution.
Photo: Rebeca Grynspan, UNCTAD
En español
Conferencia Barbara Ward 2021: Rebeca Grynspan
Rebeca Grynspan, la primera mujer secretaria general de la Conferencia de las Naciones Unidas sobre Comercio y Desarrollo (UNCTAD) y ex vicepresidenta de Costa Rica, pronunciará la conferencia Barbara Ward del IIED 2021.
Rebeca Grynspan es economista con tres décadas de experiencia ministerial y en la ONU, y ha defendido la financiación para el desarrollo y el liderazgo de las mujeres.
En la conferencia Barbara Ward de 2021, Grynspan hablarà sobre:
El viaje de Costa Rica hacia el liderazgo climático mundial: ¿qué podemos aprender de un buen ejemplo?
Pronunciada Mujer Destacada del Sector del Desarrollo por IIED, la conferencia de la Sra. Grynspan revelará cómo su paso por el gobierno de Costa Rica - trabajando en políticas medioambientales y climáticas - sentó las bases de la ambiciosa agenda costarricense sobre el cambio climático, que fue merecedora de numerosos reconocimientos incluido el premio Earthshot "Proteger y restaurar la naturaleza" de este año, anunciado durante la COP26.
Además, la Sra. Grynspan expondrá los principales retos que plantea la consecución de estos importantes objetivos globales, así como valiosas lecciones para quienes persigan objetivos similares.
La nueva secretaria general de la UNCTAD, Rebeca Grynspan - la primera mujer en asumir este cargo - ha anunciado que luchará por las mujeres que sigan sus pasos y llevará la voz del ciudadano de a pie a la escena mundial.
Dice que el comercio tiene un impacto diario en nuestras vidas, y en la UNCTAD Grynspan se propone conseguir que el comercio sea más justo y equitativo para todos los ciudadanos del mundo, para así alcanzar un desarrollo que sea resiliente, inclusivo y sostenible.
Ex vicepresidenta de Costa Rica, la Sra. Grynspan es una reconocida defensora del desarrollo humano y ha contribuido a fijar la atención global en cuestiones como la reducción de la desigualdad y la pobreza, la igualdad de género, la cooperación Sur-Sur como herramienta de desarrollo y la consecución de los Objetivos de Desarrollo Sostenible de la ONU.
Antes de incorporarse a la UNCTAD, Rebeca Grynspan fue secretaria general de la Secretaría General Iberoamericana de 2014 a 2021, siendo otra vez la primera mujer en dirigir la organización. También fue secretaria general adjunta de las Naciones Unidas y administradora asociada del Programa de las Naciones Unidas para el Desarrollo (UNDP), así como ex directora regional para América Latina y el Caribe en la misma organización.
El evento ofrecerá interpretación en español para las personas que se unan a la transmisión en directo en línea.
El Dr. David Satterthwaite, investigador principal del grupo de investigación sobre asentamientos humanos del IIED, abrirá la conferencia con una reflexión sobre trabajar con Barbara Ward y los 50 años de desarrollo sostenible. También nos enorgullece dar la bienvenida a la Dra. Tara Shine , científica medioambiental y presidenta del consejo de administración del IIED, quien dirigirá una sesión de preguntas y respuestas con la Sra. Grynspan.
Cómo asistir
Cuándo
Lunes 6 de diciembre de 2021, de 6-8pm GMT (12-2pm CST).
Este evento es gratuito. Recibirá un enlace a la plataforma de eventos de Zoom antes de la conferencia.
Participación en el evento en línea
Lamentablemente, no podemos celebrar el evento presencial en el IET London: Savoy Place como estaba previsto inicialmente, pero todas las entradas siguen siendo válidas para el evento digital. Todos las personas inscritas recibirán un correo electrónico con un enlace al Zoom del evento antes de la conferencia.
¿Dónde puedo ponerme en contacto con los organizadores si tengo preguntas?
Si tiene alguna pregunta sobre la asistencia a la conferencia Barbara Ward 2021, envíenos un correo electrónico a esta dirección: director@iied.org.
Sobre la protección de datos
La información que nos proporcione se guardará en nuestra base de datos para procesar su reserva. No compartimos los datos con terceros. Le rogamos que nos comunique si no desea recibir más información de nuestra parte.
Fotografía y grabación de vídeo
Este evento será fotografiado y/o grabado en vídeo en nombre de los organizadores para su exhibición, distribución y difusión, incluso en la televisión y en la red mundial. Al asistir o participar en este evento, usted da su consentimiento para ser fotografiado y/o grabado en vídeo y renuncia a cualquier reclamación relativa al uso de su imagen o contribución.