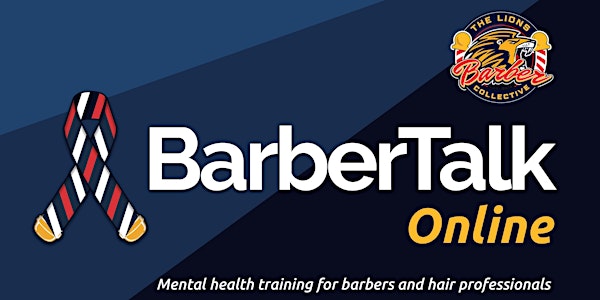 BarberTalk - Giving barbers the skills to prevent suicide and save lives
*New date added* Giving barbers the skills to recognise, ask and listen when someone may be struggling with thoughts of suicide
About this event
New date added: Monday 5 October, 10 am to 2pm.
Greater Manchester Health and Social Care Partnership (GMHSCP) has teamed up with Tom Chapman, of The Lions Barber Collective charity, to offer free training for barbers in Greater Manchester.
BarberTalk gives barbers the skills to recognise the signs that someone may be struggling with their mental health and how to help clients the support they need.
Men spend more time with their barber than their GP. It is the unique, trusted barber-client relationship that we want to develop.
It's not about making barbers into counsellors, but bridging the gap between the communities you serve and the resources that are available. It's about providing a safe non-judgemental safe space for men to open up.
At this free 4-hour training course, you'll learn:
How to recognise the signs that someone may be struggling with thoughts of suicide
How to ask them directly and confidently
How to listen with empathy and without judgement
What support is available to make sure they get the help they need
After you have completed the training, you'll be awarded a certificate, a digital certificate for social media or your website and you'll be added to The Lions Barber Collective 'Locate a Lion' map and join their discussion forum. You'll also be listed on the Shining a Light on Suicide website.
Who is this training for?
This training is for barbers or hair professionals working in Greater Manchester.
Can my whole team take part?
Due to limited spaces, we ask that only one person from each barbershop attends this training. We are looking at additional training opportunities. In the meantime, your friends and colleagues can take part in BarberTalk Lite, a short online awareness course.
Where will the training take place?
The training will take place online via Zoom. You can take part using a computer or mobile device. You'll be sent a link to join before the start of the event.
Will there be a break?
Yes, there are breaks scheduled into the session.
How much does it cost?
It's free! GMHSCP Suicide Prevention Programme is funding the training.
I don't work in Greater Manchester, can I still take part?
Unfortunately, this training is only funded for barbers that work in Greater Manchester.
If you work outside of Greater Manchester, please contact The Lions Barber Collective directly to book a training session.