Barema General Meeting - Autumn 2014

Tuesday, October 14, 2014 from 9:30 AM to 5:00 PM
Event Details

Our autumn meeting is kindly being hosted by Barema member Parker Hannifin in Hemel Hempstead.
As Harrie Cooke is standing down at the end of 2014, it will be the last meeting he will attend as the Chair of Barema.  Many of you will have got to know Harrie over the last 14 years that he has worked for the Association; please do come and take the chance to give him a good send-off.
There will, as always, be a full programme of talks and discussion plus the chance to catch up with Barema colleagues - and registration is FREE for all Barema members.
Click for details of:
Programme
Venue, directions and parking
Accommodation
Dinner (previous evening)
Non-member rates
Acknowledgements 
Enquiries
---
Programme 
08:45 - Registration - Tea and coffee will be available
SESSION ONE: Markets
Selling devices on prescription
Graham Collyer - Chair of the Industry Drug Tariff Committee
What NHS procurement want from suppliers
George Anderson - Procurement Snr Category Manager, Leeds Teaching Hospital NHS Trust
Accessing and engaging with NHS England
Adrian Fineberg - UK Sales and Service Manager, Vitalograph
SESSION TWO: Barema Business
Barema members' forum - Barema members only
An hour for open discussion on pre-submitted topics
AAGBI update
Tom Woodcock - Chair of the AAGBI Safety Committee
Presentation to Harrie Cooke
SESSION THREE: Clinical research and partnership
The importance of clinical research for medical devices
Mirella Marlow - NICE Programme Director for Devices and Diagnostic Systems
Doing research with the NIHR Clinical Research Network
Sarah Crawshaw - Industry Lead, NIHR Comprehensive Clinical Research
NIHR CRN: Respiratory disorders update
Lee Dowson - Clinical Director for Respiratory Medicine, Wolverhampton
SESSION FOUR: Updates
Respiratory Futures
Aileen Muir - Programme Lead for RF, The British Thoracic Society
New ways to access regulatory info on your products
Emelie Bratt - Project Manager, BSI
Standards
Terry Longman - Barema Standards Consultant
---
Venue, directions and parking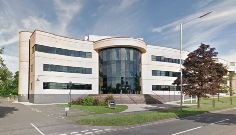 Please note that the place marker for Parker in Google Maps is in slightly the wrong place!  For a more accurate location, see the map of Barema members and select Parker from the list of companies. There will be signage for the Barema meeting at the front of the building on the day.
Post code for satnav = HP2 4SJ
Parking - there is a large onsite car park, and Parker staff have kindly offered to leave free for Barema attendees on the day of the meeting.  Parking is round the back of the building, accessed by the drive on the left hand side. There will be signage in place to direct delegates. 
Public transport - the nearest train station is Hemel Hempstead. This is just five minutes' drive from the hotel and meeting venue, and there is a taxi rank at the station. 
---
Accommodation
Barema members can get a reduced rate to stay at the Holiday Inn Hemel Hempstead M1 for the night 13-14th October.  The hotel is less than a mile away from the meeting venue - see map.  Postcode = HP2 4UA.
To claim this reduced rate, please contact the Reservations Manager Kamil Abadir stating you're a Barema member and would like to book a room at the reduced rate for the Barema meeting being held at Parker.  Contact Kamil at kamil.abadir@ihg.com or on 0144 220 6254. 
Please note that the availability of rooms will decrease and the cost increase the later that you book. To get the best rates please book as soon as possible.
If you wish to stay for the night of the 14th as well, you can also qualify for the reduced rate for the second night. Again, availability and pricing will vary depending on how late you book.
For details of the hotel see the Holiday Inn Hemel Hempstead M1 website. 
---
Dinner (on us!)
Anyone staying in Hemel Hempstead the night before the meeting (13th October) is warmly invited to join other Barema members for an informal dinner.  Please indicate if you would like to come to this when you register or by contacting me at anne.cooke@barema.org.uk or 07807 613 919.
Time: 19:30, 13th October
Place: Holiday Inn restaurant 
---
Non-members
Please note that if you are not a member of Barema there is a registration fee of £72 + booking fee  to attend. Please select the appropriate option when you register and pay online.
---
Acknowledgements

Barema are extremely grateful to Parker for hosting us and covering the catering costs for the meeting too. Read more about their work in Life Sciences Innovation in this interactive guide.
---
Enquiries
Please contact Dr Anne Cooke with any questions about the meeting:
Email anne.cooke@barema.org.uk
Mobile: 07807 613 919
When & Where

Parker House, Maylands Avenue
Hemel Hempstead Industrial Estate
Hemel Hempstead
HP2 4SJ Hertfordshire
United Kingdom


Tuesday, October 14, 2014 from 9:30 AM to 5:00 PM
Add to my calendar
Organizer
Barema - Association of Anaesthetic and Respiratory Device Suppliers
Barema brings together companies that manufacture or supply anaesthetic and respiratory equipment in or to the
UK, enabling the sector as a whole to influence policy, instantly respond to changing demands in patient care, and
maintain its enviable reputation for exceptionally high levels of quality, safety, reliability and innovation; whilst also
promoting each individual member company and facilitating direct dialogue with regulatory bodies and the medical
profession.
Barema General Meeting - Autumn 2014