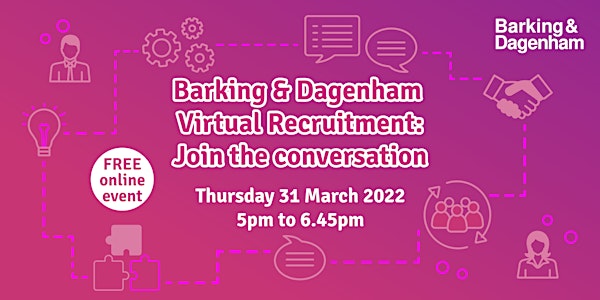 Barking and Dagenham virtual recruitment event – join the conversation
Bespoke practices & co-production are key to our ambitions. Learn about how we work and explore our children's social work opportunities.
About this event
It's an exciting time to be part of our social work team in Children's Services at Barking and Dagenham. We are investing in our staff to ensure they can dedicate their time to our children, young people, and families, in order to achieve excellent outcomes. We have invested in continuing professional development for our staff, with a wide range of training and development opportunities available. We have also built on our well-being offer which our staff now celebrate, recognising that our social workers do a tough, but very rewarding, job.
Come join the conversation and find out more about the culture and opportunities that exist in the London Borough of Barking and Dagenham. You will get to meet people who make a difference to our children, young people and families. You will hear from our Operational Director for Children's Care and Support, Principal Social Worker and social workers on what it's like to work here, how we support our staff and much more. The evening will be hosted by Dame Lorna Boreland-Kelly and you will have opportunities to ask us questions and find out more about current vacancies, various benefits and packages we offer our staff.
At Barking and Dagenham , we are committed to the learning and development of our social workers, which is why we are a sponsor for the Festival of Learning organised by Community Care. Our Principal Social Worker, Russ Bellenie, will be hosting a webinar on "Courageous conversations: equipping you for practice". Please join Russ on Wednesday, 30 March to find out more about this.
Event details:
Date: Thursday 31 March 2022
Time: 5pm - 6.45pm
Location: Microsoft Teams
Booking: essential
Cost: Free
Contact: SocialCareRecruitment@lbbd.gov.uk
More information on "Courageous conversations: equipping you for practice" webinar hosted by Russ Bellenie can be found here: https://www.communitycarefestival.co.uk/programme/wednesday-30th-march-2022/sponsored-session-courageous-conversations-how-to-equip-you-for-practice
To find out more about Dame Lorne Boreland-Kelly and her work, please visit: http://www.bokellassociates.com/about.html#damelorna