Barnardos Care Journey Network Day 2019 Glasgow
About this Event
Update- Only 7 tickets left!!
Here at Barnardo's we believe our young people are experts by experience, and this year's Care Journey Network Day, as part of the Core Priority Programme will have our experts at the heart of it, and we would love you to be part of it again! After an incredible response back in October we are excited to invite you to our third event that will be in Glasgow on Friday 17th May 2019 10-4pm.
As a proud learning organisation, the Care Journey Network Day is a day for learning and sharing good practice with young people on their care journeys, discussing the big issues, and working together to promote positive opportunities for our young people.
You Said- We Heard!
We want you to enjoy our Care Journey Network Days and we realise that everyone is different! Some of us enjoy a workshop that involves real conversation, learning and debates, some of us prefer something more practical, learning and keeping our hands busy!
Feedback after the last event (especially from our experts!) told us that you want more workshops where you can get involved - less sitting and listening to speakers. So we have a mix of workshops you can choose from depending on what you want. We have rated the workshops with the 'ACTIVE' workshops being much more hands on and interactive, and the 'THEORY' workshops for engaging discussion and learning.
See below for the workshops we have on offer!
Workshop: Get your message across!!!
How would you express what a 'positive destination' is? How do you think Barnardo's should tell people what a good care journey looks like? What difference should Barnardo's be trying to make? A creative session using media - it's time to make something!!
Workshop: Nick
Nick is our motivational speaker today. If you heard about his care journey, what he learned, and what he wanted us all to know - this is your chance to get into a conversation with him - and hear more about what he's got to say…
Workshop: Barnardo's Residential Homes. What do you think?
Barnardo's used to have lots of 'children's homes'. Then we started focusing on other things until we only had a few. Just recently we've started talking to people about trying to open more again. But what should they be like?
Workshop: Systems Change. Erm, what actually is that…?
The Barnardo's Trustees have said they want us to focus on it. The 'core priority programme' is setting out to work with Dartington Design Lab to try and make it happen. Want to understand what system change really means? Dartingon will talk about their experiences, support you to understand the term and inspire you to start seeing things differently....
Workshop:Timeless Lifeskills
The challenge: Is it possible to design and run workshops that gets you using some cool tech gadgets straight away AND helps you want to learn AND gives you a chance to think about life AND combats isolation?? Timeless Lifeskills have managed it with young people in rural India- come to this taster session, have a go, and then tell them how to get it right in the pilots we are planning here….
Workshop: Barnardo's Core Priority Programme
It's trying to be at the cutting edge of Barnardo's ten year strategy. But is it? Come and hear more about it - and have your say about the things it should be thinking about if it wants to do something special.
Workshop: People who have been on a care journey are 'experts by experience' Some of you are here today. Some of you are employed by Barnardo's to help us get things right. But there aren't enough of you. How do we change that?
Renaisi will explore what is needed to create the right employment chances and support structures for people with care experience in Barnardo's. Come and tell us what works, and what doesn't.
Workshop: Moving on skills
Ok so one of the big messages in the cpp work so far is that we need to make sure care experienced young people get the right help to develop the skills that you need to start living more independently. This workshops will think about a new approach. LEAP are experts in designing stuff - come and tell them what they need to do to get it right?
Workshop: Barnardos digital team
An Interactive workshop with Barnards Digital team getting you involved in designing a new app for Barnardos. How will it look? What kind of emoji's will be used? This workshop will involve putting designs together, producing mock-ups and having a say in a new national app!
YOUNG PERSON CHOICE Workshop: Haven't seen a workshop that gives you a chance to say what you want to see yet? Ok then - tell us what we need to be talking about?
Last time we did this - it made for one of the best sessions out of the whole day. If you've got something you think we should all be talking about - let Richard or Rachel know and we'll make it happen!
Workshop: Mental Health and Emotional Wellbeing
There's an increasing recognition that effective mental health approaches are all about equipping young people, and carers and staff they see most often - with the tools to help. The Decider Skills are effective, memorable, fun and easy to use CBT mental health skills for everyone. You will learn about the theory behind the skills, have an opportunity to learn some for yourself, and get a chance to share tools you've seen that you think can make a difference.
and expect:
Updates from Barnardo's- hear about Core Priority programmes, what's happening in Barnardo's, and the Voice and Influence of young people.
Soapboxes:
Got something to say? Want 10min in front of everyone to say it? Censorship? No. Strong opinions? Hopefully. Sticking strictly to the corporate script? Nope. Our Soapboxes went down a treat last year and we're hoping for the same this time round!
See you there!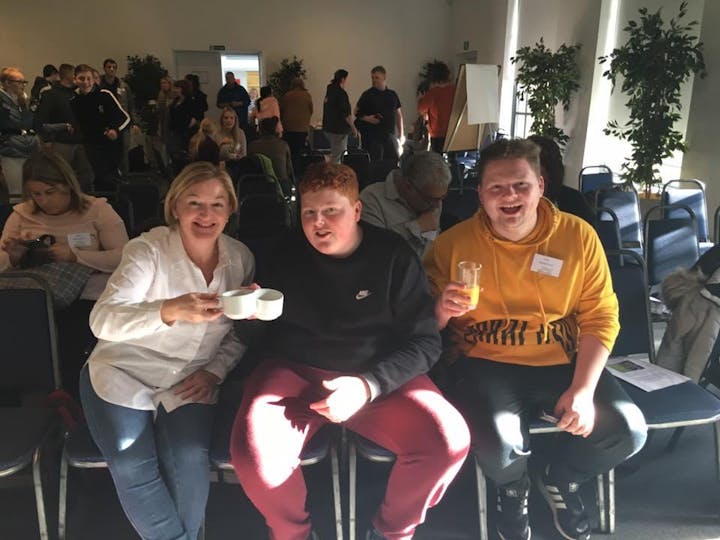 Some pics from some of the wonderful attendees from last years Care Journey Network Day!