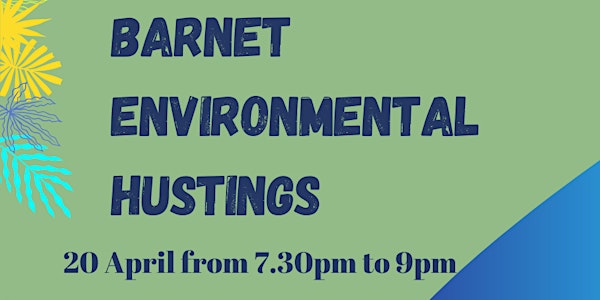 Barnet Environmental Hustings
In the lead up to 5 May Local Elections, come and hear what the main local political parties will do in Barnet to protect the environment.
About this event
Barnet Climate Action Group, Barnet Friends of the Earth, Barnet Green Spaces Network and Better Streets for Barnet are holding an environment hustings for Barnet residents and businesses prior to the Local Government Elections on 5 May.
We have confirmed attendance from (in surname alphabetical order):
David Farbey for the Green Party
Sachin Patel for the Liberal Democrat Party
Cllr Alan Schneiderman for the Labour Party
Cllr Daniel Thomas for the Conservative Party
Our objective is to provide the opportunity to hear from representatives of the main local political parties about their manifesto pledges on what they plan to do in Barnet with regards to the local environment and how they will contribute to the country's net zero climate change targets during the next four years (if elected to Barnet Council).
The four topics - each to be chaired by one of the organising community groups – that will be covered on the evening are as follows:
• Healthy Homes (energy efficiency, insulation, waste and pollution)
• Active travel (promoting walking and cycling, road safety, air quality)
• Protection of green spaces (biodiversity, water quality, dark skies)
• Barnet Net Zero (overview of issues not covered by above)
The event will also be recorded and made available to anyone who registers.
The deadline to submit questions was noon on 13 April and we are now looking through all those submitted - thank you! You can still register for the event after this time. And you will still be able to share your thoughts in the chat box on the night.
Who are the organising community groups:
Better Streets for Barnet are working to make Barnet a better, more accessible place to live, work, and travel. Follow Better Streets for Barnet.
The Barnet Green Spaces Network is comprised of the Friends of parks and green spaces in the borough, currently comprised of about 40 groups. Read the BGSN 2022 election manifesto.
Barnet Friends of the Earth is a local group belonging to Friends of the Earth England, Wales and Northern Ireland. We're a collection of environmentally-conscious volunteers who live in or near to the London borough of Barnet. Follow and find links to their latest sustainability briefings.
Barnet Climate Action Group is made up of concerned residents of the London Borough of Barnet from across faith, cultural, environmental & political organisations, wanting to take action tackling our current climate emergency. Find out more about BCAG and how to take part.
This event is also supported by the following community groups and organisations (in alphabetical order):
Barnet Mothers CAN
Barnet VCS Environment Network
Hampstead Garden Suburb REACH
Incredible Edible Barnet
Stonegrove Community Trust