Description
London based accordionist, Bartosz Glowacki would like to invite you to album launch of his debut record "Genesis" released with DUX record label. Concert is going to take place on 20th November 2019 at 7.30PM at The Old Church, Stoke Newington, N16 9ES London.
Free entry tickets or donation tickets to support the artist available on www.glowackiaccordion.com and www.eventbrite.co.uk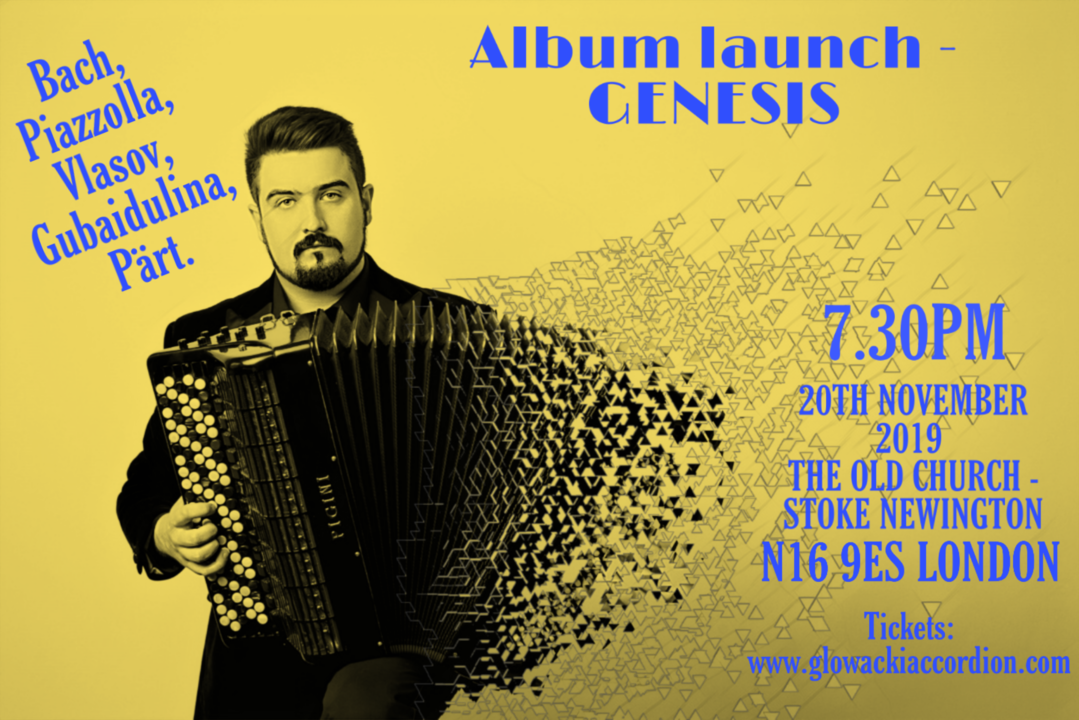 Genesis, debut album album of Bartosz Glowacki, contains music from various eras and styles. On this disc you can listen to baroque transcriptions alongside a range of contemporary accordion compositions.
Album starts with two baroque transcriptions of Sonata K.208 by Domenico Scarlatti and L'Egyptienne by Jean Philippe Rameau. Contiguously, we can listen to musical picture of the wreckage of Destroyed Cathedral in Dresden by Vaclav Trojan.
De profundis by Sofia Gubaidulina is one of the most significant composition in the accordion canon of the 20th century and Bartosz adds his unique interpretation to the existing number of recordings. His performance of Pari Intervallo, by Estonian composer Arvo Pärt, originally written for four parts, is the first version released for solo accordion.
Five Views on Gulag State by Victor Vlasov paints a musical picture of hardship and human suffering in Soviet labour camps. Bartosz has commisioned Magdalena Suszek-Bąk to create accompanying sand illustrations to visualize the story behind this work.
Double Concerto by Astor Piazzolla concludes this disc, featuring a fantastic musician Rob Luft. The blend of electric guitar and accordion coupled with chamber orchestra whose improvised melodic ornaments pays homage to Nuevo Tango style in the classical form of a concerto.
We hope that Genesis will be a source of your inspirations and new musical experiences.

Album Genesis was made with generous support of the Zygmunt Zaleski Stichting and the City Music Foundation and will be available online at www.dux.pl, Naxos, Spotify, Apple Musicand other streaming platforms.