Description
Do you want to be part of a movement of people who make change happen? Basecamp is back for its fifth year and is still the best place to get organised and have fun together.
Basecamp is a three day environmental festival, offering a mix of training sessions, interesting talks on a variety of topical subjects, creative workshops, great music and new friendships, all set in the heart of the beautiful Peak District.
Whether you're a seasoned campaigner looking for new allies or a new activist needing to gain key skills, Basecamp is the place for you.
Check out the below video to get a feel for the weekend: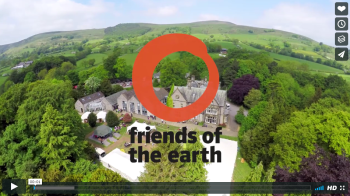 Please make sure to read the descriptions under ticket options as they contains crucial information.
FAQs
What sessions can I expect at Basecamp 2018?
Have a look at the programme for Basecamp 2018 - it's packed with really exciting talks, workshops and entertainment.
What about food?
Food isn't included in the price of tickets (except for breakfast in B&Bs and the Saturday lunch feast).
This year, the whole of Basecamp will be catered by both the hostel on site (for breakfast) and an external caterer (for lunch and dinner). All food will be veggie and will be priced at £6 for adults and £4 for children per meal.
You can purchase your meals when you get on site. We'll give you vouchers you can exchange for your meals throughout the weekend.
You'll just need a bit of extra cash if you wish to purchase hot drinks or snacks.
Can I cook for myself whilst there?
You are more than welcome to bring your own food. Gas-powered camping stoves are permitted but camping fires are currently not permitted by the site.
Is Basecamp only for Friends of the Earth members?
No, anybody and everybody is welcome! The more the merrier.
Are children welcome?
Of course! Basecamp is a kid-friendly event and you can be sure your children will have an amazing time with the wonderful team of professionals from the Ladybird Project.
How do I get to the Basecamp site?
You will have to organise your own transport to the venue, or to Hope Station. We will be providing a shuttle bus service between Hope Station and the festival site, as well as to and from B&Bs.
Can I bring my pet?
We wish you could but unfortunately not unless they are service animals.
If we are camping, will you be providing tents?
No, you will have to bring your camping gear with you.
Does the camping site have toilet/ shower facilities?
Yes
Will there be disposable plastic?
No, please bring a refillable drink bottle and re-usable eating utensils, especially if you are camping.
Do I have to book workshops or talks?
No pre-booking is required.
Is it wheelchair accessible?
Yes, as much of the site and workshops as possible will be wheelchair accessible. There are no accessible B&B rooms - if you require an accessible room, please book a hostel ticket.
Can you buy tickets on the day?
All tickets must be booked in advance. Please do not come to the site without a ticket, you will not be allowed to enter.
Is there any student discount?
Yes, but numbers are limited. Please send us an email to info@foe.co.uk to get your unique code.
Will there be onsite medical assistance?
Yes, there will be an ambulance service.
This is my first time coming to basecamp, what can I expect?
Basecamp is an environmental festival for those interested in making a difference. There is something for everyone, from workshops for those who want to learn how to better campaign on the issues of the day, interesting and inspiring talks from people across the sector and great music in the evenings. It's a great place to meet others who share your passions for affecting positive change in the world.
Can I donate to Basecamp?
You'll see that there is a donation box in the booking form above. Please consider, if you can, using this box to add a donation to your ticket price, or if you can't come but want to support the event. It helps us keep Basecamp cheap for those that need it to be so, and to offer free places to those who wouldn't otherwise be able to come.
Please email info@foe.co.uk if you have any other queries