Description
We've all been there before (don't lie !) It's Friday evening and you're bored at home, you already had:
1 desperate attempt to find something good on TV
2 of your besties calling you to moan about their boyfriend/girlfriend/exs (or whatever else)
3 "Netflix & Chill" attempts thrown !
But you're not having none ! As you're getting antsy you come to thing "Oh well I'd rather go out and release my inner beast on the dancefloor !"
Wait a minute, we have exactly what you need …
Get Mad Entertainment launch … Bashment & Chill !

A Monthly Dancehall night to unwind your mind & soul from London fast paced life.
For each edition we will have a different Warm up & a Special guest DJ + Dj Shakit as your resident Dj
Expect a predominance of Dancehall but not only!
Soca / Reggae / Afrobeat / Hip-Hop / R&B are also on the menu
On the 27th of November your warm up will be Selekta Gdie and the special guest is Dan Bean
When ?
Every last Friday of the Month from 10pm to 3.30am (with the exception of December as it will be christmas ! )
Where ?
At the 1st floor of the very famous "Dogstar" located just 5mn walk from Brixton station
How much ?
Free before 10pm then £5 all night – Pay at the door
Important Notes !!
The venue operate a very strict "NO ID NO ENTRY" policy so make sure to bring yours !
The dogstar is a busy venue and the queue can get quite long however if you let the person at the door know that you're coming for "Bashment & Chill" you should be able to jump the queue!
There a few FREE BEFORE MIDNIGHT ticket available ... ! Grab yours before they're all gone !
See you there !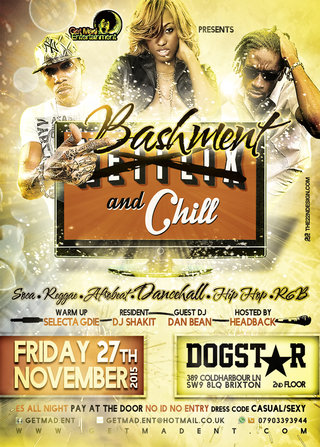 ----------------------------------------------------------------------------------------------------------------------------------------------------------------
Next Editions:
29th of January
26th of February
25th of March