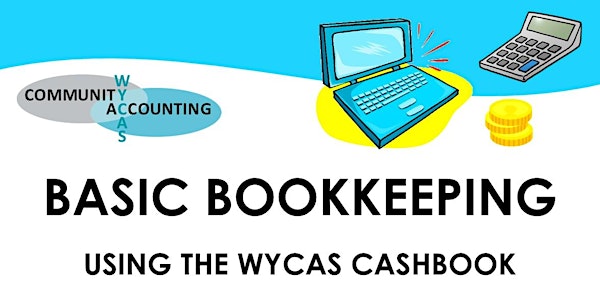 Basic Bookkeeping Using the WYCAS Cashbook Nov 2022
Do you want to learn how to set up a basic bookkeeping system for your organisation using an Excel spreadsheet?
About this event
Please note this free training course is for West Yorkshire and North Yorkshire community groups only.
Learn how to set up a basic bookkeeping system that allows you to easily record income and expenditure and to report on restricted and unrestricted funds.
This is a FREE 3 hour course which will be held online for a maximum of 4 people. We will email you a Zoom link to the online course a few days before the event. This is an interactive course, microphones and cameras will be on during the session.
This course will teach you how to:
Set up the spreadsheet
Enter transactions onto the spreadsheet, with categories of income and expenditure, restricted funds, bank and cash accounts
Reconcile the bank balance to bank statements
Produce finance reports for in year reporting
We will teach you how to use our in-house WYCAS cashbook, (which you can then download for free), which has been developed over many years to provide a simple, effective system for small charitable organisations and social enterprises etc.
What you will need:
Access to a computer with Excel software
A basic ability to use a spreadsheet
Please note: This course is free due to grant funding. If you have booked to take part but can't make it, please cancel via Eventbrite or by emailing info@wycas.org.uk. This way we can ensure our funding does not go to waste and someone else can take your place.