Basic Business Communication | Cyfathrebu Busnes Sylfaenol
About this Event
THIS SESSION WILL BE DELIVERED IN ENGLISH ONLINE. Welsh documents are available upon request.
MI FYDD Y SESIWN HON YN CAEL EI GYNNAL YN SAESNEG AR-LEIN. Mae yna ddogfennau Gymraeg ar gael os oes angen.
(Please scroll down for English)
------------------------------------------------------
Gweminar ar-lein - Mynd yn Ddigidol 3: Archwilio strategaethau cyfathrebu ysgrifenedig, clywedol ac ar lafar, sylfaenol.
Mae'r sesiwn hon yn rhan o gyfres o weithdai wedi'u hanelu at fynd yn ddigidol gyda'ch busnes.
Mae cyfathrebu da yn hanfodol i lwyddiant busnes, a hyd yn oed fwy byth yn ystod y cyfnod hwn o argyfwng. Yn y sesiwn hon byddwn yn archwilio strategaethau cyfathrebu ysgrifenedig, clywedol ac ar lafar, gan ymdrin ag offer, cyngor a thechnegau. Mae creu strategaeth gyfathrebu yn golygu adnabod ymhle, sut a gyda phwy yr ydych yn cyfathrebu a dewis yr offer cyfathrebu mwyaf addas. Byddwn yn defnyddio astudiaethau achos i wneud i chi feddwl a'ch cyfeirio at rai adnoddau defnyddiol i'ch helpu i ddatblygu eich sgiliau.
Beth fydd cynnwys y cwrs?
Bydd y sesiwn hon yn ymdrin â'r canlynol:
Strategaethau cyfathrebu sylfaenol
Buddion cyfathrebu da
Adnoddau cyfathrebu priodol
Ar gyfer pwy mae'r digwyddiad?
Bydd y sesiwn 60-90 munud hon ar gyfer busnesau presennol a busnesau newydd posibl fel ei gilydd, yn eich cyflwyno i egwyddorion cyfathrebu sylfaenol i'ch helpu i roi hwb i'ch busnes.
Cefndir y Siaradwr
Allan Shepherd, Canolfan Cydweithredol Cymru.
Mae Allan yn awdur o fri ac yn gyn-reolwr marchnata, golygydd a chyhoeddwr. Mae bellach yn gweithio i Ganolfan Cydweithredol Cymru fel swyddog cymorth busnes a thai cymunedol.
Gweler y gweithdy "Mynd yn Ddigidol" arall yma
_________________________________________________________________________________________
Online webinar - Going Digital 3: Explore basic written, audio and visual communication strategies.
This session is part of a suite of workshops aimed at going digital with your business.
Good communication is critical to business success, and even more so during this time of crisis. In this session we explore written, audio and visual communication strategies covering tools, tips and techniques. Creating a communication strategy means identifying where, how and to whom you communicate and choosing the most appropriate communication tools. We'll use case studies to get you thinking and point you towards some useful resources to help develop your skills.
What will the event cover?
This session will cover:
Basic communication strategies
Benefits of good communication
Appropriate communication tools
Who is the event for?
This 60-90minute session for both existing businesses and potential start-ups alike, will introduce you to basic communication principles to help you boost your business.
About the speaker
Allan Shepherd, Wales Co-operative Centre
Allan is award winning author and former marketing manager, editor and publisher. He now works for the Wales Co-operative Centre as a community housing and business support officer.
See the other "Going Digital" workshop here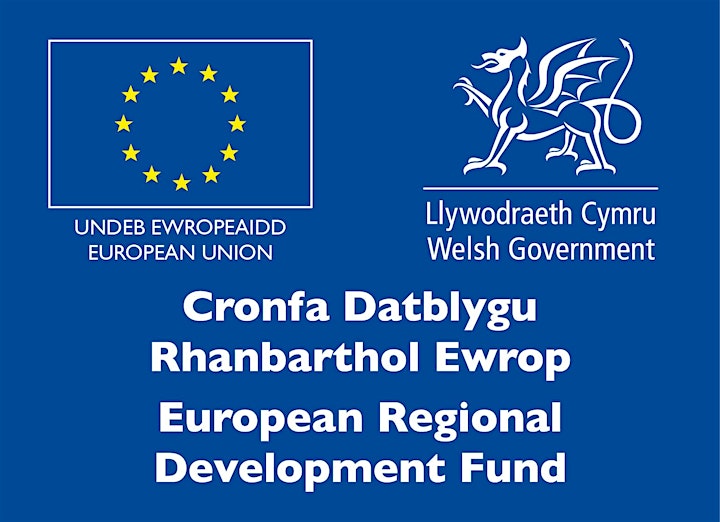 Mae Hybiau Menter Ffocws yn darparu gofod arloesol i ddeori a sbarduno busnesau newydd a'r rhai sy'n ehangu. Mae Hwb Menter Ffocws y Drenewydd a Hwb Menter Ffocws Caerfyrddin yn cael eu hariannu'n rhannol gan Gronfa Datblygu Rhanbarthol Ewrop trwy Lywodraeth Cymru
Mae'r digwyddiadau a ddarperir neu a gynhelir gan raglen Hybiau Menter Ffocws Llywodraeth Cymru am ddim ac yn agored i bobl o bob oedran, ond rhaid archebu lle ymlaen llaw. Mae'r niferoedd yn brin a disgwyliwn alw mawr am lefydd, felly archebwch yn gynnar i ddiogelu'ch lle.
Focus Enterprise Hubs are an innovative space to incubate and accelerate new, and growing businesses. Focus Newtown and Focus Carmarthen Enterprise Hubs are part funded by the European Regional Development Fund through the Welsh Government
Events delivered or hosted by the Focus Enterprise Hubs programme for the Welsh Government are free and open to all ages but must be booked in advance. Please be advised that numbers are limited and we expect high demand for places, so book early to secure your place.