Basic Hairstyling Course April 2013 (3 days)

Monday, 8 April 2013 from 10:00 to 15:00 (BST)
Event Details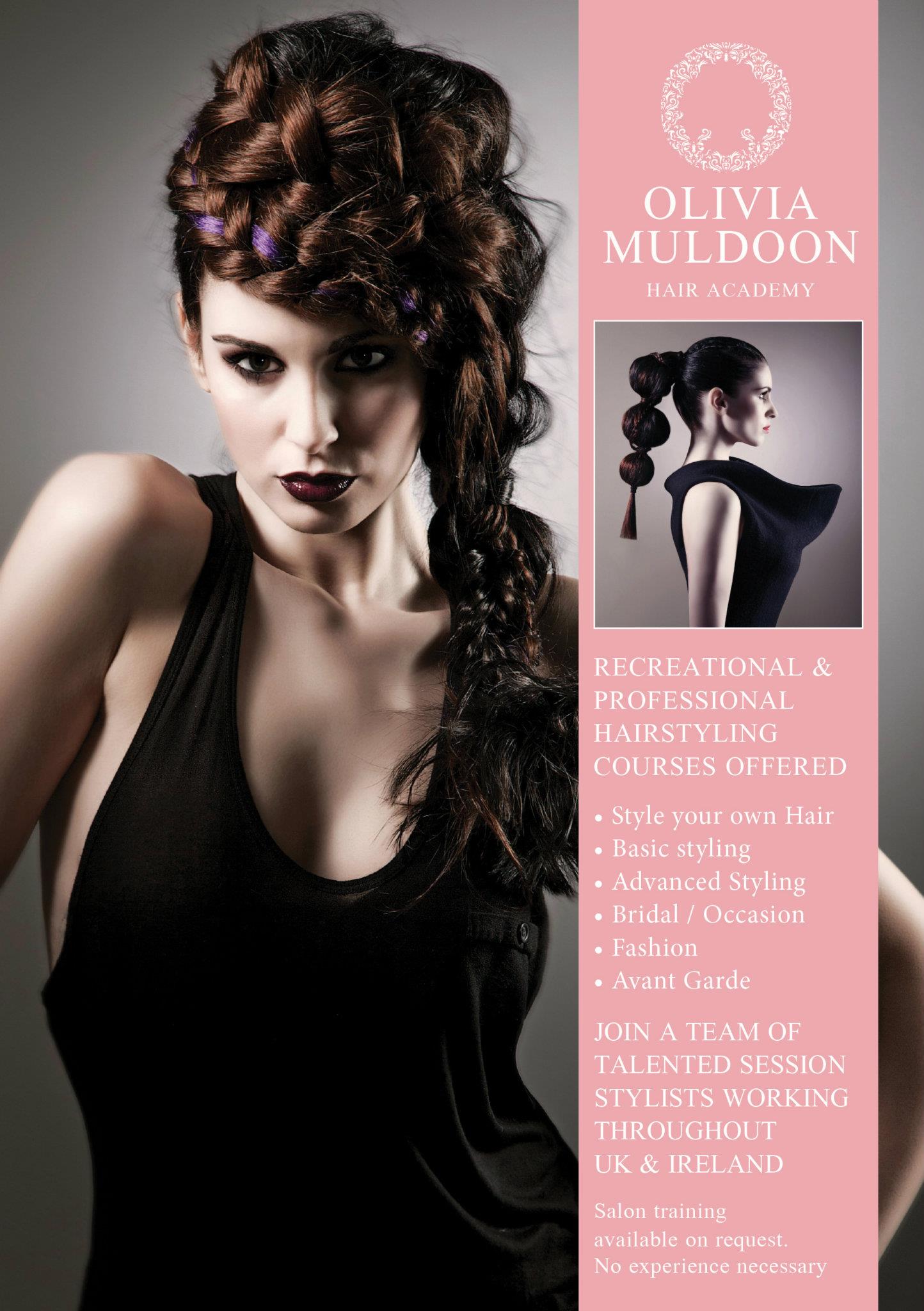 HAIRSTYLING COURSE
8th, 15th & 22nd April 2013
This course is suitable for the absolute beginner with no previous experience, and there are no entry requirements. Whether you wish to learn for fun or to begin a new exciting career, this is the course for you.
As there is a growing demand in the industry for us to have combined skills, Makeup Artists would benefit from this course to gain work for photoshoots, catwalk shows and wedding/formal clients.
The hairstyling course is taught by Olivia Muldoon, a freelance Hair and Makeup Artist with over 15 years experience. Olivia has worked as far afield as Dubai, London and Dublin working with industry leaders including Beyonce and The Beckhams Wardrobe Stylist Kenny Ho, Denise Van Outen's personal Makeup Artist and 'The Only Way is Essex' Photographer Tomo. Olivia regularly works at Fashion Week, Miss Northern Ireland, Miss Ireland and works alongside some of the leading magazines and photographers in UK and US.
Her work has been published in various US, UK and Ireland publications, including 'Editorial' Magazine (USA), Gladys Magazine (USA), Sunday World, Ulster Tatler, IN Magazine, Ulster Bride, The Sun, Sunday Life, Daily Mail etc. She has also worked on award winning movies/dramas and is currently working on award winning series, Game of Thrones.
All our courses are kept small. This ensures you receive the highest level of attention and one-to-one training.
Olivia keeps a keen eye out for all students who do extremely well. Those showing enthusiasm, talent, and dedication will be offered the opportunity to assist on shoots & catwalk shows. You will also be given the opportunity to progress to the advanced course and eventually join the bookings department where we will offer paid work, giving an added kick-start to your career.
The course will cover the following subjects:
Day One
Health and Safety
Hair Structure etc
Hair Product selection
Before creating a style, learn how to select the right product. In this section we will guide you through products and their uses.
Session Stylist kit
You will find out what tools are needed for a Session Stylist's kit
You will be guided through their personal kits to give you a good understanding of what is required
Sectioning/getting hair ready
Learn how to section your work, keeping it clean and tidy before beginning your desired style
Backcombing
Learn how to backcomb correctly to create volume for various hairstyles
Day Two
GHD's
Learn how to create various types of curls using ghd's and how to straighten hair the professional way
Setting the hair
Learn how to set hair into styles with the use of Velcro and/or Heated rollers
Curling Tongs/wands etc
Most session stylists work with tongs whether it's back stage or on a shoot. Learn how to create body curls flicks and other tong tricks
Braiding
Learn how to braid into simple and funky catwalk and photographic styles
Day Three
Basic Blowdrying (Creating Smoothness/creating flicks etc)
Learn how to blow dry hair in to simple styles adding body to flat hair, create flicks and interesting natural styles
Working with hairpieces/extensions
Olivia will help you understand and teach you how to work with hair pieces and create styles around extensions
Fashion Ponytail
Learn how to create a fashion catwalk and photographic pony tail.
Basic Upstyles
Learn simple hair-up techniques and adapt them to your own personal style
3 Day Basic Hairstyling Course - Normally £350.00
**SPECIAL OFFER OF ONLY £300.00**
Pay Balance on registration or in two installments. Maximum 10 students per class.
Option to have your work photographed by Professional photographer on final day. Model and makeup artist supplied. This is £75 extra. Please advise if you wish to add this option.
For more information contact:
Olivia Muldoon
07874 634630
Facebook:
"Olivia Muldoon Hair and Makeup Artist"
"Olivia Muldoon Hair Academy"
When & Where

Olivia Muldoon Hair Academy
Conway Street
BT13 Belfast
United Kingdom


Monday, 8 April 2013 from 10:00 to 15:00 (BST)
Add to my calendar