Refund policy
Refunds up to 7 days before event
Eventbrite's fee is nonrefundable.
We are delighted to invite you to our popular webinar on Basic Neuroscience of Trauma & PTSD [1.5 Hrs]
About this event
Choose your preferred date and go ahead to get your ticket. A few days before the webinar date, we will send you a link via your email to join the webinar.
Certificate of attendance will be issued (up to 1.5 CPD hours). Everyone interested in the subject is welcome. 
 The learning outcomes include:
in-depth understanding on how trauma affects the brain and ways to rebalance the brain for calm
regions of the brain involved in trauma and how to calm them down
links between trauma and anxiety-related disorders such as PTSD, OCD, addiction, and social anxiety
trauma and memory: effect of traumatic stress on memory issues (such as amnesia and dissociation)
links between trauma, inflammation and immune system issues:
Q&A session
Other focuses:
How to avoid the typical mistakes made in treating Trauma.
Tips for healing childhood trauma
Additional Workshop Materials for Attendees:
Somatic Re-Negotiation Meditation (tracking and pendulating)
Toxic Shame Healing Meditation
Healing the Inner Child Meditation Exercise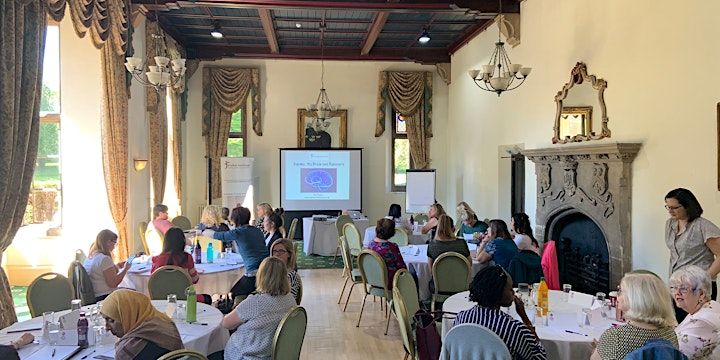 How Much Does a Ticket Cost?
Early bird registrations from £23+vat+fee. It will go up to £46+vat+fee if you book late.  Click the tickets button on the top right to see the prices.
People's reactions to traumatic events range from mild distress to severe disruptions that make it difficult or impossible to function. This course provides an indepth understanding into the brain science of trauma and recovery:
Types of trauma:
Childhood maltreatment (neglect, physical abuse, sexual abuse, emotional/psychological abuse)

Domestic violence (victim or witness)

War-related trauma (including terrorism and political)

School and community violence (including bullying)

Traumatic loss

Accident, illness and medical trauma

Seperation trauma
For professionals as well as those interested in the subject...
This course attracts both professionals, trauma survivors and interested individuals interested in mental health, continuing professional development, and in effective recovery techniques.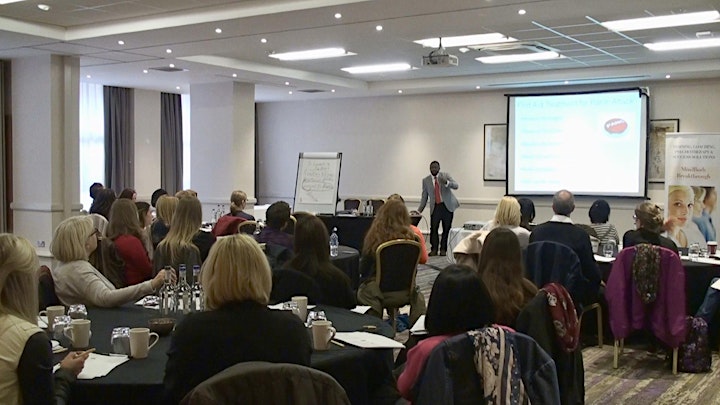 TESTIMONIALS: What Previous Attendees Are Saying:
The course was very informative, full of useful information in large amounts, and enjoyable to be part of. Rachael L., Hypnotherapist (27/1/21)
Very interesting and informative. Liked the way you described different parts of the brain using the analogy of 'boss,' 'receptionist' etc. It makes it easier to remember and to imagine and will be useful to use with clients. Julie D., Counsellor (27/1/21)
This was a great way to learn about the basics again as this was a refresher from previous courses and studies I have done. It was so interesting the way a complex subject was explained and I really liked the examples the trainer shared. I can't wait to attend the training on Healing Complex PTSD: The Brain Science of Recovery next week and I will look at other training courses. Amy D., Trauma Skilled Coordinator (27/1/21)
Thank you very much for the fantastic presentation. I found it very helpful and informative. Kate B., (4/1/21)
Excellent webinar my second one, Wale is extremely knowledgeable with a brilliant way of explaining. A few things that stood out for me, learning about the last stage of our flight or fight response, that genetically we can pass down traumatic genes, the benefits of swimming and breathing out. Thank you :) Carol D. Counsellor and Safeguarding Trainer (4/1/21)
Absolutely excellent. Information tied to real world situations brings the knowledge alive. I can see how I can use the brain map & company hierarchy in psych-education which will be very beneficial to clients. Rob H., Counsellor (4/1/21)
"I thoroughly enjoyed today and have learnt so much as a newly qualified psychotherapist, so I would just like to thank you for holding this hugely enriching workshop. I have found it difficult to encounter training and development opportunities such as those offered by yourselves and will definitely be attending more!" Amrita S. Psychotherapist (3/7/20)
"Changing the course to on-line was brilliant, especially with the current lockdown scenario. The course content was very insightful, with many useful resources and perspectives that other practitioners can find useful within a counselling context, combined with useful exercises that can help myself/other individuals to defuse the impact of stressful life events. I really enjoyed the course and felt refreshed and feeling I have more tools to add to my toolkit of therapeutic tools." Beverley R., NHS Counsellor, (13/6/20)
"I thoroughly enjoyed the workshop and found your delivery and content captivating and insightful, both in a deeply personal way and in a very beneficial professional capacity. I was especially taken with just how accessible you made a complex subject with your explanations and analogies. As well as humanising it with your account of your own personal experience! That was particularly profound. Thank you for sharing! I am a policy developer for a UK police force and we are currently working to bring trauma informed practice into our service. I will certainly be advocating your work." Suzi G. (19/6/20)
"Very useful and thought-provoking course with hugely insightful content, which can be adopted in practical ways to support client healing." Hollie P., Trainee Therapist (20/6/20)
The webinar was interesting, informative, and gave me a lot to think about. I would recommend it to anyone who feels they want to tackle their trauma, as well as professionals working with those who have experienced trauma." Robin F. Artist Practitioner (20/6/20)
"I thought the event was wonderful, Wale has so much passion and knowledge and made learning a pleasure. I would recommend this training to my colleagues, but it was also approachable for people with PTSD." Rebecca F., Dance Movement Psychotherapist (20/6/20)
Would recommend the course / courses provided by Mindbody Breakthrough. Excellent content, delivery, knowledgeable facilitator and no travel due to being an online webinar, affordable prices too, what's not to like!!" Carole C., Cognitive Behavioural Therapist
"Really useful & insightful I really enjoyed the details about the brain which I can use to help to explain to clients that I am working with. Grateful that we will receive the recorded session as it was a lot of information to take in." Katerina D. Assistant Psychologist (13/6/20)
"Thank you for making this possible online. Going through it on my own pace it was more beneficial than attending face to face. Meditations are great. I am both a professional working with children with autism as a paediatric doctor but also a mum of an autistic boy but I am also a survivor of childhood trauma. I would like to know more about autism and trauma." Dr Andreea G., (13/6/20)
"Thank you so much for an excellent trauma course today. I wasn't quite sure what to expect but it was fascinating and really useful. While face to face is always better the Zoom course worked well and it meant I could go for a quick run in the lunchbreak! I am a critical care paramedic on an air ambulance and I am also the patient liaison clinician, so support our patients and their families after their incident. I therefore have a professional interest in trauma and recovery. I want to be able to recognise when help is required for both my patients who have experienced trauma and my colleagues who have chronic exposure to dealing with it (but will never admit!) I hope that I can signpost them somewhere. I also have a personal interest as I was diagnosed with PTSD 2 years ago after much denial before the freeze response stopped me! I have also had a traumatic birth and so the postnatal depression chat was really interesting. Having had rewind therapy I was really interested to hear the neuroscience behind it. I loved the analogies to the CEO/security guard/filing cabinets and I feel I can use that to try to explain it. Thank you. I think my colleagues could benefit from this day and I will definitely look at your online resources and other courses." Kate A. Parademic (19/6/20)
"I've just attended (online via Zoom) a training day about Trauma and the Brain. I just wanted to write and say a big thank you to Wale. The course was excellent and I will definitely recommend to other colleagues and professionals. It was well presented and structured and gave me new information as well as reinforcing existing information. Trauma is an area i'm passionate about from a professional and personal point of view so Thanks again Wale - Amazing!" Heather D., Integrative Counsellor (19/6/20)
"Really great – pitched perfectly with lots of the supporting science. Loved your metaphors which make recall much easier. Thank you." Emma F., Student Counsellor (19/6/20)
I really enjoyed how the brain functions were explained, how the polyvagal theory was introduced and summarised. The course was very accessible to beginners and I enjoy that we have meditations to try." Krissy S, Trainee Therapist (13/6/20)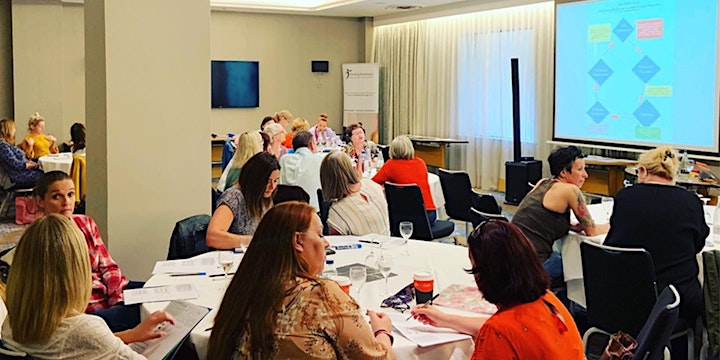 Why don't you come and judge for yourself? 
If you feel this course can benefit you or any of your family members, friends or colleagues, why don't you let them know about the event and give it a try? 
Those who have attended the event in the past always said that they were glad they made the investment even though they were a little bit unsure at the start (See previous attendees feedback below).
What to do next
All you need to do is to register your ticket to attend this event now.  The event is expected to be oversubscribed as there are very limited spaces. So book your seat now to avoid disappointment. Please only register if you are sure that you will be able to attend this event. We really want every ticket taken to be used on the day. Thank you for your co-operation.
Why is the event subsidise and what is the catch?
The first reason this course is subsidised is networking. Relationships are very important. In a live event like this, there is ample opportunity to connect with like-minded people, share experiences, get motivated and discover what is working for others. I have been able to meet and connect with some amazing people at events such as this one.
The second reason why this is a subsidised event is the feedback that we get from our attendees. This is extremely useful. It helps us improve our courses and get better in serving others.
Is this going to be a hardsell opportunity?
We practise authenticity because that is one of our highest values. MindBody Breakthrough does not use hard selling tactics because manipulation eventually leads to failures and stress at some point down the line. 
If you enjoy the day and think that any of our materials, online courses or future workshops can be beneficial to you personally or to your work, then we can discuss options once you have completed this full day. We just want you to come and enjoy the day, acquire additional helpful skills and make new friends.
Spot allocation is on a first-come-served basis due to limited availability. If you are planning to attend please reserve your spot asap.
A certificate of attendance will be issued.
I look forward to seeing you there,
Best regards,
Wale Oladipo
Director & Lead Trainer MindBody Breakthrough
Terms and Conditions
Cancellation:
Cancellation charges are applied in all cases. We regret that this has to be done. All bookings involve administrative costs and it is difficult to fill vacant spaces as a result of late cancellations.
Cancellation charges are applied based on when the written cancellation notice is received. See the following refund rates:
Over 2 weeks' cancellation notice: Full refund

1-week cancellation notice: 50% refund

Less than 7 days cancellation notice: No refund unless in exceptional circumstances, for which a medical certificate may be requested.


Alternatively, a substitute delegate can be named at any time before the course. There will be no extra surcharge for making a substitution.
No refund will be payable for non-attendance or if no prior notice of cancellation is given.
The refund will be issued after the course.
Pictures/Videos [Live Events]:
Please be aware that from time to time the presentation may be photographed or filmed for educational, quality or promotional purpose (this happens occassionally). MindBody Breakthrough takes confidentiality very seriously and aims to use any films or photos that may be taken according to the strict terms and conditions on live and online events. For case study clips, permission will be sought from individuals involved before the clip of that matter is used for research, training or promotional purposes.