BAST Perth Singing Teacher's Weekend

Saturday, 10 December 2016 from 09:00 to 17:00 (AWST)
Event Details
The BAST Singing Teacher
Training Weekend
 WHEN: Saturday 10th and Sunday 11th December
TIME: 9AM to 5PM Daily 
WHERE: VocalTech Studios, 9 Cutting Way, Yangebup WA 6164
ENQUIRIES: E.  info@basttraining.com  T. Gareth Henderson +61 8 (0)449 198 900
---
This two day educational weekend is aimed at singing teachers wanting to expand their expertise, gain more knowledge and fill in gaps.
We will have classes to suit the beginning teacher and more experienced teacher.
It will include the following:
Anatomy and physiology larynx, vocal folds and respiratory system

Vocal pedagogy

Voice science and how it applies to singing

Progressing from exercises to repertoire

Vocal exercises to develop a smooth register transition, range, strength, vibrato and dynamic control

Diagnosing and assessing the singer's voice

The teacher's tools and how to create an individual workout program

The how, what where and when of common vocal pathology in singers

Vocal health care

Teaching clinics

Impact of style on technique and visa versa

Taking a multi disciplinarian approach to the singer

The how, what where and when of vocal registers and transitions

Teaching and learning styles in one2one classes

Building a successful singing teaching

business
* The Saturday morning schedule will include a talk from Speech Pathologist, Fiona Palmer on common vocal pathology and treatment  in singers.
This is a fantastic opportunity to come together with other singing teachers and professionals to share knowledge, experiences and learn even more!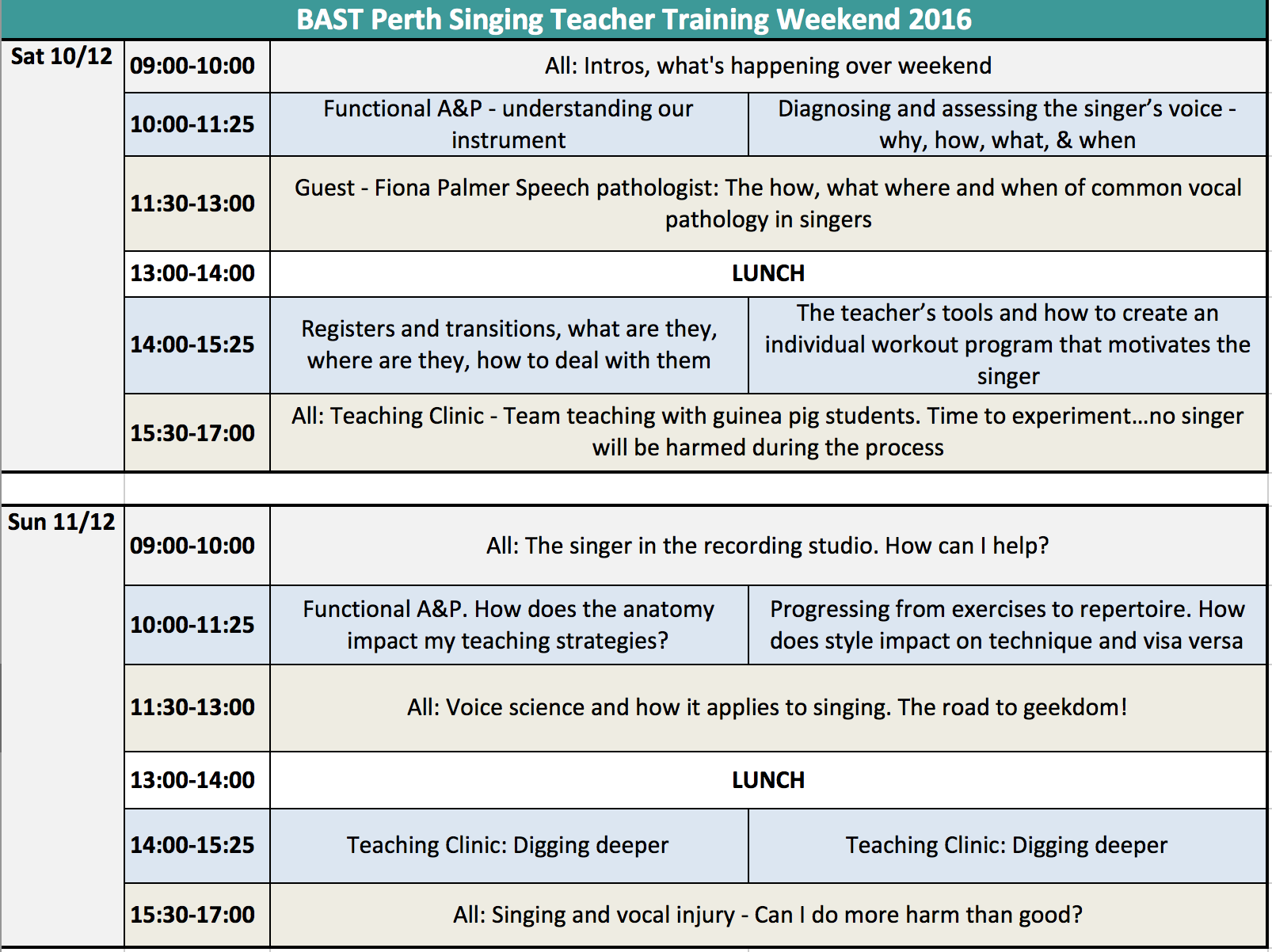 Email:  info@basttraining.com
THE TRAINERS
ABOUT

Line Hilton
BAST creator Line Hilton is passionate about facilitating the singer in fulfilling their potential, both technically and creatively. She draws on a diverse pool of training, qualifications, experiences and skills to help those who require it, whether as performers or teachers.
Line is a trained registered nurse, has a B.Mus Ed degree from the prestigious Western Australian Conservatorium of Music and MSc in Performing Arts Medicine from University College London - think Sports Medicine for performers!
With Line's deep understanding of the vocal mechanism she is able to help a singer gain ease of control over their voice without losing their vocal identity. During her time as head of vocals at the Academy of Contemporary Music (Guildford, UK) Line gained a great deal of experience working with developing artists. This lead her to create the Performers Edge course to help performers develop the right mindset, practice strategies and performance skills required for them to attain their performance and career goals.
In her private practice, Line sees professional and semi professional singers and voice users, helping them to better understand and cope with the vocal and mental demands of the job, how to care for their voice and body in order to maintain the high standard health required to perform and sing at optimal levels. Line has had a great deal of success with a functional approach to vocal technique that helps singers overcome vocal issues such as poor pitch control, lack of strength, limited vocal stamina, register transition difficulties and limited range. She runs regular singer's workshops and a 10-week singing teacher-training course for experienced performers who wish to teach privately.
"I believe people who sing have the right to enjoy an unhampered, healthy and exhilarating experience; my job is to ensure that it happens." Line Hilton 
ABOUT

Gareth Henderson
My first brush with singing tuition was, like many I'm sure, a result of being a gigging singer who did not know how to use their voice correctly and did it some harm as a result.
I had lessons with a number of teachers and truly enjoyed working on the problems with my voice.
That said, I did not plan to become a serious vocal coach. 
I was building a recording studio and I knew that it would take time to ramp the business up, so I thought I'd teach "the odd singing lesson" in the meantime. The vocal tuition took off so fast that I ended up struggling to work in the recording studio! Eventually I knew I had to take some of my more experienced pupils and get them to become teachers. The problem was that I had no teacher-training program. My search for training for them was where I discovered the pedagogy that I ended up whole heartedly embracing.
I had built a successful business based on my "best guesses" in singing tuition and sure – some pupils felt they gained a lot but whenever I came up against a singer who's problems were dissimilar to my own, I would find it so hard to help them with their needs.
Studying properly how to TEACH singing armed me with knowledge of the broadest range of problems and the fastest solutions, along with better methods for delivering these solutions to singers.
The business grew faster than before and I had a team of fantastic new coaches around me who all studied this same method. These days they are either globe-trotting session vocalists or very successful vocal coaches in their own right (you've heard the Naked Vocalist Podcast haven't you?) I'm hugely proud of all of them.
I spent a fair few years coming to terms with how all this new knowledge could best help my pupils but I never lost sight of the fact that I LOVE to teach – to see that "lightbulb" moment in a pupil.
Initially it was with vocalists who could suddenly sing things they could not before but when my recording studio business expanded too, those moments came when showing engineers how to manage sessions in a way they could not before. More often than not, this was not about equipment or software, but about how to speak to clients – to get the very best from them creatively and technically and leave them happy and enthusiastic.
I'm not sure when it dawned on me that the greatest buzz of all would be to teach the teachers but again, I think it began accidentally.
Having learned my lesson the first time, I knew a solid system would be the key to delivering this well. The BAST programme incorporates all the great vocal tuition I studied so hard, a strong anatomical understanding, on going research and a respect for the art of simply teaching. I'm proud to be on the team.
When & Where

VocalTech Studios
9 Cutting Way
Yangebup, WA 6164
Australia

Saturday, 10 December 2016 from 09:00 to 17:00 (AWST)
Add to my calendar
Organiser
Line Hilton
Hello, my name is Line (pron Lyn) Hilton.
I am a singing teacher and performing arts medicine specialist dedicated to helping performers sing and perform optimally. 
Over the last 15 years of teaching I have been fortunate to have shared so many journeys helping singers to gain vocal freedom and blessed to have made many good friends along the way.  Without a doubt, my students are my greatest teachers.
BRIEF BIO
I originally trained as a Registered Nurse eventually transfering fulltime into music and singing when I realised that I couldn't be without it. In 2000 I graduated from the Western Australian Academy of Perfoming Arts (WAAPA) with a B.Mus Ed(Jazz). Then I brought the two careers into one through a MSc in Performing Arts Medicine from University College London. 
Between 2008-11 I was the head of the vocal department of the Academy of Contemporary Music in Guildford. I belong to an international association of highly trained singing teachers called Vocology in Practice (ViP) and a voting member of the Pan American Vocology Association. Back when I was a performer I ran my own jazz bands, sung in big band settings, contemporary jazz choirs and even trod the boards in musical theatre and light opera. These days I focus on teaching , which I love to do with a passion.
WHAT I DO
In private one2one sessions I pull on my varied experience and training to help singers with vocal technique, vocal health, performance and teaching.  
Throughout the year I run singing courses such as:
- singing teacher training
- performance mind-set
- performance skills
I also publish a digital magazine for singers called iSing. This is an AMAZING resource for anyone serious about singing. Find out how to download issue 1 for free by going to the website - www.isingmag.com
BAST Perth Singing Teacher's Weekend