Location
Thameside Nature Discovery Park Visitor Centre
Mucking Wharf Rd
Stanford-le-Hope
SS17 ORN
United Kingdom
Learn about the local Bata legacy after a short walk from Thameside Discovery Nature Park, ending with a fun dreaming workshop
About this event
Bata walk East Tilbury
In Other People's Shoes
27th July 2021 11am-2pm
Starts: Thameside Nature Discovery Park
Ends: East Tilbury
Only 3.5 miles, but you can meet this walk at midday if you prefer something shorter. Just let us know on the booking form.
This walk starts in Thameside Nature Discovery Park, a popular bird watching site with wonderful views of the lake.  Lots of wildlife to enjoy here as we make our way over to East Tilbury.
On arrival in East Tilbury we'll explore the residential, industrial and social legacy of Thomas Bata's utopian vision from the 1930s.  We'll visit the factory, hotel and Heritage Centre.
During the walk, artist Sadie Hasler will lead a conversation, asking you to put yourselves in the shoes of your role model.  What do you aspire to achieve?  What can we achieve here by walking together?  The walk ends at the Bata Memorial Gardens for artist-led activities to inspire us to share our dreams for the future.
You are invited to bring a picnic lunch to enjoy as part of the day however chips from George's fish bar can be arranged for you, there is an option on the order form to let us know.
This walk was very popular in June, reserve your place so you don't miss out!
At the end, there is an optional return to the starting point (2-3pm).
This walk starts alongside Beach of Dreams walk 30 and at the end these walkers will continue on their longer route.
Please read our Covid-19 Walk Guidelines before booking.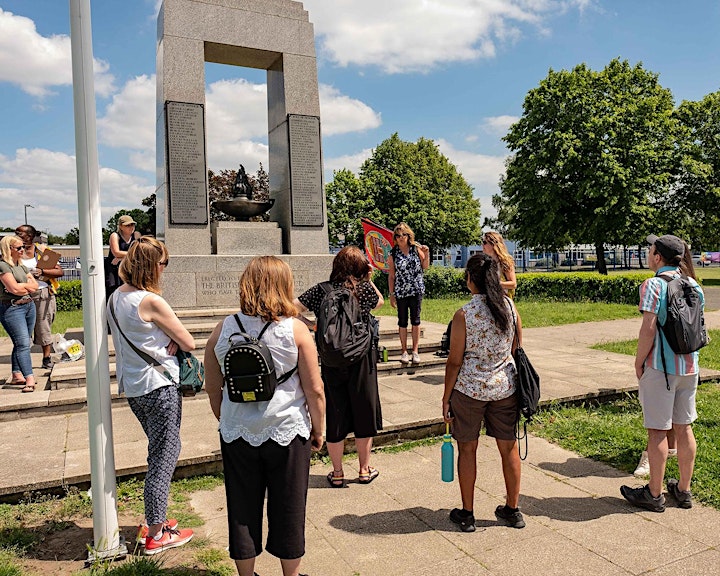 Schedule
10:45am: Meeting point: Thameside Nature Discovery Park Visitor Centre, Mucking Wharf Rd, Stanford-le-Hope SS17 ORN
11:00 – 12:00 : Walk to East Tilbury
12:00: Mid-way meeting point at the Thomas Bata statue.
12:00 -13:00: Walk around East Tilbury with talks and artist-led activities
13:00 – 14:00: Lunch – Join us for Fish and Chips from George's fish bar or bring a picnic to enjoy during the dreaming workshop
14:00: Walk ends: East Tilbury RM18 8NX
14:00 – 15:00: Optional return walk to Thurrock Nature Reserve SS17 ORN
Walk Info
Duration: 2 hours including talks (1 hour lunch and activities / *1 hour return walk)
Distance: 3.5miles / *2.5miles
Grading: Easy
Terrain: For the first hour of this walk the ground underfoot is mainly gravel, there will be a small amount of grassland and some pavements.
Access: The walk is pushchair accessible, there are however a number of turn stiles (these are wide enough to fit a double pushchair through) and some cattle grids at the nature reserve. Some of the grassland is uneven and quite bumpy. The rest of the walk in East Tilbury is on pavements, a mixture of paved and unpaved paths.
Walk Leaders: Winnie Nyamu and Melvin Ndebele
Route Map
View the walk route on Wikiloc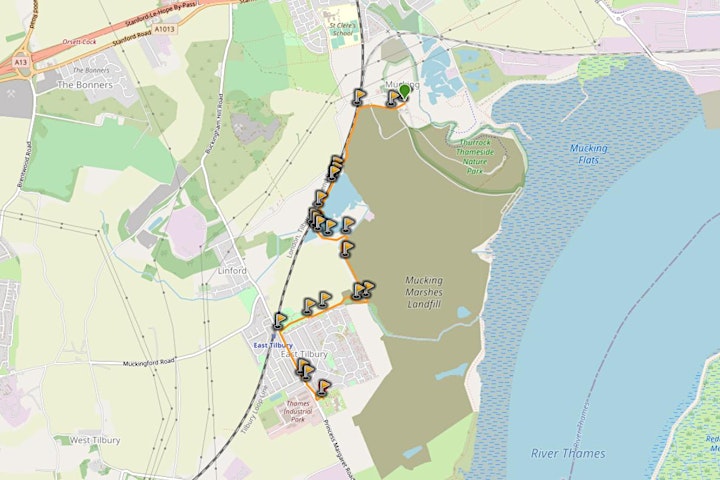 Travel
Train
Nearest  station at the start: C2C Stanford-le-Hope Train Station, London Road, Stanford le Hope, Essex, SS17 0JX, although this is a 3 mile walk to the reserve.
Nearest station at the end: C2C East Tilbury Train Station
East Tilbury station is a 10 minute walk from the Bata Memorial Gardens via Princess Margaret Road.
Bus
East Tilbury: 374
Parking
Parking spaces are available at the Thameside Nature Discovery Park.
There are free parking spaces available at the memorial park in East Tilbury or at nearby shops.
Accessibility
This walk is accessible for most wheelchairs and pushchairs. However please note that there are many turnstiles during the first hour of the route which would not be accessible for larger wheelchairs.  The rest of the walk takes place on paved streets in East Tilbury Town.
Toilet facilities are available at the discovery park.
Walk Safe
Read the walk guidelines/ Covid Safety information here.
Face coverings are essential for the event. You will not have to wear face coverings for the duration of the walk but they must be worn if you wish to enter any indoor spaces at the park , use public toilets or are travelling via public transport.
Please ensure that you are properly equipped for all walks. The weather can be unpredictable so bring waterproof clothing and/or sun hats and sun cream – it's best to be prepared for everything!
Walking boots/shoes are recommended, but otherwise please wear suitable and comfortable footwear- best to leave open-toe sandals or high heels at home.  Make sure you bring a packed lunch if necessary, and plenty to drink.
You need to choose walks within your capabilities; the walk leaders are experienced but must take your word that you are sufficiently fit for the grade of walk you have chosen. T100 walks are of different lengths and on different terrain. Some are mainly on footpaths, and others mainly on footpaths where ground may be uneven. If one walk doesn't suit you, there is probably another one that will.
Due care has been exercised in organising the walks, however Kinetika, the funders and associated partners of the project cannot accept liability for loss, accident or injury caused to any person following the routes, especially unsupervised.  Participants under the age of 16 must be accompanied by an adult.
Photos/ filming
We will be taking photographs and video of this event to promote and celebrate the project. If you do not give consent to be photographed or filmed, that's absolutely fine, please let a member of the Kinetika team know on the day.
Share your own photos on social media with #T100Dreaming