Description

This Friday we're back with "Batty Mama #3"! After of year off Batty Mama is back on January 19th at Hackney Showroom. Batty Mama is an immersive mixed media and performance and visuals arts club night for Black LGBTQIA+ people and January 19th will mark our first hurrah at our new home, and the first of 4 Batty Mama's in 2018.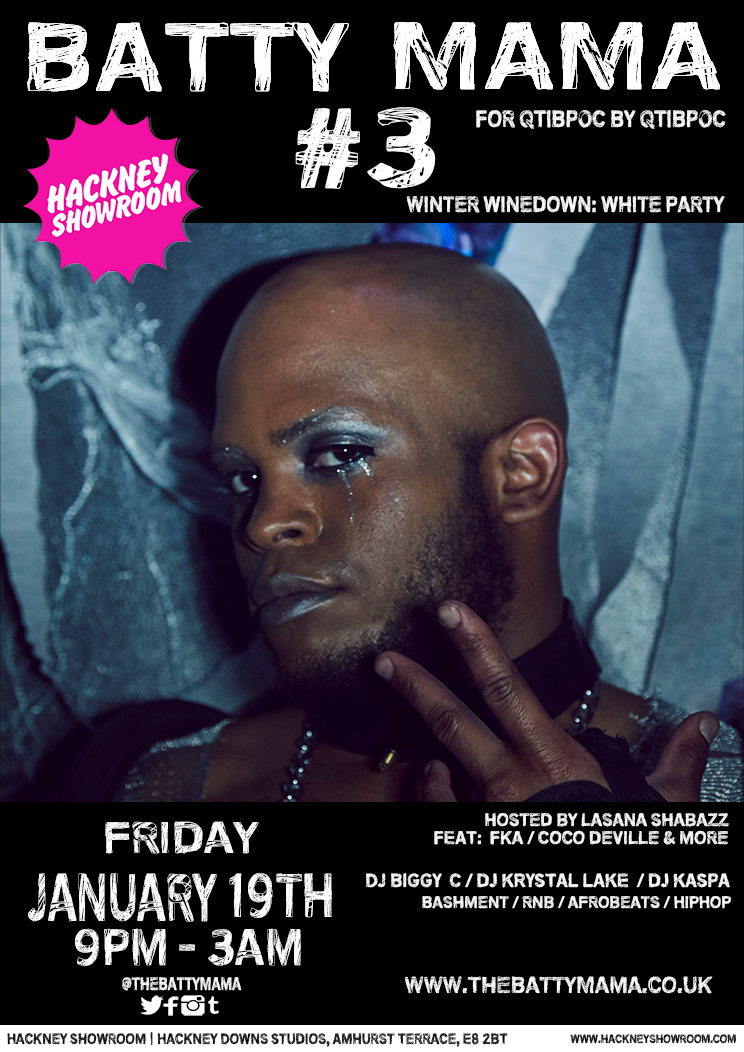 Batty Mama #3 - Winter Winedown:

White

Party
JANUARY 19TH 9pm-3am






A night of interactive projections, installations, performances, games and goodies. Wine to the sounds of HipHop, RnB, Bashment, Dancehall 90's Jamz and all the bops courtesy of DJ Kaspa, DJ Biggy C, and DJ Krystal Lake.
All night projections straight onto your
white
outfit, we'll have a dressing room for unprepared
party
ers and our very first Batty Mama t-shirts on sale at a huge discount.
We've something for everyone with immersive performance art, a sexy s
ilent disco from
11pm
, with film screenings from our wall of visual art and of course our signature dance-floors and vogue tunnels with Batty Buddies on hand for hugs, support, reassurance or reminders on how to start the Electric Slide.
Not to mention lipsync battles, to rate your battle dance and lapdance blind fold games.
-
The Batty Mama is a down and dirty, open and enticing dystopic space for queer and trans bodies from all Black constellations and cultural backgrounds to reclaim booties of colour. We curate a dynamic and immersive programme of queer Black performance that appear both on and off the dance floor. We also feature DJs spinning old skool 90's r'n'b and hip hop, garage, afrobeats, bashment, funky house and detroit techno.
-