This is a fun, hands-on workshop that is aimed at families and beginners during the Summer Holidays as part of the 2021 Herne Bay Festival!
About this event
Join Emily Parris from The Darkroom at Beach Creative for a fun, hands on cyanotype printing workshop!
What is a cyanotype?
The cyanotype printing technique is one of the earliest forms of photography, invented in 1842 by Sir John Herschel.
A cyanotype print is created by exposing UV senstive paper to UV light, which is found in the sunshine! First, objects are laid on top of the UV sensitive paper and exposed to UV light. Once the print has been exposed to the sunshine for enough time, the print is washed in water to fix the image to the page. The outcome is a striking blue & white silhouette image of the object you laid on top!
Who is this workshop for?
This workshop is aimed at beginners, no previous experience is needed. The workshops are aimed at families as a Summer Holiday activity, but feel free to book if you are also a beginner.
Why is it free?
This workshop is funded by the 2021 Herne Bay Festival - please only book a space if you are able to turn up. If your circumstances change and you need to cancel your free time slot, please get in touch so we can make space for other people
Do I need to bring anything along?
Materials and equipment are provided for this session, however feel free to bring along a small selection of objects to use on your prints to make them personal to you. Here's some ideas of what to bring:
-Buttons
-seaweed
-feathers
-plants/flowers
-small toys eg: lego, toy animals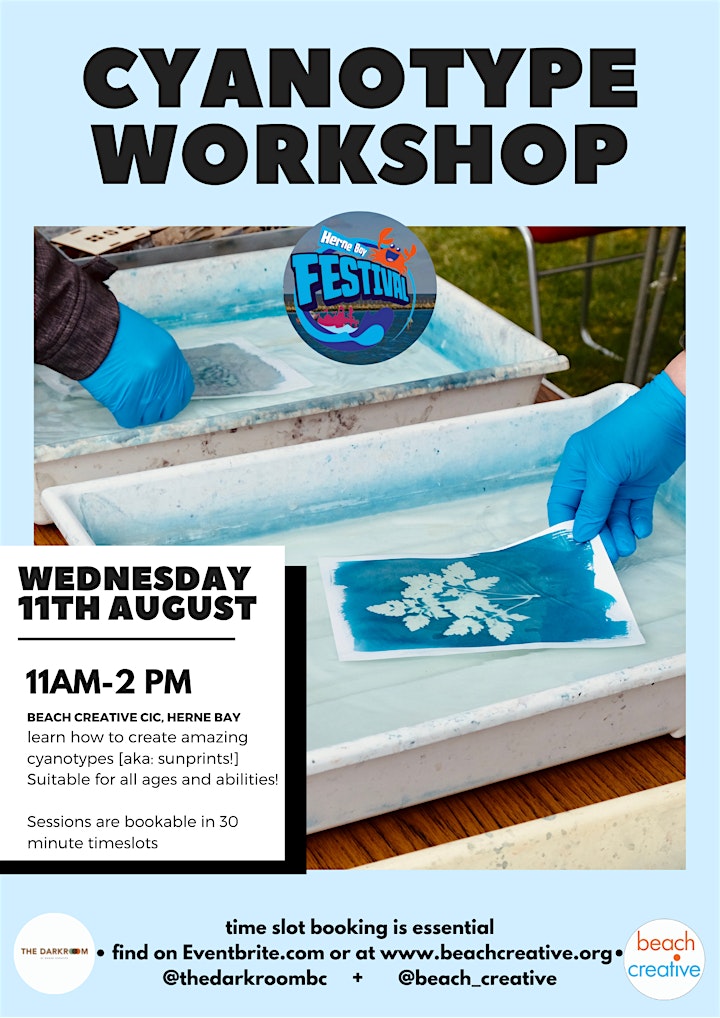 Organiser of Bay Fest- Family Cyanotype Workshop
The Darkroom at Beach Creative offers 1:1 or group workshops for people of all ages and abilities.
The workshops vary from analogue photography, alternative printing techniques & digital photography.
1:1 workshops can be arranged directly with me by emailing thedarkroomatbeachcreative@gmail.com
You can view social media posts by searching @thedarkroombc on Twitter/Facebook/Instagram