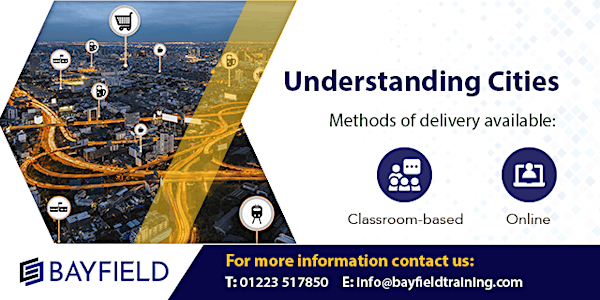 Bayfield Training - Understanding Cities - Virtual Course
Understanding Cities - 1 Day Virtual Course
About this event
Learn the tools to describe and understand Cities. Whatever your role is in Real Estate, knowing how cities work is fundamental to your ability to spot trends and opportunities. Today, this knowledge is also essential to your credibility as a modern Real Estate professional. This interesting course will walk you through the evolution of thinking on Cities in the context of data, gathered using modern methods. The course will also provide you with the calculations underlying many of the rankings now available and explore their application in different scenarios. You will also learn how to harness the opportunities afforded by the Smart Cities concept.
On this course you will…
Learn who is driving the current thinking on Cities
Review modern methods of data collection from the urban environment
Spot trends in urban form and changing Land use patterns
Understand City Rankings and how they are used
Calculate a variety of metrics to help you understand any given City
Understand the impact of, and benefit from, the adoption of Smart Technology
Who will benefit from this course?
Real Estate Investors and Developers
Fund Managers
Local Authorities and City Planners
Real Estate Investment Advisors
Regeneration Professionals
Insurance Professionals
Credit Underwriters
Real Estate Technology Entrepreneurs
Sustainability Professionals