Description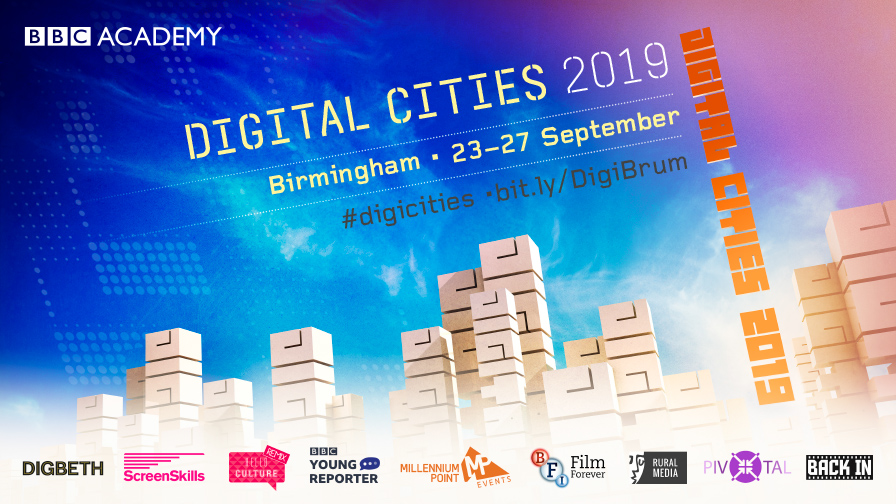 Get involved with an exciting range of free talks, workshops and creative sessions, each exploring the latest in digital content and how to tell fantastic multiplatform stories.
These workshops are suitable for experienced professionals wanting to brush-up on their digital skills and new entrants to the industry.
There are six sessions to attend and they all run twice each so you won't miss out! You can attend one session in each timeslot, so decide which one suits you best and you'll be asked to select your preferred session when you make your booking.
BBC Academy: iPhone Training (09.30-11.00 and 13.00-14.00)
Learn to film like a pro and make video magic with just your smartphone.
Discover how to create the illusion of depth, finesse your framing, tame the rule of thirds and, most importantly, harness the power of the perfect selfie.
Get top notch advice from a video professional to take your filming to the next level.
NB: This session is suitable for any mobile device, but all camera apps mentioned will be for the iPhone. Please bring your phone, earphones (with an in-built mic) and a selfie stick (if you have one available) to get the most out of the session.
BBC Writersroom: Shortform storytelling (09.30-11.00 and 14.30-16.00)
Want invaluable tips on shortform storytelling? Have a burning desire to make compelling short drama or comedy for social media? Then this is the session for you!
The BBC Writersroom team behind successful scripted shortform content for BBC Three, Radio 1Xtra, Asian Network and BBC Introducing will focus on what to think about when developing scripted shortform, how to stand out in a digital world and opportunities for writers in the BBC.
Instagram for Business (09.30-11.00 and 13.00-14.00)
Do you feel like you're not quite getting the most out of Instagram? You've set up an account, posted a few pictures and wondered why it's not getting lots of engagement?
This workshop from Instagram trainer Katya Willems will help you focus on telling the story of your business and improve your technical use of the gram.
We look at great examples of businesses that are really nailing it and discover the posts and pictures that really work. We'll also touch on how to improve your images, the best way to use hashtags, curating your feed and getting to grips with Stories.
This course is aimed at people already on Instagram.
BBC Academy: Editing for social media (11.00-12.30 and 14.30-16.00)
Are your videos more sensible than cinematic? Come and learn some quick, easy filming and editing tricks with free apps to help make your video stand out to subscribers.
Help your action pop with simple, funky visual effects like split and green screen and discover creative transitions, sound design and the joy of text.
This session is a quick workout through some of the best practical and creative solutions to get your videos in tip-top shape.
Podcasting: How to start a podcast on less than £50 in less than 10 days (11.00-12.30 and 13.00-14.00)
Join award-winning radio journalist and podcast producer Clare Freeman to find out how to create the series you've always wanted to.
This workshop provides tips on how to get started with your idea and build your community from scratch.
How long should an episode be? How frequently should you make them? Should they be recorded on location or in a studio?
Clare shares quick-start tips to get your podcasting up and running, from picking the right kit to keeping your budget to a minimum.
How to make it as a freelancer in the digital world (11.00-12.30 and 14.30-16.00)
You are a freelancer. You have autonomy, flexibility and variety. But are you really making the most of your opportunities in today's digital climate?
Whether you're full-time freelance already or considering making the move, join Alison Grade - award-winning entrepreneur, freelancer and author of The Freelance Bible - as she guides you through her essential tips to being successful at the self-employed life.
She'll discuss developing your personal brand, growing a client base and understanding your value so you can negotiate deals to maximise your talents.
This event is part of Digital Cities Birmingham 2019, an exciting series of free workshops, masterclasses and socials for the creative industries. For more details of all the events, please visit bit.ly/DigiBrum
IMPORTANT INFORMATION
Seating is unreserved, and you will be seated on a first come, first served basis.
Sessions will start promptly at the billed time - if you arrive late it may not be possible to admit you.
Sessions may be subject to change. We'll do our best to let you know in advance if we need to make any changes.
This event is suitable for persons aged 18+ only. However there are alternative events during Digital Cities Birmingham suitable for people under 18 - please visit the the main event page for details.
Please bring a digital copy or a printed version of your ticket with you.
Please bring photo ID with you.

​

There will be a free grab bag lunch provided on the day. If you have any specific dietary requirements please let us know via digital.cities@bbc.co.uk and we'll do our best to accommodate your requests.

Please note that some practical sessions require the use of a smartphone or tablet. Where possible we ask that you bring your own devices with you to get the most benefit from these workshops.
Sessions are likely to be photographed and filmed and used subsequently by BBC Academy and partners for publicity and social media content for both current and future Digital Cities events. If you have concerns, please contact the organisers on digital.cities@bbc.co.uk
If you wish to make a large group booking, have any access requirements or any further queries please contact us direct on digital.cities@bbc.co.uk
If you have any access requirements, please email digital.cities@bbc.co.uk
For full details of all the sessions at Digital Cities Birmingham, please go to bit.ly/DigiBrum

PRIVACY NOTICE
For the purpose of this event, BBC Academy is the "Data Controller" and is collecting your full name and email address, so that we can register you for the event and keep in contact with you with any updates or important information about this event, and ask for feedback after the event.
BBC Academy will not use your data to enter into any other types of communication with you, and we will not share it with third parties.
We will remove the data that we have collected about you from our systems after we have finished collecting feedback about this event.
We would like to draw your attention to the fact that your ticket booking is being processed by the Eventbrite platform, which is a platform external to the BBC. Eventbrite is both a "Data Controller" and a "Data Processor" for the purposes of this event.
Eventbrite operates its own Privacy Policy, and by registering to attend this event using their platform, you are agreeing to Eventbrite's terms and conditions as both a Data Controller and Data Processor. This means, in practice, that they may use the personal data that you supply to them for marketing and research purposes.
Eventbrite currently stores the data collected from bookings such as these on a server outside the EEA, in the United States. Eventbrite states that it participates in and complies with the EU-U.S. Privacy Shield Framework regarding the collection, use, and retention of Personal Data ( from European Economic Area ("EEA") member countries). You can read their full Privacy Notice here.