Description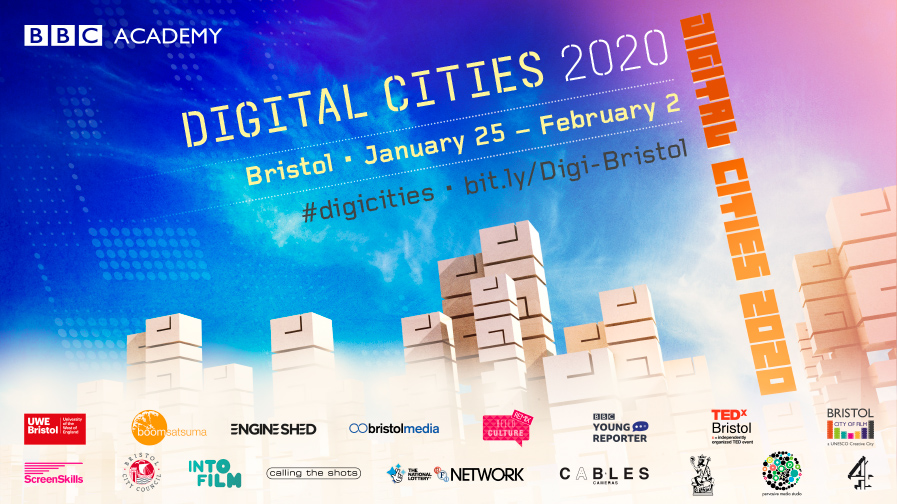 Get involved with an exciting range of free talks, workshops and creative sessions, each exploring the latest in digital content and how to tell fantastic multiplatform stories.
These workshops are suitable for experienced professionals wanting to brush-up on their digital skills and new entrants to the industry.
There are five sessions to attend and they all run twice each so you won't miss out! You can attend one session in each timeslot, so decide which one suits you best and you'll be asked to select your preferred session when you make your booking.
How to run a successful social media

campaign

(09.30 and 13.00)
Join social media expert Rowan Kerek Robertson for this fast paced workshop, giving you strategic and practical tips for running your own successful social media campaign.
Aimed at people who have a specific project or event to promote, you will hear about winning case studies and how to consider the key elements to amplify your message and reach the right audience.
How to build a strong Instagram community

in 2020

(09.30 and 13.00)
With over one billion users now on Instagram and over 95 million photos and videos uploaded to the platform per day, where do you start with building a strong online community who'd follow you offline if Instagram disappeared tomorrow?
Instagram Community Manager, Jess Siggers (aka Porthjess), will show you how to find your Insta-tribe with passion and humour, plus a few little tricks to help you stop worrying about the vanity metrics of like counts, follower numbers and engagement rates, and concentrate on what matters instead for 2020 - people power!
Shortform video and TikTok

with Amrit Singh

(11.00 and 14.30)
Short form videos are becoming increasingly popular for content creators and businesses alike thanks to platforms like TikTok.
Beyond comedic shorts and viral memes, TikTok has become the one-stop destination for creative expression and story telling.
Award-winning artist and content creator, Amrit Singh (MrASingh) will share tips and tricks on how you can make TikTok work for you and leverage short-video format.
Podcast masterclass

(11.00 and 14.30)
Join Clare Freeman, an award-winning radio journalist and podcast producer, to find out how you can create the series you've always wanted - but weren't sure how.
This workshop covers tips on how to get started with your idea, and build your community from scratch. How long should an episode be? How often? Should it be recorded on location or in a studio?
From picking the right kit, to knowing where to host, to keeping your budget to a minimum, Clare shares some quick wins to help you start podcasting now.

Filming and editing on your smartphone

(11.00 and 13.00)
What's the illusion of depth? What's the rule of thirds? Why do selfies always look bad?
Join the BBC Academy's Marc Settle and learn the basic principles of how to use your smartphone to create broadcast quality sound and video.
This session is suitable for any mobile device, but all camera apps mentioned will be for the iPhone. Please bring your phone, earphones (with an in-built mic) and a selfie stick (if you have them available) to get the most out of the session.


This event is part of Digital Cities Bristol 2020, an exciting series of free workshops, masterclasses and socials for the creative industries. For more details of all the events, please visit bit.ly/Digi-Bristol
IMPORTANT INFORMATION
Seating is unreserved, and you will be seated on a first come, first served basis.
Sessions will start promptly at the billed time - if you arrive late it may not be possible to admit you.
Sessions may be subject to change. We'll do our best to let you know in advance if we need to make any changes.
This event is suitable for persons aged 18+ only. However there are alternative events during Digital Cities Bristol suitable for people under 18 - please visit the the main event page for details.
Please bring a digital copy or a printed version of your ticket with you.
Please bring photo ID with you.

There is an onsite café with other options for lunch in the surrounding area, including shops in the nearby train station

.

Please note that some practical sessions require the use of a smartphone or tablet. Where possible we ask that you bring your own devices with you to get the most benefit from these workshops.
Sessions are likely to be photographed and filmed and used subsequently by BBC Academy and partners for publicity and social media content for both current and future Digital Cities events. If you have concerns, please contact the organisers on digital.cities@bbc.co.uk
If you wish to make a large group booking, have any access requirements or any further queries please contact us direct on digital.cities@bbc.co.uk
If you have any access requirements, please email digital.cities@bbc.co.uk
For full details of all the sessions at Digital Cities Bristol, please go to bit.ly/Digi-Bristol
PRIVACY NOTICE
For the purpose of this event, BBC Academy is the "Data Controller" and is collecting your full name and email address, so that we can register you for the event and keep in contact with you with any updates or important information about this event, and ask for feedback after the event.
BBC Academy will not use your data to enter into any other types of communication with you, and we will not share it with third parties.
We will remove the data that we have collected about you from our systems after we have finished collecting feedback about this event.
We would like to draw your attention to the fact that your ticket booking is being processed by the Eventbrite platform, which is a platform external to the BBC. Eventbrite is both a "Data Controller" and a "Data Processor" for the purposes of this event.
Eventbrite operates its own Privacy Policy, and by registering to attend this event using their platform, you are agreeing to Eventbrite's terms and conditions as both a Data Controller and Data Processor. This means, in practice, that they may use the personal data that you supply to them for marketing and research purposes.
Eventbrite currently stores the data collected from bookings such as these on a server outside the EEA, in the United States. Eventbrite states that it participates in and complies with the EU-U.S. Privacy Shield Framework regarding the collection, use, and retention of Personal Data ( from European Economic Area ("EEA") member countries). You can read their full Privacy Notice here.