Description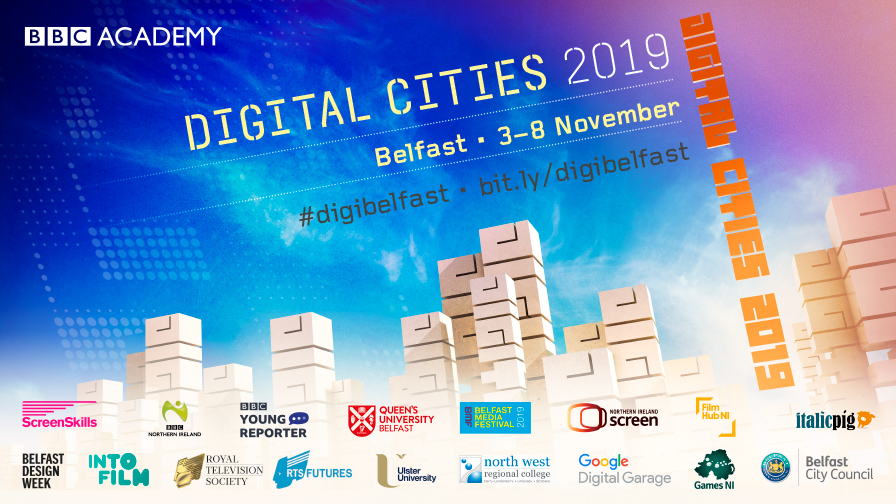 BBC Academy's Digital Skills Day gives you the chance to attend an exciting range of free talks, workshops and creative sessions, each exploring the latest in digital content and how to tell fantastic multiplatform stories.
The sessions are suitable for both experienced professionals wanting to brush-up on their digital skills and new entrants to the industry - just pick the ones that work for you!
09.30 - 10.00 Registration for first session and tea/coffee
10.00 - 11.15 Meet The Digital Commissioners
Hosted by BBC Academy's Tom Speight, this session will explore the short form and digital commissioning opportunities within BBC Three, BBC Ideas and BBC NI.
Meet and learn about the commissioning needs of Maeve McLoughin, Youth Executive at BBC NI / BBC Three, Bethan Jinkinson, Executive Editor at BBC Ideas, Emma McIlveen, Producer, BBC Learning and Dylan Haskins, Commissioning Executive for Podcasts, BBC Sounds.

There will also be opportunities to informally pitch to some of the commissioners. Please sign up at registration on the day (first come, first served).
11.30 - 12.30
Cracking crime, cracking content: Line Of Duty's social media with Jo Booth
Social media within the screen industry has never been more important.
This masterclass, with social media guru Jo Booth, looks at the hugely successful 'Line of Duty' social campaign to highlight how you can pull together a wide range of creative elements to create cracking social media content, enhancing your marketing through efficient and strategic social media management.
Jo Booth's is the founder of Social Media Makes Sense Ltd which oversees the social media for programmes such as BBC's Line of Duty and Poldark and ITV's Victoria.
OR
Filming on your smartphone with BBC Academy's Mark Robertson
Learn to film like a pro and make video magic with just your smartphone. Discover how to create the illusion of depth, finesse your framing, tame the rule of thirds and, most importantly, harness the power of the perfect selfie.
Get top notch advice from a video professional to take your filming to the next level.
NB: This session is suitable for any mobile device, but all camera apps mentioned will be for the iPhone. Please bring your phone, earphones (with an in-built mic) and a selfie stick (if you have one available) to get the most out of the session.
13.15 - 14.30
BBC Writersroom: How to create successful short form comedy
Want invaluable tips on creating, writing producing short form comedy? Have a burning desire to make compelling short drama or comedy for social media? Then this is the session for you!
Host Eimear O'Mahony, an RTE Producer and Irish comic will be joined by Laura Marks, Nation and Regions Executive at Channel 4, Chris Jones, Executive Producer at Nice One Productions and Keith Martin, Comedy Producer/ Development Producer at BBC Writersroom.
The BBC Writersroom team are behind successful scripted shortform content for BBC NI, BBC Three, Radio 1Xtra, Asian Network and BBC Introducing and will focus on what to think about when developing scripted shortform, how to stand out in a digital world and opportunities for writers in the BBC.
OR
Instagram with influence with Katya Willems*
Do you feel like you're not quite getting the most out of Instagram? You've set up an account, posted a few pictures and wondered why it's not getting lots of engagement?
This workshop from Instagram trainer Katya Willems will help you focus on telling the story of your business or brand and improve your technical use of the gram.
We look at great examples of people that are really nailing it and discover the posts and pictures that really work. We'll also touch on how to improve your images, the best way to use hashtags, curating your feed and getting to grips with Stories.
This course is aimed at people who are already on Instagram.
*Please note that the presenter for this session has been updated as Cathy Martin is no longer able to make it.
14.45 - 16.00
One to One Open Surgeries
This is your chance to have an informal five minute one-to-one chat (or informal pitch) with one of our trainers, commissioners or guest speakers.
Sign up at reception on the day to pick the person you most want to meet. Slots are allocated on a first come, first served basis. Confirmed so far are Maeve McLoughlin (BBC Three), Laura Marks (Channel 4) and Eimear O'Mahony (RTE).
OR
How to use live streaming successfully with Amrit Singh
In a world were short-form and live video content creation is becoming increasingly popular, it can also be overwhelming to just get started.
Hear tips and tricks from award-winning creative director, artist and content creator Amrit Singh (MrASingh) whose live broadcasts have reached over 10 million views and has grown an international following which resulted in pursuing his passion full time, as well as becoming a Twitter Live ambassador.
Due to unforeseen circumstances, the Two Minute Masterpiece pitching sessions that we previously advertised will take place behind closed doors instead of in front of an audience.
BBC Academy's Digital Skills Day is part of Digital Cities Belfast 2019, an exciting series of free workshops, masterclasses and socials for the creative industries. For more details of all the events, please visit bit.ly/digibelfast
IMPORTANT INFORMATION
Seating is unreserved, and you will be seated on a first come, first served basis.
Sessions will start promptly at the billed time - if you arrive late it may not be possible to admit you.
Sessions may be subject to change. We'll do our best to let you know in advance if we need to make any changes.
This event is suitable for persons aged 18+ only. However there are alternative events during Digital Cities Belfast suitable for people under 18 - please visit the the main event page for details.
Please bring a digital copy or a printed version of your ticket with you.
Please bring photo ID with you.
​Lunch is not provided - you are welcome to bring your own lunch or there is a cafe on site, as well as

lots of shops and cafes in the vicinity of the

Crescent

Theatre.



Please note that some practical sessions require the use of a smartphone or tablet. Where possible we ask that you bring your own devices with you to get the most benefit from these workshops.
Sessions are likely to be photographed and filmed and used subsequently by BBC Academy and partners for publicity and social media content for both current and future Digital Cities events. If you have concerns, please contact the organisers on digital.cities@bbc.co.uk
If you wish to make a large group booking, have any access requirements or any further queries please contact us direct on digital.cities@bbc.co.uk
If you have any access requirements, please email digital.cities@bbc.co.uk
For full details of all the sessions at Digital Cities Belfast, please go to bit.ly/digibelfast

PRIVACY NOTICE
For the purpose of this event, BBC Academy is the "Data Controller" and is collecting your full name and email address, so that we can register you for the event and keep in contact with you with any updates or important information about this event, and ask for feedback after the event.
BBC Academy will not use your data to enter into any other types of communication with you, and we will not share it with third parties.
We will remove the data that we have collected about you from our systems after we have finished collecting feedback about this event.
We would like to draw your attention to the fact that your ticket booking is being processed by the Eventbrite platform, which is a platform external to the BBC. Eventbrite is both a "Data Controller" and a "Data Processor" for the purposes of this event.
Eventbrite operates its own Privacy Policy, and by registering to attend this event using their platform, you are agreeing to Eventbrite's terms and conditions as both a Data Controller and Data Processor. This means, in practice, that they may use the personal data that you supply to them for marketing and research purposes.
Eventbrite currently stores the data collected from bookings such as these on a server outside the EEA, in the United States. Eventbrite states that it participates in and complies with the EU-U.S. Privacy Shield Framework regarding the collection, use, and retention of Personal Data ( from European Economic Area ("EEA") member countries). You can read their full Privacy Notice here.