Description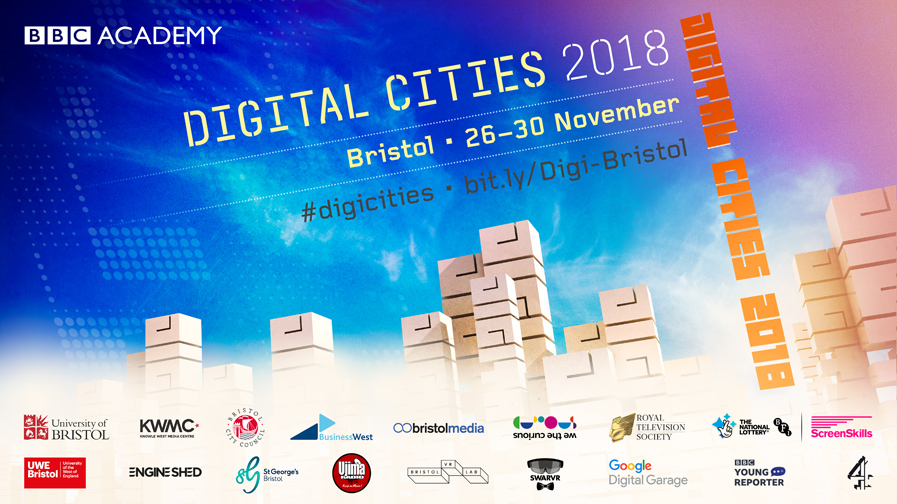 Join the BBC Academy's expert trainers for a morning of FREE workshops focused on digital storytelling and social media.
Our sessions are suitable for both experienced professionals wanting to brush up on their digital skills and new entrants to the business. Stay for the morning, or just pick the one session that is most relevant - it's up to you.
Click 'Register' and you will be able to select your preferred options after checkout. Some sessions have a smaller capacity than others, so if a session you particularly want to attend is sold out, please email digital.cities@bbc.co.uk and we will put you on a waiting list.
Sessions:
Short Form Videos: Make A Big Impact on Big Platforms with Rowan Kerek Robertson (09:30 - 11:00)
Social media consultant and former head of social media for BBC Television, Rowan Kerek Robertson explores some of the most successful content across digital channels. The workshop will unpick the characteristics of successful short videos to help you maximise the reach of your shortform videos on YouTube and Facebook.
Build Your Brand with Social Media with Rowan Kerek Robertson (11:30 - 13:00)
Social media consultant and former head of social media for BBC Television, Rowan Kerek Robertson shares top tips and strategies to help you create great online content. Whether you're posting for your company or yourself, this session provides takeaways, tips, and strategies to make the most of your social media activity.
The Art of Streaming on Social Media with Amrit Singh (09:30 - 11:00 and 11:30 - 12:45)
Artist and digital influencer Amrit Singh is one of the UK's top creative live streamers, winning awards for his mixed-media artwork, content creation and innovative brands. In this session he'll share the story behind creating successful digital campaigns and building his brands - MrASingh and InkANIMA - into a global success using Twitter, livestreaming, Facebook and Instagram.
Events will start promptly at the above times. To avoid a last-minute queue we suggest you arrive at least 15 minutes before the start of the event. Registration will be open from 9.00am.
This event is part of Digital Cities Bristol 2018 - a week of free training, networking and events aimed at developing the skills of current and future content makers throughout the creative industries. From creative tech to immersive storytelling, this is your opportunity to get clued-up on the latest digital skills and meet the city's most exciting digital pioneers and employers. For full info go to bit.ly/Digi-Bristol
IMPORTANT INFORMATION
This event is suitable for persons aged 18+ only. However there are alternative events during Digital Cities Bristol suitable for people under 18 - please visit the the main event page

for details.

Seating is unreserved, and you will be seated on a first come, first served basis.
Sessions will start promptly at the billed time - if you arrive late it may not be possible to admit you.
Sessions may be subject to change. We'll do our best to let you know in advance if we need to make any changes.
Please bring a copy of your Eventbrite ticket (digital or printed) and a form of photo ID (such as driving licence or work/student ID badge) as these may be checked prior to admission.

Please note that these practical sessions require the use of a smartphone or tablet. Where possible we ask that you bring your own devices with you to get the most benefit from these workshops.

Coffee and tea will be provided.

Sessions are likely to be photographed and filmed and used subsequently by BBC Academy and partners for publicity and social media content for both current and future Digital Cities events. If you have concerns, please contact the organisers on digital.cities@bbc.co.uk
If you wish to make a large group booking, have any access requirements or any further queries please contact us direct on digital.cities@bbc.co.uk
For full details of all the sessions at Digital Cities Bristol 2018, please go to bit.ly/Digi-Bristol

PRIVACY NOTICE
For the purpose of this event, BBC Academy is the "Data Controller" and is collecting your full name and email address, so that we can register you for the event and keep in contact with you with any updates or important information about this event, and ask for feedback after the event.
BBC Academy will not use your data to enter into any other types of communication with you, and we will not share it with third parties.
We will remove the data that we have collected about you from our systems after we have finished collecting feedback about this event.
We would like to draw your attention to the fact that your ticket booking is being processed by the Eventbrite platform, which is a platform external to the BBC. Eventbrite is both a "Data Controller" and a "Data Processor" for the purposes of this event.
Eventbrite operates its own Privacy Policy, and by registering to attend this event using their platform, you are agreeing to Eventbrite's terms and conditions as both a Data Controller and Data Processor. This means, in practice, that they may use the personal data that you supply to them for marketing and research purposes.
Eventbrite currently stores the data collected from bookings such as these on a server outside the EEA, in the United States. Eventbrite states that it participates in and complies with the EU-U.S. Privacy Shield Framework regarding the collection, use, and retention of Personal Data ( from European Economic Area ("EEA") member countries). You can read their full Privacy Notice here.