Description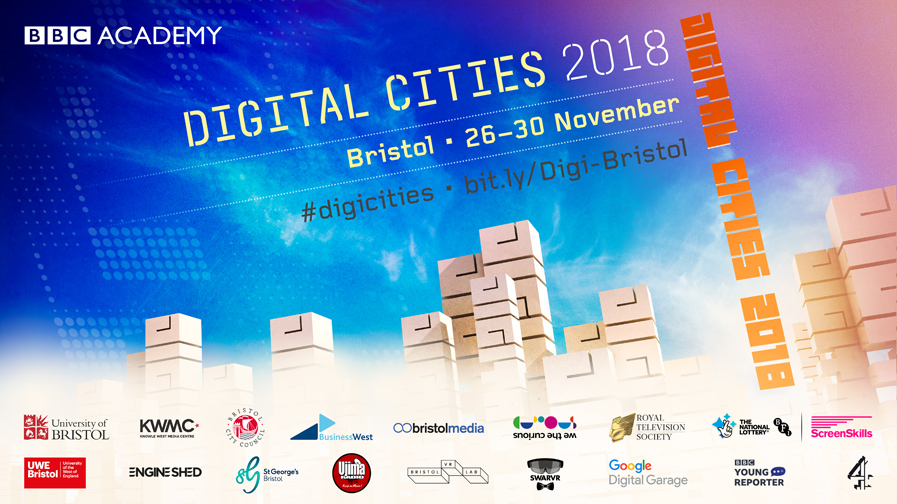 BBC EDGE is a forum for specialists across the BBC to discuss, investigate, pilot, develop and promote technologies, products and services that support the production of video and audio content in innovative, cost effective ways.
They are pleased to announce their Future of Production Sessions, made up of four exclusive workshops on a variety of useful topics, some of which are repeated during the day.
They are open to everybody so book your place now by clicking 'Register' and you will be able to select your preferred sessions after checkout.
Sessions:
Adventures in IP: How an IP network rose to a broadcasting challenge (09:30 - 10:00 and 12:30 - 13:00)
When Hull was announced as the UK City of Culture 2017 local BBC engineers had the challenge of working out how to broadcast from a number of tricky locations.
Find out about the clever IP network they designed and built and the decisions they made along the way - which allowed journalists and production crews to go live from parts of the city where it had previously been impossible.
Keeping connected: Get the bandwidth you need when you're mobile (10:15 - 11:00 and 14:30 - 15:15)
Connectivity is key for today's production teams. From roaming SIM cards through to clever software apps, this session will showcase a number of innovative ways to help you get the bandwidth you need.
Presented by the BBC's Andy Butterworth (principal systems engineer) and Guto Thomas (senior systems engineer), you will learn:
how robust connectivity is a key element to going live without any problems
practical information about tools and services you can use now in order to help with connectivity
tips and advice around mobile journalism that could benefit all types of production
Can AI help? How artificial intelligence could support production (11:15 - 12:15)
'AI and machine learning technologies offer huge potential to improve, support and disrupt the media industry.'
BBC Research & Development talk us through their award-winning paper, 'AI in Production' and tell us about some AI and machine learning projects that have been happening across the BBC and wider industry.
Discover how some of these systems and tools have the potential to assist various elements of the production chain.
What could 5G mean for content makers? (13:15 - 14:15)
5G will deliver super-fast connectivity speeds. But what will this mean for making productions?
Join broadcasting industry experts and the University of Bristol's Smart Internet Lab for a presentation around the University of Bristol 5GUK Test Network and an interactive discussion about what we'd like to see 5G deliver for productions.
Come along for as many sessions as you like. As spaces are limited we would be grateful if you only sign up for sessions that you definitely intend to attend
Events will start promptly at the above times. To avoid a last-minute queue we suggest you arrive at least 15 minutes before the start of the event. Registration will be open in the Whiteladies Road reception of BBC Bristol from 09:00am. Photo ID will be required for registration. Please note that if you are a member of BBC staff, you will still need to register at main reception before the event.
If you would like to attend any of the BBC Academy Smartphone Skills sessions on the same day, you will need to book a separate ticket.
IMPORTANT INFORMATION
Seating is unreserved, and you will be seated on a first come, first served basis.
Sessions will start promptly at the billed time - if you arrive late it may not be possible to admit you.
Sessions may be subject to change. We'll do our best to let you know in advance if we need to make any changes.
This event is suitable for persons aged 18+ only. However there are alternative events during Digital Cities Bristol suitable for people under 18 - please visit the the main event page for details.
Please bring a copy of your Eventbrite ticket (digital or printed) and a form of photo ID (such as driving licence or work/student ID badge) as these may be checked prior to admission.
Coffee and refreshments are not included however there are several cafes and restaurants nearby on Whiteladies Road.
Sessions are likely to be photographed and filmed and used subsequently by BBC Academy and partners for publicity and social media content for both current and future Digital Cities events. If you have concerns, please contact the organisers on digital.cities@bbc.co.uk
If you wish to make a large group booking, have any access requirements or any further queries please contact us direct on digital.cities@bbc.co.uk
For full details of all the sessions at Digital Cities Bristol 2018, please go to bit.ly/Digi-Bristol

PRIVACY NOTICE
For the purpose of this event, BBC Academy is the "Data Controller" and is collecting your full name and email address, so that we can register you for the event and keep in contact with you with any updates or important information about this event, and ask for feedback after the event.
BBC Academy will not use your data to enter into any other types of communication with you, and we will not share it with third parties.
We will remove the data that we have collected about you from our systems after we have finished collecting feedback about this event.
We would like to draw your attention to the fact that your ticket booking is being processed by the Eventbrite platform, which is a platform external to the BBC. Eventbrite is both a "Data Controller" and a "Data Processor" for the purposes of this event.
Eventbrite operates its own Privacy Policy, and by registering to attend this event using their platform, you are agreeing to Eventbrite's terms and conditions as both a Data Controller and Data Processor. This means, in practice, that they may use the personal data that you supply to them for marketing and research purposes.
Eventbrite currently stores the data collected from bookings such as these on a server outside the EEA, in the United States. Eventbrite states that it participates in and complies with the EU-U.S. Privacy Shield Framework regarding the collection, use, and retention of Personal Data ( from European Economic Area ("EEA") member countries). You can read their full Privacy Notice here.